Hindsight is an amazing thing, and allows us to look back and wonder "what could have been." Though perfection is attempted, scouting and draft selection is far from an exact science and sometimes, it doesn't work out the way teams – or players – intended. For every Patrick Kane, there is a Patrik Stefan.
We're looking back at the 2009 NHL Entry Draft and asking how it would shake out knowing what we do now. Will the first round remain the same, or will some late-round picks jump up to the top of the board?
The results of our redraft so far are as follows, with their original draft position in parentheses:
1st Overall:  Victor Hedman, New York Islanders (2)
2nd Overall: John Tavares, Tampa Bay Lightning (1)
3rd Overall: Ryan O'Reilly, Colorado Avalanche (33)
4th Overall: Matt Duchene, Atlanta Thrashers (3)
5th Overall: Chris Kreider, Los Angeles Kings (19)
6th Overall: Nazem Kadri, Phoenix Coyotes (7)
7th Overall:  Mattias Ekholm, Toronto Maple Leafs (102)
8th Overall: Evander Kane, Dallas Stars (4)
9th Overall: Brayden Schenn, Ottawa Senators (5)
10th Overall: Oliver Ekman-Larsson, Edmonton Oilers (6)
11th Overall: Ryan Ellis, Nashville Predators (11)
12th Overall: Dmitry Orlov, New York Islanders (55)
After our readers assigned the Islanders a franchise defender in Hedman instead of Tavares, they wind up with another impact blueliner here with Orlov receiving nearly 36% of the votes.  The Isles are a team that has really built around a team defense concept in the past and with those two anchoring the back end in this exercise, it's interesting to wonder if their presence would have been enough for that strategy to work.
It's not common now for Russian-born players to come over and play in the minors but that's what Orlov did as one year after being picked, he was in Washington's system with AHL Hershey.  One year later in 2011-12, he was a regular most nights in the lineup for the Capitals.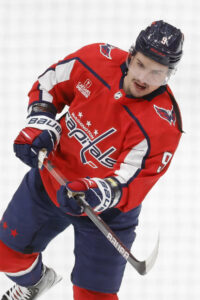 However, it took a while for Orlov to really establish himself as an impact defender.  He took a big step toward that in 2015-16 when he played in all 82 games and notched 29 points; Orlov followed that up with four more seasons of at least 27 points.  Between that and his strong defensive play, he emerged as a legitimate core two-way defenseman who could log more than 20 minutes a night.
Orlov was in the midst of another one of those years last season before the Capitals sold at the trade deadline with the blueliner going to Boston.  He found another gear offensively with the Bruins down the stretch, collecting 17 points in just 23 games while adding eight assists in their first-round loss to Florida, really allowing him to hit the open market this summer on a high note.
But in this cap environment, a long-term big-money deal just wasn't there.  Instead, Orlov opted for a short-term deal, signing a two-year contract with Carolina with a $7.75MM AAV.  This was the highest cap hit for any UFA this summer while giving him a chance to get another multi-year deal in 2025 when he'll be 34.  It took a little while but Orlov has certainly emerged as one of the top blueliners from the 2009 draft class; he's the fifth one off the board in this exercise.
Now, we shift gears and look at the 13th pick from that draft, which was held by Buffalo.  They opted to draft a power forward, selecting Zack Kassian out of Peterborough of the OHL.  Was he the right pick for the Sabres or should they take someone else in our redraft?  Make your pick by voting in our poll below.
If you can't access the poll above, click here to vote.
Photo courtesy of USA Today Sports Images.