Topics in this edition of the PHR Mailbag include a look at some value trades from last season, when the salary cap might start to go up quicker, the 2024 draft class, and more.  If your question doesn't appear here, check back in our last two mailbag columns.
DevilShark: Wondering about your perspective on the top few value trades from the past season now with some hindsight. I'm talking about outperforming their cost – irrespective of their teams' place in the standings (so not the traditional thing where we look at who helped their team win the cup). Which team made out with great value in the margins?
For a full listing of the trades from the 2022-23 league year, click here.  This is the list I'm working off of for this question but I'll cut it off at any moves made this offseason.
One that came to mind quickly was Montreal acquiring Sean Monahan and the world's most confusingly-protected first-round pick from Calgary for free.  Monahan showed for a couple of months that he's still an above-average player and while they weren't able to flip him as planned at the deadline, things went well enough that he signed for a much more reasonable $2MM.  They should get more value out of him next season and could flip him for another asset or two in-season.  No matter what, they still eventually get the first-round pick as well.  That's a very good return on a cost of nothing.
Similarly, Carolina using their cap space to pick up Brent Burns with some retention (and Lane Pederson) for Steven Lorentz, Eetu Makiniemi, and a third-round pick is fantastic value.  Burns is still a top-pairing defender and the Hurricanes got him for a depth forward, an okay goalie prospect at a position they had some surplus, and a mid-round pick.  The Hurricanes made out extremely well here.  I'd also like to put Adin Hill for a 2024 fourth-rounder here but by following the rules of your question, I can't really do that.
In terms of an in-season move, Dallas buying low on Evgenii Dadonov worked out quite well.  They expected he'd bounce back under a familiar head coach in Peter DeBoer and guessed correctly as he became a key secondary contributor both down the stretch and in the playoffs.  The Stars then leveraged his struggles with Montreal into getting Dadonov to take a pretty cheap two-year deal ($2.25MM AAV) that's $650K lower than what it would have taken to qualify the underperforming forward they traded for him in the first place (Denis Gurianov, who eventually went non-tendered anyway).  They got the short-term upgrade and at least a medium-term one for very little return.
St. Louis getting Jakub Vrana is another under-the-radar one I think warrants a mention.  They picked up him with Detroit retaining 50% of his $5.25MM AAV for last season and next for a seventh-round pick and a minor leaguer.  Vrana scored 10 goals in 20 games down the stretch.  If he even comes close to that type of production next season, the Blues should be able to flip him for much more than that if they find themselves out of the playoff picture.  And if they are in the mix, he should be an important contributor that was acquired for very little.
aka.nda: Which team(s) summer moves have you scratching your head? What do you think those moves suggest about what that team is hoping or expecting to happen? Is there anything they could do on the market that would inspire more confidence?
A couple of Eastern Conference teams come to mind.  Detroit had money to spend and spent it patching a lot of depth holes with the exception of J.T. Compher whose five-year, $25.5MM contract seems overly optimistic that he can produce at the level he did with Colorado last year when injuries pushed him onto the top line.  They went from being a non-playoff team to a better non-playoff team.  To GM Steve Yzerman's credit, he did well on the Alex DeBrincat and Jeff Petry acquisitions from a value perspective but I still don't think those move the needle to make them a playoff team.  They've spent a lot of money to possibly finish sixth in the division even though their actions think they're a playoff-caliber squad.  To be fair, I don't think there's much they can do either other than bide their time for the top teams to start to lose some of their top talent.
I also wasn't a big fan of the Islanders' moves.  Seven years for Pierre Engvall and Scott Mayfield is nothing short of nonsensical, even if it does keep the cap hits at a reasonable amount (and that is an important consideration).  Four years for a 35-year-old backup goalie also falls in that category even if that backup is a pretty good one.  They took a core that squeaked into a playoff spot and didn't do anything to improve the roster.  They have no cap flexibility to speak of to try to improve.  Sure, they'll be in the Wild Card mix again but was locking up secondary players to long-term deals really the best course of direction?  Why not concentrate some of Mayfield and Engvall's money to go after an offensive upgrade that actually addresses a big area of weakness?  GM Lou Lamoriello clearly feels this core is good enough to get in and the team plays a style that can do some damage in the playoffs.  I'm not sure they get there at this point.
jacl: is Benn good for a point per game this year? Ever think we'll get Seguin back to his old self? it's been years since he's been any good and when centering his own line, it never produces.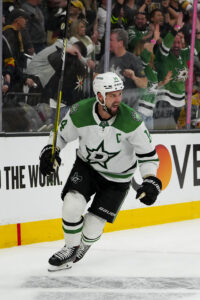 Generally, players in their 30s don't have resurgent seasons.  Jamie Benn bucked that trend, going from 46 points in 2021-22 to 78 points last year.  Fewer players in this situation go on to then improve upon those numbers the following year.  I don't think Benn will be an exception to that idea either.  His 17.2 shooting percentage was among the tops in the league last season and is at a rate that many would qualify as unsustainable.  That means his 33-goal total is probably going down and with Wyatt Johnston set to push for more minutes as well as newcomer Matt Duchene, I expect Benn's 45 assists to also go down.  I could see him in the 50-point range which would still be an improvement over his post-pandemic numbers.  That wouldn't be a great return on his contract but he'd still be an important part of their attack.
As for Tyler Seguin, I don't see him getting back to the days of him hovering around the point-per-game mark.  He was a top-line fixture at that point in his career.  He isn't now and the Stars are probably hoping they're not in a situation where he's pressed into that duty.  Seguin is a secondary part of their attack now and those players typically don't light up the scoresheet.  If he continues to produce around the 50-point mark in a middle-six role within the framework of a deep attack, they should be fine.
Unclemike1526: I know the Cap only went up about $1 million this year. I also keep hearing the Cap is going to rise quite a bit in the near future according to the owners. About how much are they saying it's supposed to go up and when? I think it's time Hockey joined the ranks of other Pro sports. I just want to know what they're saying, so I'll know just how much I'll be disappointed when it doesn't happen. Thanks!
The drag in the growth of the Upper Limit of the salary cap in recent years is tied to the pandemic.  That shortened season, the players received their full salaries but with games being canceled and restrictions on attendance, revenues plummeted.  In the CBA is a rule that says players and owners have a 50/50 split of Hockey Related Revenue (HRR) and that season, it wasn't even close.  That created a 'debt' to be repaid to the owners, a clawback of sorts to eventually get the split from that season back to 50/50.
In the 2020 CBA extension, it was agreed that the cap would only go up by $1MM until that debt was repaid.  As of today, that debt is not entirely repaid which is why the cap only moved from $82.5MM to $83.5MM for 2023-24.  However, they're really close to paying that off which should come this coming season.  At that point, there is a minimum increase to the cap defined as follows from the 2020 NHL CBA Memorandum of Understanding:
Except for the 2026-27 League Year, minimum year-over-year increase in the Upper Limit is the lesser of 2.5% and the trailing two-year average HRR growth percentage. (measured using Final HRR from the League Year four years prior, Final HRR from the League Year three years prior, and Preliminary HRR from two years prior and after taking into account any FX impact adjustments).
For simplicity, let's use the 2.5% number which would take the cap up to a minimum of $85.59MM in 2024-25 and $87.73MM in 2025-26.  Any further jumps would be tied to increases in HRR which is harder to forecast.  I don't anticipate a massive jump for 2024-25 as with quite a few teams in a tough spot with their regional rights, they're either losing their deals altogether to move to an in-house production or will be negotiating cheaper contracts.  That won't spin HRR in a negative direction but I think it will slow the anticipated growth.
The NHL won't be getting to the cap levels of the NBA or NFL, however.  Those leagues have TV contracts worth more than the NHL's entire revenue stream combined and I don't sense a significant growth in TV ratings down the road that could allow the NHL to get that type of lucrative TV money.  The cap will be going up more than $1MM per year moving forward but it's still going to check in well below those other leagues.
Emoney123: Who are the watch candidates in the 2024 draft for Flyers since it appears likely another rough season with a potential top-5 pick as well the 1st-round pick from Florida and 2nd-round picks from Columbus and LA? Celebrini seems headed towards #1, who could be other options? Hopefully the light at the end of the tunnel is not a train.
Right now, Macklin Celebrini seems to be the early consensus first pick.  He's going to be challenged by Cole Eiserman, a high-end goal-scoring threat.  Ivan Demidov is an early wild card, a player who set the MHL (Russian junior league) record for most points as a 17-year-old.  But as we all know, Russian-born players have slipped at times in recent years.  On the back end, Artyom Levshunov and Sam Dickenson are the two top early candidates in a class that is expected to feature more blueliners than usual going within the lottery.  While it's way too early to start ranking players, these five seem to be close to the consensus top five.
Generally speaking, this is not perceived as a particularly strong draft class compared to the 2023 one and some scouts appear to prefer the 2025 class.  Again, though, this can all certainly change.  If Philadelphia winds up with a high selection in June, they're going to get a quality player, perhaps just not the franchise type of player that Chicago just selected.
Justajaysfan: How do you think Vegas will do this season? Is Adin Hill able to carry his success from last year's playoffs into this season and be able to perform like a number 1?
I'm going to flip the order of these and talk about Hill first.  I'm not particularly bullish on him being a true number one goaltender but his career-high in regular season games played is 27.  Yes, he carried a starting workload for a good chunk of the playoffs but there's a difference between that and being a six-month starter.  I don't think he'll be able to play at his playoff level (.932 SV%) over a full season, however.  The good news is that he shouldn't have to.
Lost in the talk about Hill and his eventual re-signing is that the starting goalie from last season (Logan Thompson) is now healthy so they don't need Hill to play at that level.  If the two play like they did a year ago when they each posted a .915 SV% during the regular season, the Golden Knights should once again be a contender for a top spot in the West.
Vegas is bringing back the majority of its Cup-winning group with Reilly Smith being the notable exception so they should be well-positioned to try to contend.  Edmonton could give them a run for their money (especially if they can find a way to get even a bit better of a performance between the pipes) and if Los Angeles gets better goaltending than I think they have, they could get in the mix as well.  I'm not going to predict a Stanley Cup repeat – it is still the summer with moves left to be made – but they should be in contention once again.
Photo courtesy of USA Today Sports Images.