Topics in this edition of the PHR Mailbag include the increasing willingness to have a three-goalie system, how the Central Division could shake out this coming season, and more.  If your question doesn't appear here, check back in last weekend's mailbag or watch for it in our final one from this set of questions.
Grocery stick: How do teams see the goalie situation right now? We've seen the Golden Knights win the Stanley Cup with Hill, Brossoit, and Thompson. The Panthers also relied on three different goalies in different stages of the season, reaching the Final.
Are teams trying to re-create a three-goalie situation on purpose now? How does a #3 goalkeeper stay match ready if he is not waivers exempt? Do teams need "timely" injuries to make a three-goalie rotation work? And what teams could go for a three-goalie rotation this season?
I don't think teams are necessarily aiming for a three-goalie rotation by design.  Vegas was forced into that with injuries while Florida got to that point with Spencer Knight needing to take a leave of absence (and Sergei Bobrovsky really struggling for a time).  Truly, neither of those teams really had a three-man rotation either; only two were healthy and/or available for the majority of the season.
You note the issue with keeping that third-stringer fresh which is why most teams don't see it as a viable long-term option.  After a few weeks, they're asking that goalie to take a conditioning assignment to the AHL to stay fresh.  But that can only be done twice in a season and not all players agree to the request.  If a team tries to play three goalies more evenly, no one will be happy with their playing time.  As you termed it, timely injuries is the way to really make it work.
I think what we've seen over the last couple of years is teams placing a higher level of importance on who their third-stringer is.  Now, it's not just a long-time AHL veteran that's content to come up and sit on the bench for a few weeks if someone goes down; teams are looking for someone that can come in and play.  I wouldn't necessarily classify that as a true three-goalie situation though.
One team that I think will go that route is Carolina.  Pyotr Kochetkov is still waiver-exempt for one more year and I think the Hurricanes will try to give him a bunch of starts in the AHL and then spot him some NHL action when they have an open roster spot and want to give one of Frederik Andersen or Antti Raanta a night off.  (Although, with their injury history, there may very well be other opportunities on top of that.)
If Philadelphia starts Samuel Ersson in the minors, they could be another team in that situation.  Maybe Dustin Wolf gets some spot starts here and there in Calgary and if Alex Stalock beats out Lukas Dostal in Anaheim, Dostal could still see some NHL appearances spotted in.  In each of these situations, it's a waiver-exempt goalie that's part of the future in that situation, not a proven veteran.  That's where the three-goalie structure by design makes the most sense.
Nha Trang: Heh, it's time for my annual question now: who's the guy who comes from out of nowhere to be a serious impact player this season?
Well, last year's pick didn't go quite as well as my one from the year before (Tage Thompson) although Taylor Raddysh hit 20 goals with Chicago in 2022-23 which isn't bad for someone who had a sparing role with Tampa Bay for most of 2021-22.
Last year, I put in a self-imposed criterion that a player couldn't be in the top 300 in scoring.  Otherwise, that player wouldn't exactly be coming out of nowhere.  That takes some viable candidates off the table and certainly increases the level of difficulty of this question.
I'm going to go with Boston's Morgan Geekie.  Here's a player that only has 22 career goals to his name over parts of four NHL seasons although only two of those have been in a regular role.  Both of those campaigns were with Seattle where he spent a lot of time on the fourth line.  That shouldn't be the case in Boston.
Due to the retirements of Patrice Bergeron and David Krejci, the Bruins don't exactly have great depth down the middle.  At the moment, Geekie projects as their third-line center which is already a step up.  He was a scorer in the WHL.  He has 93 points in 130 AHL games which isn't too shabby by any stretch.  I could see him making a push for 20 goals next season which would be great production from someone in the bottom six that has yet to reach the double-digit mark in a single season.  Couple that with him generally being on the happy side of 50% at the faceoff dot and him showing last year that he can cover some time on the penalty kill and Geekie could wind up being a pretty impactful player for Boston.
If you want a couple of real longshot wild cards, I'll suggest San Jose's Jacob Peterson and Arizona's Michael Carcone.  Peterson didn't look out of place in a top-six role with the Sharks down the stretch after spending most of the year in the minors.  If he makes the team in that role, he could surprise.  Carcone, meanwhile, has lit it up in the AHL but a strong showing at the Worlds with Canada earned him a two-year, one-way deal.  I'm not sure he's going to score enough to really qualify as a good answer for this question but he could become a capable bottom-six winger at the age of 27 and many years in the minors.
Weasel 3: Honest evaluation of PLD's chances providing any surplus value on his extension please.
In the short term, I don't see much of a window for that to happen.  He's likely to be on the second line for a year or two and those players generally don't produce enough to provide surplus value on a contract worth $8.5MM per season.  That isn't to say he won't have an impact – Dubois definitely will – but I don't think anyone will be calling his deal a bargain.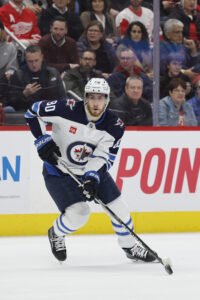 Longer term, however, I can see a pathway to surplus value.  If he can up his production to a point per game level while asserting himself more physically, now we're talking about a center in or around the top 20 at his position with an element that few other middlemen provide.  He'd be a power forward getting paid market value, not the typical premium that power forwards get.  In that sense, then, he'd be providing some surplus value.
The other option to getting positive value on Dubois' contract is if the Upper Limit really starts to rise.  If we see a few jumps in the cap, salaries around the league will only go up.  If those increases push 60 and 70-point players up to this price point, Dubois could provide some surplus value assuming his production improves following the swap.
At this point, I'm not sure I'd qualify the idea of Dubois providing surplus value to the Kings as probable.  But there are a couple of plausible ways that it could happen.  I don't think Los Angeles is really expecting that to happen.  If he gives them 60-70 points per season, they'll be pleased with the contract, even if it is one that winds up being a little overpriced in the end.
blues1967: How do you see the Central shaking out? I think Colorado and Dallas are clear front runners, Arizona and Chicago bring up the rear, and the other four will battle it out in the middle. Not sure who has the advantage between the Blues, Wild, Preds and Jets.
Dallas and Colorado are certainly the class of the division.  Colorado won the division by a point last season but at this point, I'm inclined to hand the early edge to the Stars with the Avs in second.  I don't expect there to be a third team in that group like Minnesota was last season.
I do, however, lean toward the Wild being the third seed still.  I expect their goaltending to take a step back but I think their offense will be a bit more successful than a year ago when they were 22nd.  That should offset some of the goaltending give-back and keep them in.
As for who the top Wild Card contender might be, I'd go with St. Louis.  I think Jordan Binnington will be better and if not, Joel Hofer can push for more playing time.  Their offensive depth is better than it might seem at first glance and they have one of the better defense groups still.  They could surprise some teams.
Nashville and Winnipeg have definitely taken steps back.  On paper, the Jets could very well push for the third seed still but with a pair of core veterans on expiring deals, it's hardly a guarantee they're there for the entire season.  Meanwhile, I expect that the Predators are going to struggle to score in a big way.  Right now, I could be convinced to put Arizona ahead of them and then Chicago will likely be at the bottom even with Connor Bedard in the fold.
jacl: The Stars win the Stanley Cup this year. Am I right or am I right? I think Johnston gets 35 goals easily. They have a lot of good young talent that should be ready for a role on the team.
Generally speaking, with questions about a team or the field, I'll go with the field.  But Dallas is a legitimate contender, I'll go that far.  Their attack is quite deep (deep enough that makes me think Wyatt Johnston isn't going to check in quite that high in goals in his sophomore season) so they should be near the top of the conference in that department.  Jake Oettinger is a high-end goaltender.  That's two of the three they're in really good shape in.
The back end is where I'm still concerned, however.  It was a weak spot at times last year and they've done nothing of much consequence.  Gavin Bayreuther replaced Colin Miller and well, that's it.  They're clearly banking on Thomas Harley stepping into a key full-time role and Nils Lundkvist taking a big step forward.  It's possible that both happen but that's certainly on the optimistic side.
The reality is that behind Miro Heiskanen and Esa Lindell, things thin out quickly.  It was a problem in the playoffs when Ryan Suter was asked to play big minutes, a role he's not suited for at the age of 38.  If GM Jim Nill can find a way to add an impact top-four defender, that just might be the final piece of the puzzle to give a real shot at going all the way.  With their cap situation, that move won't be coming for a while.
KRB: The Capitals may have got the steal of the draft in #40 pick Andrew Cristall. And I'll guess that he plays in the NHL sooner, rather than later. The reason why is because at the start of the 2024-25 season, he'll be 19, too young for the AHL, but probably too good for the WHL. So he's a Cap then. Thoughts?
I was surprised to see Cristall slip that deep in the draft as he felt like a worthwhile gamble in the 20s for a team looking to take a big swing on a player who, if all pans out, could be a quality top-six NHL winger.  I liked that pick for them a lot.  But he's undersized and there are questions about how his game will translate to the pros.  Some smaller players find a way to make a mark but a lot don't.
I get your point about Washington possibly not wanting to send Cristall back for his 19-year-old season as he won't have much left to show at the major junior level.  But is he going to be able to hold down at least a third-line spot with the Capitals that season?  (I wouldn't want any junior-aged prospect toiling away on the fourth line from a development standpoint.)  That I'm not so sure about.  I think they will want his defensive game to get a lot better so that Cristall isn't exploited in that regard in the NHL.  Can that level of improvement happen in the WHL?  It's possible but not probable as Kelowna will be wanting him to focus on his offense, not so much the defense.
There isn't a great solution.  Washington I'm sure would love to send Cristall to the AHL in 2024-25 but the CHL agreement isn't going away anytime soon.  Between the NHL and WHL, I think they'll play it safe and ultimately send him back down and then get him to Hershey the following year.
Photo courtesy of USA Today Sports Images.