The Calgary Flames have been one of the most talked-about teams this offseason, but not necessarily for the moves they've made now. Calgary has multiple core players set to hit unrestricted free agency in 2024, and they'll be faced with multiple decisions on whether to extend or trade certain players before next season's trade deadline. New GM Craig Conroy already made one decision, shipping out right winger Tyler Toffoli to the New Jersey Devils after he set career highs in goals, assists and points last season. Forwards Mikael Backlund and Elias Lindholm and defenseman Noah Hanifin and Chris Tanev headline the remainder of Flames players set to hit the open market next summer, with valuable depth defenders Oliver Kylington and Nikita Zadorov also slated for unrestricted free agency.
Conroy has made it clear Calgary won't lose out on these players for no return after the organization let star left winger Johnny Gaudreau walk in free agency to the Columbus Blue Jackets last summer. If they do end up trading the lion's share of their pending UFAs, they should be able to reform the roster and stay in playoff contention, as there looks to be a strong pool of other UFAs to choose from next summer. However, many of the players listed above have played quite well for the Flames and are even core pieces of their leadership group, and Conroy will surely attempt to extend most of them.
One of their desired extension candidates is Lindholm and for good reason. He's developed into a bonafide top-six two-way center during his time in Alberta and is normally a solid bet to churn out nearly a point-per-game pace. Reporting this summer has indicated he's been back-and-forth on whether he's willing to extend in Calgary, but the pendulum swung back toward an extension a few days ago with The Fourth Period's David Pagnotta reporting Lindholm was "well into discussions" with the Flames on an eight-year extension. Getting him under contract until age 37 likely won't pan out well for Calgary near the end of the deal, but such is the price of retaining pending UFAs. He's played 369 games for the Flames since they acquired and extended him on a six-year deal in 2018, scoring 139 goals, 186 assists and 325 points while averaging over 19 minutes per game. He finished second in Selke Trophy voting in 2022 and has accumulated a +99 rating in Calgary, although most of that comes from his standout defensive seasons in 2018-19 and 2021-22. His 56% Corsi For at even strength last season suggests his rather pedestrian +6 rating was tanked by the team's subpar goaltending.
And that's where it gets tricky – while there are a lot of solid free-agent pickups available next summer, most of them are on the wing. The only center who could hit the open market conceivably as either an upgrade or lateral move for Lindholm is Winnipeg Jets pivot Mark Scheifele, who could very well be taken off the UFA market via a sign-and-trade deal next season (much like Lindholm if talks fall through with Calgary).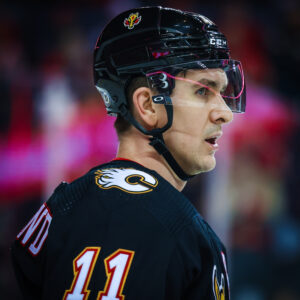 Backlund is also a tough piece to part with. The standout shutdown center has appeared in 15 seasons for Calgary, accumulating 908 games as a Flame. However, he seems an unlikelier bet to sign an extension with Lindholm at this point in time, admitting to Swedish outlet SportExpressen earlier this summer that his willingness to remain in Calgary will depend on the team's performance in 2023-24. He may not have Lindholm's offensive upside and minute-munching capabilities, but he is one of the most consistent defensive presences in the league and is showing no signs of slowing down as he enters his mid-30s. Some would argue it's borderline surprising he hasn't received the captaincy yet, potentially another reason why he hasn't committed to extending in Calgary. He's not likely to command much of an increase on his current AAV of $5.35MM given his age, either, and he should remain a priority for Calgary to keep in the fold for the next few seasons if they truly do intend on remaining competitive.
One player who they'll likely attempt to shop is Hanifin, who was reportedly unwilling to sign an extension with the team earlier in the summer and has already been mentioned in specific trade rumors with teams such as the Florida Panthers. That was all before free agency opened, however, and a trade still hasn't happened. It might be Calgary will look to have Hanifin boost his stock with a strong start to the season before moving him, or they're hoping a reversal in the team's fortunes would persuade him to stay. He's certainly the most replaceable of their big-ticket pending UFAs – assuming they pursue extensions hard with Tanev, Zadorov and Kylington, they'd be able to replace Hanifin by committee (along with Rasmus Andersson) if Conroy doesn't net a direct replacement for him via trade.
Conroy will need to be careful in how he manages the salary cap with the moves he makes, however, especially if he is intent on extending Lindholm. That extension would require a rather substantial raise on his current $4.85MM cap hit, something the team doesn't have room for right now as it would take nearly all of the cap space afforded to them by 2024's expected $4MM jump in the Upper Limit from $83.5MM to $87.5MM. If he moves out backup netminder Daniel Vladar and his $2.2MM cap hit to pave the way for top prospect Dustin Wolf to assume an NHL role, that should give him some breathing room. It won't be much if Wolf has a strong season, though, as he's a restricted free agent in 2024 and will surely require a new seven-figure deal if he puts up good numbers.
Photo courtesy of USA Today Sports.