The New Jersey Devils have acquired forward Tyler Toffoli from the Calgary Flames, with the signing rights to RFA Yegor Sharangovich and a 2023 third-round pick (80th overall) headed to Alberta in return.
This move comes just after Toffoli made it clear to the Flames that he would not be signing a contract extension to remain in Calgary. The 31-year-old two-time Stanley Cup champion is playing out a $4.25MM AAV contract that will expire at the end of next season. By acquiring Toffoli, the Devils add the Flames' leading scorer and a player who has crossed the 20-goal plateau seven times.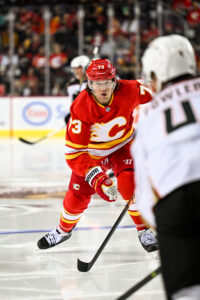 While the Flames as a team had an extremely disappointing season, Toffoli had one of the finest years of his career in 2022-23. Not only did he score 34 goals and 73 points, each career-high marks, he also captained Team Canada to victory at the 2023 IIHF Men's World Championships.
The acquisition of Toffoli signals a shift in focus for New Jersey that was all but confirmed when the team reached the playoffs and eliminated their arch-rival New York Rangers in the first round.
The long rebuild is over for the Devils, and the focus for GM Tom Fitzgerald is no longer on building for the future, it's about assembling a Stanley Cup contender ready as soon as next season.
In adding Toffoli, the Devils' hopes of going on a long playoff run have certainly increased. Toffoli's been on quite a few of those, and he has triple the career playoff points of Tomas Tatar, the player he's most directly replacing in New Jersey's forward lineup. He may not be a long-term acquisition at 31 years old, but he's an exceptional finisher and is easily improves the team's group of forwards.
Seeing as Ondrej Palat, Dawson Mercer, Jesper Bratt, and Timo Meier are likely at this point in time to occupy the spots on the wing next to New Jersey's two franchise centers, Toffoli could end up in a third-line role for the Devils. That would give the Devils an embarrassment of riches up front, potentially giving them three forward lines capable of creating offense at an impressive rate. At the very least, Toffoli's addition gives head coach Lindy Ruff another talented scoring forward to plug into his lineup.
Sharangovich was unlikely to have a long-term future in New Jersey, given the whole host of young players that still need to sign contract extensions. Players such as Meier and in the future, Luke Hughes are likely to eat up quite a bit of the Devils' future cap space, so with RFA negotiations set to take place this summer, it seems other players supplanted Sharangovich in New Jersey's long-term plans.
For Calgary, losing Toffoli is undoubtedly disappointing but they do have an interesting player headed their way in Sharangovich. As he turned 25 earlier this month, he fits new GM Craig Conroy's goal of getting younger and faster this offseason. He got a little lost in a crowded Devils forward group last year and scored a career-low 13 goals and 30 points, but in the prior two years when he had a larger role he scored at a 25-goal, 48-point pace.
If Sharangovich gets a chance to play with forward Jonathan Huberdeau, for example, he could take an even larger step forward offensively. He's also decently versatile, with experience playing all three forward positions. Seeing as Toffoli is a widely respected player with an affordable cap hit, the Flames likely had no shortage of offers for his services.
Their acquisition of Sharangovich suggests they feel he can become an even greater player under their new head coach Ryan Huska. While it undoubtedly hurts to lose Toffoli, Sharangovich could be a player who lifts Flames fans out of their seats for years to come.
Photos courtesy of USA Today Sports Images