Topics in this edition of the mailbag include the potential fit in Boston for a pair of key rental centers, fair expectations for a new-look Blue Jackets squad, rules surrounding bonuses, and more.  If your question doesn't appear here, check back in last weekend's mailbag while there will also be one that runs tomorrow.
PyramidHeadcrab: Considering the changes brought by the draft and UFA day, what are some teams you see making the playoffs in 2024 that weren't really in the picture in 2023? And what are some teams you see missing the playoffs?
And who are your favorite three teams to finish with the highest draft lottery odds?
I tackled a similar question to this one last month before free agency so let's check in on those teams and see what has changed.
In the East, I had Ottawa, Pittsburgh, and Buffalo as playoff candidates among those that missed a year ago.  As things stand, I'm not as bullish on the Sens now as I was then as I'm not overly confident that Joonas Korpisalo is going to move the needle enough in goal and their offense has taken a step back for the time being.  The Penguins have improved its roster this summer so I still expect them to jump back in and while the Sabres haven't done much, they've added to their back end and can rely on internal growth up front to bolster their chances.  I think they still get in.
As for my candidates to miss, I had Florida, the Islanders, and possibly Tampa Bay.  The Panthers have added some depth which helps but their question will be how impactful their early-season injuries will be.  I'm leaning more toward them being in now, however.  New York didn't exactly improve or get worse so they'll probably be just in or just out.  The Lightning are definitely weaker and while I'm not ready to proclaim they're a non-playoff team yet, I think they're vulnerable.  I could see Boston missing out now unless their goaltending tandem is able to play at a similar level next season; that would be the great equalizer after losing a lot of firepower.
As for the West, I had Vancouver getting in and maybe St. Louis.  The Canucks have mostly stayed quiet this summer and that's not necessarily a bad thing.  On paper, they're a better team than their record has been and if they play up to their potential, they're a playoff-caliber squad.  I like what the Blues have done, getting Kevin Hayes on the cheap and adding Oskar Sundqvist for the minimum.  I'm still skeptical that they'll get in but they're better than they were a few weeks ago.
My main candidate to miss from the West a few weeks ago was Winnipeg and that hasn't really changed.  They're a weaker team than they were before with an expectation of two more key players moving between now and the trade deadline.  That's probably not a good recipe to make the playoffs.  Since I had to pick two teams a month ago, my other one was Seattle.  They haven't done much one way or the other so they're still a bubble team in my books.
On the other end of the scale, I have Philadelphia in the bottom three as they're going to go through some growing pains.  San Jose doesn't have a great roster and if they move Erik Karlsson in a trade that likely won't bring back much win-now help, they're going to struggle.  As for the third team, I'm not really too confident in this one but I'll say Anaheim with the assumption that John Gibson gets moved.  With weak goaltending, that will offset some improvements from their young core, keeping them near the bottom again.
SkidRowe: What would it take to bring Mark Scheifele or Elias Lindholm to the Bruins?
For the purposes of this answer, I'm going to operate under the assumption that it's an extend-and-trade agreement for both players.  As straight rentals, I don't think Boston should be pursuing them, at least at this point.
For Scheifele, I think their best shot at getting him is if (or when, perhaps) Connor Hellebuyck gets moved.  Winnipeg is looking for win-now pieces in the hopes of avoiding a rebuild.  I don't think they'd have a lot of interest in Linus Ullmark (who might have the Jets on his partial no-trade list anyway) but Jeremy Swayman would be an intriguing piece.  If the two moves are made concurrently, the team that gets Hellebuyck could theoretically move the center back for Hellebuyck with Boston's package for Scheifele being headlined by a controllable young starter in Swayman.
Cap-wise, another piece needs to be in there, likely Derek Forbort or Matt Grzelcyk, both on expiring contracts.  That makes the money work when you factor in the budgeted contract for Swayman.  But there probably needs to be another headline piece in there and that's where it gets tricky.  Would they move Fabian Lysell?  If I'm Winnipeg GM Kevin Cheveldayoff, I'm asking for him in that package as Swayman for an extended Scheifele slants too heavily in Boston's favor.  That's at least where I see the foundation of a move for him.
As for Lindholm, talk about pretty much the ideal replacement for Patrice Bergeron, at least on paper.  Finding a trade match will be a lot trickier, however, as they're not going to have interest in one of Boston's goalies.  They also have less cap flexibility than Boston does so now we're talking about basically a straight money match which limits options.  There aren't a lot of combinations that work; the closest money-wise might be Jake DeBrusk and either Ian Mitchell or Jakub Zboril.  The problem is a package headlined by those two isn't getting Lindholm as a rental let alone as an extended player and the Bruins simply lack the draft pick and prospect capital to put a viable package together.  There's an outside shot to do something with Scheifele but I don't see a fit for a trade for Lindholm even though he'd basically be the perfect on-ice fit for them.
Brassroo: Robby Fabbri is a decent player when healthy, but I'd like to see younger players get their chances. Any likelihood that he gets bought out or traded?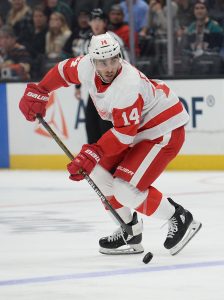 We can cross off the buyout option as the time that Detroit could have done that has come and gone.  I'd also put the odds of a trade somewhere between slim and nil.  I doubt there's a team out there that's willing to trade an asset for Fabbri when they can go sign a similar free agent for less than the two years at $4MM per season.  Meanwhile, the Red Wings aren't in a spot where they need to free up a roster spot or cap space so it doesn't make much sense for them to either pay down the contract with retention or give up an asset to get a team with cap room to take on Fabbri's deal.
There is another option that could achieve your objective though – waivers.  If it gets to a point where Detroit needs a roster spot up front for a younger player that's forcing their hand, they can just waive Fabbri and send him to Grand Rapids when he clears.  They only clear $1.15MM off the cap in doing so but they're far enough under where that's not a problem.  GM Steve Yzerman isn't afraid to take that route either – Alex Nedeljkovic, Adam Erne, and Jakub Vrana all had AHL stints last season on one-way deals.  That might be the best way for them to accomplish the goal of opening a spot for a prospect without waiting for an injury to arise.
Devil Shark: Which team do you think has the best bottom 6 in the league?
Which team do you think has the best 5th and 6th D pair in the league?
Which team do you think has the best league ready depth playing in the AHL and ready to call up?
Subject to change since there's bound to be a lot of bottom-six activity in the next two months but I'll go with Dallas as things stand.  There's a mixture of youth (Ty Dellandrea and maybe Wyatt Johnston; otherwise veteran Matt Duchene might be in there), scoring depth (at least two of Evgenii Dadonov, Mason Marchment, Duchene, and Tyler Seguin), and some capable veterans in Craig Smith and Radek Faksa.  Sam Steel is also in that group and has proven to be serviceable and I wouldn't be shocked if a prospect like Logan Stankoven forces his way into the mix.  That's a group with a fair bit of firepower and versatility.
For the best third pairing, I'll go with Vegas.  Assuming Alec Martinez plays up at five-on-five with Alex Pietrangelo and Brayden McNabb and Shea Theodore stay intact, that has the third pairing at Nic Hague and Zach Whitecloud.  Both players can move onto the second pairing without an issue if injuries arise which also means they can carry heavier minutes than a typical third duo.  They're also young enough that there's still room for improvement.  That's a third pairing a lot of teams would love to have for themselves.
The last one is a bit of an eye of the beholder question.  When I think of NHL-ready depth, I'm looking for players that can easily be slotted in depth roles.  Based on that definition, Pittsburgh stands out as they should have multiple players with NHL experience in AHL Wilkes-Barre/Scranton, assuming they get through waivers to get there.  Columbus has a bit of a roster crunch which could result in them sending some younger players down that are capable of playing bigger roles; they might not be as proven as some of Pittsburgh's options but the upside is better which might be more appealing depending on what it is you're looking for from a depth perspective.
Cyclone: A lot of young talent in Columbus with their forward group. What are reasonable expectations for Babcock in year one with the CBJ?
Not finishing dead last in the East again.  Okay, that's a bit too easy.  I like what they've done with the back end with the additions of Damon Severson and Ivan Provorov; between them and the return of Zach Werenski, they're going to go from having a really weak group to a pretty good one.  I'm honestly more bullish on their blueline than their forward group.
Don't get me wrong, there's some decent depth but there's a lot of development that needs to happen still for them to start to make some noise.  Kent Johnson, Cole Sillinger, Adam Fantilli, Kirill Marchenko, even Alexandre Texier; they're all 23 or younger and haven't maxed out their development yet.  A couple of years from now when they're all more established and productive, then that forward group is going to be dangerous working with veterans like Johnny Gaudreau and Patrik Laine.
I don't have Columbus as a playoff team but realistic expectations should be them playing at least a few meaningful games around the trade deadline.  That would be a 20-25-point jump from last season, or basically ten more wins.  Even that much of a jump might be pushing things.  They'll be better – quite a bit better, really – but I'd be surprised to see them playing in mid-April.
aka.nda: How do performance bonuses affect the cap situation of a team? Does the structure differ for someone on an ELC or 35+ or 1-/2-way deal? Is there a limit to the amount of bonuses a team can offer or a time limit in which they must be paid? Not sure what the Bergeron/Krejci deals were last season, but my gut tells me the bonuses were somewhere in the 2-4mm per. Why not sign Kane or Tarasenko to a similar or higher-bonus deal? What are the loopholes/pitfalls?
If a team has ample cap space to absorb bonuses, there is no material effect.  Let's use Buffalo – they had plenty of space to cover the bonuses that Owen Power, Dylan Cozens, and others hit last season.  Those amounts were added at the end of the year and that's that.  For a team that doesn't have cap space or finishes in LTIR, any achieved bonuses are then charged on next year's cap.  That's what's happening to Boston (and many other teams).
For players on entry-level contracts, there are set thresholds for 'A' bonuses (they vary by position).  There are also 'B' bonuses for players that are near the top of the league in scoring plus games-played ones.  PuckPedia has a good explainer of these rather than me spelling them all out here.
For 35+ players, they're allowed to have negotiated bonuses at any threshold (financial and accomplishment) as long as it's a one-year deal.  A team might offer a bonus at 10 GP and another at 40 GP, for example.  Bonuses are payable when met and the general guideline is they can't exceed 7.5% of the Upper Limit of the cap.  If they do, it then cuts into straight cap space which is what happened to the Rangers not long ago when they had a bunch of players on entry-level deals at the same time.  If a player isn't on an entry-level deal or a one-year 35+ agreement, the only other way a player can have bonuses is if they're a 400-GP veteran who spent more than 100 days on IR the previous year and they signed a one-year contract.  Montreal's Sean Monahan is an example of that one.
Patrick Kane and Vladimir Tarasenko can't get those types of deals because they don't meet the age criterion.  Most players aren't eligible for bonuses outside of entry-level agreements.
The benefit of a bonus-laden deal is that a team can carry a player at a below-market cost (a low base AAV) on the books for that season, allowing them to have a better roster than they would have otherwise.  That's what Boston did last year with Patrice Bergeron and David Krejci.  That's the 'loophole', so to speak.  The downside is that they have to then eat the bonus costs the following season if they don't have enough cap space in the current year to absorb them.  That's why the Bruins have a $4.5MM penalty for 2023-24 based on those bonuses.  Used properly, there's a definite short-term advantage but teams have to pay the piper in the end.  Edmonton will be the next to feel that pain in 2024-25 with the structure of Connor Brown's contract.
Photo courtesy of USA Today Sports Images.