Topics in this edition of the mailbag include last month's draft, a discussion on if the Kings have loaded up too early, the KHL salary cap, and more.  If your question doesn't appear here, check back next weekend when we'll run two more mailbags based on the questions from our most recent callout.
Gbear: Which teams' draft selections did you really like and which did you really not like?
I liked Chicago's draft and not just because they got a franchise player in Connor Bedard.  Oliver Moore slipping to them at 19 was nice for them and as a result, it's quite possible that their top two centers of the future will come from this class.  Adam Gajan is one of the higher-projected goalies from this draft class and while I'm not certain there's a true starter out of the bunch, he could be an option for them in a few years.  They have a shot at three impact players out of this draft class which would be a great outcome.
Buffalo also did well.  Zach Benson slipping outside of the top ten was certainly fortuitous for them and Anton Wahlberg was rated by some as a first-round talent that they got in the second round.  I think Maxim Strbak could play on an NHL back end in the future while Scott Ratzlaff is someone I mentioned in a previous mailbag as an under-the-radar goalie prospect that could see his stock rise next season.
It's harder to pick classes that I didn't like as much as there are several teams that didn't have great drafts simply because they didn't have many picks.  It's hard to hold that performance against them.
But one team that puzzled me was Arizona.  It's not that Dmitri Simashev and Daniil But weren't first-round caliber players.  They certainly were.  But it's fair to say that those were pretty sizable reaches at six and twelve.  As we now have heard in several reports, there were teams looking to trade up and I feel the Coyotes might have lost out on an opportunity to gain some extra assets.  Yes, they have plenty of picks already but just because they did doesn't mean they shouldn't have looked at the trade-down scenarios where they still likely would have got their desired players.
Emoney123: After signing Cates and York this week, will the Flyers score enough to compete this season?
What is the status of the Flyers goalie chart? They seem to like drafting Russian goalies with Fedotov, Kolosov, and Zavragin… will any make it to the NHL with the Flyers? Will Sandstrom and Ersson start the season at Lehigh Valley while Maier at Reading and Bjarnson staying in the WHL? Hart as the presumed starter with Petersen as backup or does Briere dive headfirst and trade Hart to continue the rebuild? What would a probable return for Hart look like?
I don't get the sense that the Flyers are looking to compete next season…at least in the traditional sense.  The moves they've made are that of a team that has an eye on bottoming out and trying to become a contender in the Macklin Celebrini sweepstakes.  So, are they going to score enough to compete at the top end of the standings?  No, but they'll score enough to compete at the bottom of them.  Next season should be about giving their young forwards extended looks in key roles to see how many of them can realistically be a part of their long-term core.  With that approach will come some scoring droughts.
Of the three Russian goalies, Ivan Fedotov has the best shot at making it to the NHL.  He can play at this level now.  Of course, there's the latest issue to navigate with the KHL registering a contract for Fedotov even though his NHL agreement is tolled.  I don't think we've heard the last of things on that front.  If he winds up in the NHL after all is said and done, he's the backup for Carter Hart and Calvin Petersen is once again an expensive third-string option.  Of the others you listed, I think you have the desired Lehigh Valley tandem if Felix Sandstrom clears waivers, Carson Bjarnason will stay in junior, and Nolan Meier isn't currently under contract for next season.
I could be completely wrong on this but I think the idea of trading Hart has come and gone.  Connor Hellebuyck is in play.  So is John Gibson.  I don't think it's entirely impossible that Boston has to trade one of their goalies if an opportunity to add another piece arises.  This is not a marketplace to go into and command top value for Hart's services.  If they can't get top value, they shouldn't be moving him at this time.
Schwa: With rumors that Tarasenko wants to stay with the Rangers, so you see them moving Goodrow and Vlad taking a discount? What does it take to move Goodie's contract out?
Considering that Vladimir Tarasenko fired his agent earlier this month, I'm not certain that he's willing to sign for a significant discount.  If that was the case, he'd have advised his old agent to get a deal done with the Rangers.  Instead, his new agency is starting the process all over again.  Is it possible that he's open to a discount?  Perhaps.  But his recent actions suggest that it's not his Plan A.  I'm intrigued to see where he lands as I think he's one of the dominoes that needs to come off the board before we start to see a bit of activity on the trade front.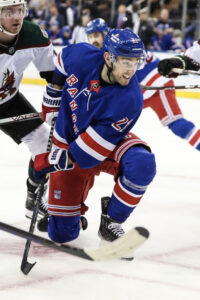 As for what it'd take to move Goodrow's contract out?  My initial thought is more than what New York would be willing to part with.  In this market with so few teams willing or able to take on money (and even less willing to take on term), I think it would start with a first-round pick with a decent prospect on top of it.  Is that a price worth paying to keep Tarasenko?  I suppose it could be but it'd depend on how long he'd be willing to sign for.  As a rental on a discount contract, probably not.  For multiple years on a below-market deal though?  I suppose it could be a consideration.
Goodrow is a capable bottom-six player and he certainly fills some needs on the Rangers.  But an AAV of over $3.6MM is on the high side when most role players are signing for half of that or less.  Four more years of that contract is also a longer term than most free agents have been getting.  That's a double whammy that will make him tough to move as effective as he is.
rpoabr: Did the Kings push their chips in too soon to try to take advantage of Kopitar and Doughty still being productive? Traded away a lot of draft capital and upside players over the last year.
I remember having that same thought last year around the time they traded for Kevin Fiala.  It's not that it was a bad trade but it seemed like they were fast-tracking just a little bit.  Safe to say that one has worked out so far.  At least at the deadline last season, they addressed the goaltending temporarily and with getting Vladislav Gavrikov to extend on a short-term contract, they'll get some value out of the first-rounder they gave up there.
I don't mind the package they gave up for Pierre-Luc Dubois, however, one that was more quantity than true quality.  Alex Iafallo and Gabriel Vilardi are good supporting-cast players but if they're the anchor pieces for a long-term center, take it and run.  Rasmus Kupari's stock has been sliding so moving him out isn't the end of the world either.  Impact centers are hard to trade for and this wasn't an overpayment so I think it was a good move for them to make.
Fundamentally speaking, I understand why they're pushing in their chips now.  Drew Doughty is still at the top of his game and Anze Kopitar is still a high-end center.  Some of their younger players are on club-friendly contracts so their window is now.  At this point, my biggest concern for them is that they basically ignored the goaltending position.  A Cam Talbot–Pheonix Copley tandem isn't good enough in my view to contend in the playoffs.  I expect they'll be trying to address that in-season if they want to best position themselves for a long postseason run.
Gmm8811: Wondering if you can share any info on how the salaries work in the KHL? Cap? Minimum salary? Top pay? Any info on AHL salaries also? Does a player on a non-NHL contract have a minimum?
For the KHL, I can give you numbers from recent seasons at least.  Their cap in 2022-23 was 900 million rubles (around $12.8MM US) with a floor of 315 million rubles (roughly $4.8MM US).  Last June, Championat in Russia revealed the top-13 salaries in the league from the year before.  Blackhawks 'prospect' Max Shalunov was the highest in 2021-22 at 90 million rubles (around $1MM US).  A 2011 draft pick, Shalunov is still property of Chicago should he decide to try his hand in the NHL.  I assume there's a minimum salary in that league although I wasn't able to find what it was.
As for the AHL, I can fill in some blanks.  There is a CBA for that league (which expires in August 2024) and the minimum salary for the upcoming season is $52,725 US for players on one-way AHL contracts.  For players on two-way deals with the ECHL as well, the minimum is $41,625 for US-based teams or $54,100 for Canadian-based clubs paying in that currency.  There is no salary cap or maximum salary for that league.  Players on AHL-only contracts seldom have the financial terms released but we've seen some recent NHL two-way contracts around the $500K mark in AHL salary (or at least a guaranteed portion).
Grocery Stick: How likely is it for players on AHL contracts to actually play in the NHL this season?
Take Jonah Gadjovich for example. He played a combined 78 games over the past two seasons with the Sharks. He was left unqualified and now signed a one-way contract with the Charlotte Checkers. So I'm curious: Are players like him actually giving up on playing NHL games this season? As far as I understand you'll need an NHL contract for playing NHL games. Or is it common they can get back via PTO, or getting an NHL contract after they signed their AHL contract?
It feels like we're starting to see players go the AHL-only route more often in recent years.  There's a benefit for the team in that the player doesn't need to go through waivers to get to their affiliate, nor does he count against the 50-contract limit.  Speculatively, I suspect those players are getting a pretty good AHL salary in return for not needing an NHL deal right away.  It also gives them the ability to jump to another NHL organization if an opportunity comes up.
I wouldn't say that it's common that a player on an AHL contract gets converted to an NHL deal but it does happen.  Alex Chiasson is probably the best recent example, going from an AHL contract with Detroit to an NHL deal with them in early March and spent the rest of the season with the Red Wings from there.  Players can be converted to an NHL contract at any time but they need to be registered before the trade deadline to maintain playoff eligibility in both leagues.  It also does happen where a player signs an AHL deal with one organization and then signs an NHL agreement elsewhere.  Ben Hutton did that in 2021, joining San Diego (Anaheim) on a PTO before then signing an NHL contract with Vegas.
Gadjovich is an interesting case in that he has a lot of recent NHL experience.  I wouldn't be surprised if he eventually gets converted to an NHL deal at some point, either with Carolina as a recall or with another team who runs into injury trouble.
joebad34: Did the Buffalo Sabres announce who their ECHL affiliate will be? If not, who potentially could be the Sabres ECHL affiliate?
Officially, no, they haven't announced it yet.  That's believed to be coming Monday and they will be affiliating with Jacksonville in what amounts to an ECHL affiliate swap between the Rangers and Sabres.
Photo courtesy of USA Today Sports Images.