Topics in this edition of the PHR Mailbag include Chicago and their goaltending, way-too-early predictions for new playoff teams next season, Sergei Bobrovsky's volatility, and much more.  If your question doesn't appear here, check back in our last two mailbags.
Unclemike1526: The Blackhawks have Mrazek and Soderblom-Stauber for this year. We're stuck with Mrazek. So Commesso, and maybe Basse in the system. I think the Hawks should draft Hrabal, however they need to. I saw one mock draft saying the Hawks would draft Trey Augustine in the second round. What is your opinion of Hrabal and Augustine? I think the Hawks stay put at 1 and 19. Then they take their high second-round pick and package it with a player or more picks to get back into the late 1st round and take Hrabal or if he's gone, Gauthier. I think that would be a great scenario for the Hawks. I think you can never have enough good goalies. Thoughts?
I like Michael Hrabal but it feels to me like his stock is soaring a bit too high right now.  Yes, he's big and big is good for a goalie but I'm not convinced he's a 1A starter down the road.  He's raw and rangy and those players don't always pan out.  Size allows him to get to more shots but he still needs to be technically sound and by most accounts, that's something that still needs a lot of work.  If he's a platoon player, he can still have a long and productive career but is a platoon goalie worth a first-rounder?  I don't think it is.  I wouldn't be shocked if someone picks him in the first round but I'm not convinced that it's a good idea.  In your scenario, I like the idea of trading up for Ethan Gauthier more than I do for Hrabal.  If Hrabal is there at 35, grab him then.
As for Augustine, I think he might be the better goalie of the two but while Hrabal's size has sent his stock soaring, Augustine's size has lowered him in the rankings.  He's more of a technically-sound netminder and in a structured system, I think he can do quite well, at least as a platoon option.  Chicago is anything but structured right now but any goalie being taken is going to be four years or more away from being NHL-ready.  I'm betting that by then, the Blackhawks' defense will be much better than it is now.
As for the philosophical idea of never having enough good goalies, I tend to agree if a team is trending toward a platoon as many are.  The value in that approach is saving money relative to having a true starter and a backup but it also means that you need to have a few netminders in the system.  As soon as one of those platoon pieces gets too expensive, the next in-house option needs to be ready for this to work as planned.
Generally speaking, there are only around 20 goalies that are picked in a typical draft year.  With more teams going to a platoon system, that number should be higher.  We'll find out soon enough if that trend continues or if teams get more aggressive in getting netminders into their prospect pools.
random comment guy: I would like to piggyback off this, with the Hawks needing to reach the cap floor (roughly $16M or so), what teams will be calling to get high-salary players off their roster? I assume the Hawks will want 1-2 year contracts as it will fit their timeline. Also, do you feel that the return should be more draft picks or prospects/players?
There are a few groups of teams in the category of needing to move money.  There are those that have a high-priced contract for an underachieving player that are just looking to get out of the deal.  Think the Islanders and Josh Bailey.  There are those that wouldn't mind offloading an LTIR-bound contract such as the Maple Leafs and Jake Muzzin.  Then there are teams that don't want to move a player but whose cap situations are going to force their hand.  Boston and to a lesser extent Edmonton are among those.  Vancouver is sort of here as well although they don't have to make a move, they just might prefer to.
I agree that Chicago – or any team acting as a clearinghouse – will be looking for short-term contracts.  Why take on a long-term agreement that could be problematic down the road if it can be avoided?  Sure, there could be more futures coming their way as compensation but there's a limit to how much a team is going to pay to offload an unwanted contract and it probably won't be enough to justify a long-term acquisition.
I'd put the Blackhawks in a spot where they should be targeting prospects.  They're not ready to push for a playoff spot yet, even with Connor Bedard giving them a big boost offensively.  They've just gutted too much of the core to turn it around in a year.  But getting more draft picks that are years away from playing doesn't make sense either.  The sweet spot for them should be drafted players between 19 and 22 (give or take a year) that are on the cusp of being ready.  Those will be the core pieces that align with Bedard's timeline and part of the core that eventually helps lead them back into contention.  A year or two from now when it's time to flip the switch, then go after the win-now players who will then be augmented by this prospect core.
M34: Waaaay too early predictions. Two or three teams from each conference's playoff picture, that won't make the playoffs next year. And who takes their spots?
The next couple of weeks could make me look silly on this but here goes nothing.
East: Even with Alex DeBrincat likely to be moved, the Senators can still do some damage next season.  A full season from Josh Norris will help.  I think they're going to get a goalie.  And with the cap space they free up from a DeBrincat swap, they're likely to add a piece or two of note in free agency or by taking on a player in a trade.  I also expect the Penguins to find a way to get back in.  They have some cap flexibility this summer and while they have a few holes to fill with that money, I think they'll be able to add a piece or two to help get them over the hump for a Wild Card position.  It wouldn't shock me to see Buffalo get in there as well as their roster continues to improve and likely has a move or two to be made in the coming weeks.
In terms of who misses out, the Panthers come to mind.  I had this same concern with Boston last summer (and boy, was I wrong there) but I figured their injuries would cause them to struggle out of the gate and even though they'd be a playoff-caliber team, they'd have too much of a hill to climb by the time the team got healthy.  I could see this happening with Florida.  I'll say the Islanders also just miss out.  Their desired style of play is good for keeping things close but they still lack an above-average attack and their back end could be weakened if Scott Mayfield can't be retained.  They'll be competitive but just miss out.  If Boston really has to blow things up, it wouldn't shock me if they just missed out.  It also wouldn't shock me if Tampa Bay, bereft of even more depth next season, gets bit by the injury bug and with a weaker roster, ultimately comes up short.
West: I have one team that I have a bit of confidence in that could get in and that's Vancouver.  Thatcher Demko should be better.  Their offense is already strong.  I don't think they're going to leave their back end as is.  On paper, that roster should be a playoff-caliber group.  Calgary is going to be forced to sell, Nashville might be bottoming out, Arizona and Chicago should be better but not playoff-ready and Anaheim and San Jose aren't close.  I guess St. Louis is my second team by default since I have to pick at least two but let's just say I'm not typing this with much conviction.
Winnipeg is the logical team to be replaced as it sure feels like they, too, are heading for at least some sort of step back.  It'd be tough to move that much of their core and improve.  And if I have to pick a team for St. Louis to knock out, I guess it'd be Seattle.  There's a fine line to navigate for teams built like they are.  When it works, they can be a handful but if a couple of players take a step back offensively, that could be the difference, especially with their question marks between the pipes.
PyramidHeadcrab: So what's the deal with Sergei Bobrovsky? Every player has ups and downs, but this guy seems to swing wildly from Vezina caliber to $10MM paperweight. Has any other goalie in NHL history been so wildly inconsistent? And what might you surmise the reasoning behind it is? Injury? Personality? Poor coaching?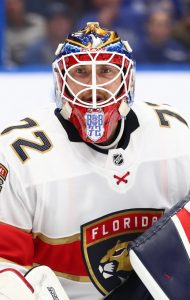 There's a 33-point gap between Bobrovsky's best year and worst in terms of save percentage.  That's definitely on the high side.  My first instinct when I saw the comparables question was Ilya Bryzgalov but as erratic as he was, the gap in the prime of his career wasn't anywhere close.  Tim Thomas also has a 33-point difference but I wouldn't put him on the same scale of wild inconsistency.  Mike Smith went from .899 one year to .930 and then within a few years, was down to .904.  Objectively speaking, there's probably someone whose year-to-year volatility is comparable to Bobrovsky but one doesn't come to mind right away.  And even so, Bobrovsky's game-to-game and even period-to-period variances still could make him unique.
He has had enough goalie coaches over his career that it's probably not that.  I don't think it's injury-related either.  I think it's a confidence thing.  Some players rattle easy and he might be one of them; a bad goal bugs him and eventually it nosedives into another bad one, then another, etc.  On the flip side, a few big saves beget a few more big saves and then he gets on a roll.  Goaltending is just a weird position and there isn't necessarily a lot of predictability involved other than to say there shouldn't be much in the way of predictability.  This JFresh article from 2020 (Bobrovsky's first season with Florida) better describes the volatility of the position.  Bobrovsky manages to take that to a whole other level.
The Duke: Crystal Ball – Goaltenders Edition: Where do Gibson, Saros, UPL, and Hill play next season – and how successful will each be?
John Gibson – I guess the ball doesn't get to say Anaheim anymore, does it?  Let's go with Pittsburgh with the Ducks retaining a small percentage of the deal to get the net cost closer to $5.5MM.  Playing behind a better team with playoff aspirations, he adds 13 points to his save percentage of .899, giving the Penguins a net gain on their team save percentage and that's enough of a difference to get them a few more wins in the standings.
Juuse Saros – Nashville is moving a lot of players but this is one of those cases where they're not going to get a max return if they move him now.  Not with Connor Hellebuyck out there; there are only a handful of teams that will be willing to pay up for a true starter.  He might not finish the season there but he should start it there.  With a weaker group in front of him, he loses a few points off the .919 SV% he put up last season.  That's still well above average but it probably won't be enough to get a bunch of wins unless they wind up buying big after selling big.
Ukko-Pekka Luukkonen – There's a definite case to be made for Buffalo to add a goaltender and if they do, Luukkonen is probably going elsewhere.  But the ball sees them investigating the market and then deciding to go with Luukkonen and Levi to start, believing that if they need to make an in-season move to get a stabilizer between the pipes, they'll be able to do so.  After putting up an .891 SV% this past season, Luukkonen winds up closer to the NHL average (which should be somewhere in the .905 range).
Adin Hill – Staying in Vegas seems like the most probable scenario, especially since it appears that he's nearing an extension.  With a heavier workload than he's used to having during the regular season, Hill's SV% dips a few points from .915 to .911.
Red Wings: Panthers should have some cap space this summer. If they add one piece, should they target Bertuzzi or Orlov?
Style-wise, Tyler Bertuzzi is the better fit.  Florida plays with an edge and Bertuzzi would bring more skill and sandpaper to a top-six group that already had a good chunk of it.  But, staying healthy is a big question mark so I'd lean to Dmitry Orlov.
Aaron Ekblad and Brandon Montour are banged up.  Montour and Gustav Forsling are only a year away from unrestricted free agency.  Radko Gudas is an unrestricted free agent next weekend.  (Even Ekblad is only two years away from potentially testing the open market; he's their longest-signed blueliner too.)  Short-term, there's a need to get someone to stabilize things next season.  Long-term, there's simply a need to have a capable veteran in there to hedge against some of their veterans potentially leaving.
Orlov's going to get a pricey contract this summer, one that's a bit too much money and almost certainly too much term.  But he's reliable and consistent.  I think they need that more than the higher upside but higher risk that Bertuzzi would bring to their forward group.
joebad34: Is the NHL serious about expansion, and are KC, Houston, Quebec, and Atlanta potential sites for teams or are they pipe dreams?
Should the NHL be serious about expansion?  No, not really.  Are they serious?  Behind the scenes, probably.  When a team like Ottawa has a valuation of $950MM in a sale, someone is sitting there wondering if they can crack an even billion in expansion fees in the not-too-distant future.  Those fees aren't a part of HRR calculations which means it's just for the owners and if you do the math, that's a lot of money per team.  And when there's a lot of money for each team on the line, someone's going to make a case for it soon enough.
Three of those seem like viable expansion sites although an Atlanta owner might not want to put up that much given the lack of success the first two versions of the franchise had.  Market-wise, however, the NHL would probably like to get back there.  Salt Lake City is getting some momentum though that might be more of a relocation option.  I don't think Quebec is a viable expansion option.  Economically speaking, it's hard to justify a potential owner putting up that much money for a franchise that would probably be second fiddle in a province that doesn't have a lot of corporate backing (which is a concern for Winnipeg as well).  They work as a last resort relocation option because the arena is in place already and the floor of the market is good enough for a team to be viable but if they have put up a ten-figure sum to get the franchise, I think there would be some profitability concerns.
Photo courtesy of USA Today Sports Images.