The offseason has arrived for all but the two teams that still have a shot at winning the Stanley Cup.  It's time to examine what those eliminated squads will need to accomplish over the coming months.  Next up is a look at Los Angeles.
The Kings bolstered their offense with the acquisition of Kevin Fiala last summer and he helped improve their attack from the 20th-best team in 2021-22 to ninth in the league in scoring this season which also helped them surpass the 100-point mark for the first time since 2015-16.  However, they were once again by Edmonton in the first round.  Slow and steady improvement is rarely a bad way to go and their checklist for this summer is based on the idea of them staying on their current trajectory.
Kopitar Extension Talks
Anze Kopitar has been a fixture in the lineup for the Kings since 2006, a year after being the 11th overall pick.  He sits third in franchise history in points and should be able to move into second place about a month or so into the season.  The two-time Selke winner has one year left on his contract and accordingly, he is eligible for a contract extension as of July 1st.  Kopitar's current deal carries a $10MM AAV, one that seemed a bit steep at the time but he has certainly lived up to it.  However, he's also 35 and by the time his next contract starts in October 2024, he'll be 37.
With the center depth that Los Angeles amassed in recent years – including top-five selections in Quinton Byfield and Alex Turcotte – it looked as if their plan was that they would be able to replace Kopitar by the time his deal was up.  That doesn't seem likely to happen though; Byfield spent time on the wing this season while Turcotte has struggled in the minors at times and isn't ready for NHL duty.  Phillip Danault was a nice addition in free agency in 2021 but he isn't a prototypical top center either.
Accordingly, it seems likely that GM Rob Blake will look to sign his captain to an extension.  It's almost certainly going to be a short-term deal (somewhere between two and four seasons) where the longer the term, the lower the AAV.  Kopitar won't be eyeing a $10MM price tag again on that next agreement but he's coming off a 74-point effort, his highest since 2017-18.  As a result, it wouldn't be surprising to see an extension check in somewhere around the $7.5MM mark, allowing him to remain with the only NHL franchise he has ever known while keeping some stability down the middle while they hope for their prospects to eventually move into a more critical spot in the lineup.
Re-Sign The Columbus Rentals
At the trade deadline, the Kings did their shopping in one move, picking up goaltender Joonas Korpisalo and defenseman Vladislav Gavrikov from the Blue Jackets.  Both players are pending unrestricted free agents and with how they performed with their new team, the Kings would certainly like to keep them around.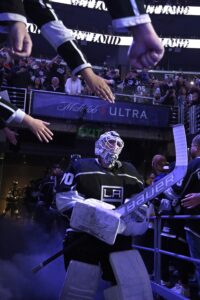 Korpisalo signed a one-year deal with Columbus last summer coming off surgery in the hopes that he could show he was healthy and rebuild some value.  Mission accomplished on that front.  He did well with the Blue Jackets and then after the trade, the 29-year-old took over the starting role quickly with a 2.13 GAA and a .921 SV% in 11 starts.  Because of his more volatile track record, Korpisalo won't be able to command top dollar on the free agent market which works in the Kings' favor but he is still in line for a significant raise on the $1.4MM he made this season.  It shouldn't need to get to Calvin Petersen-type money but getting Korpisalo signed should give them some upside at the goaltending position for next season.
As for Gavrikov, the 27-year-old took a step back from his 2021-22 performance with Columbus but found another gear following the trade, notching nine points in 20 games following the swap.  He's a legitimate top-four defenseman in a UFA market that doesn't have a lot of them.  While Gavrikov's AAV over the last three seasons was $2.8MM, his salary this season was $4.2MM, a figure that's likely to stand as a reasonable starting point for extension talks.  It's worth noting that a report last month had the two sides making progress on a new deal although clearly, that hasn't gotten across the finish line yet.
New Deal For Vilardi
Staying healthy was a challenge for forward Gabriel Vilardi early in his career with lingering back troubles being problematic.  Even this season, while his back wasn't an issue, he had multiple injuries that caused him to miss 19 games in the regular season plus the first game of the Edmonton series.  However, when he was in the lineup, he made an impact.  After notching just 18 goals on his entry-level deal, the 23-year-old bested that total in 2022-23, picking up 23 goals and 18 assists in 63 games, giving them a pretty nice return on a one-year, $825K contract.
That deal is now up this summer and Vilardi will once again be a restricted free agent.  The big difference this time around is now he'll be arbitration-eligible and obviously has a much better platform year to work from.  Given their desire to re-sign Korpisalo and Gavrikov, it's reasonable to think another bridge contract will be coming Vilardi's way if they're able to ink those two.  A shorter-term agreement should see the AAV fall somewhere in the mid-$2.5MM range but if they work out a pact that buys some extra years of club control, it could creep closer to the $4MM mark.
Trade From Defensive Depth
There are going to be a lot of teams looking for defensive depth this summer.  That's great news for Los Angeles as they project to have a blueliner available.  Assuming Gavrikov re-signs, that would give them a top-three of him, Drew Doughty, and Michael Anderson that are signed for multiple seasons.  Top prospect Brandt Clarke could be ready for full-time NHL duty as soon as next season.  That's a nice top-four to work with.
Meanwhile, they have Matt Roy and Sean Durzi who will be entering the final year of their respective contracts next season.  They also have prospect Tobias Bjornfot who was shuffled to and from the AHL frequently this year but is now waiver-eligible.  Additionally, prospect Jordan Spence has lit it up with AHL Ontario the last two seasons and is probably ready for a long look with the big club as well.  Kevin Connauton and Jacob Moverare are pegged to be in the minors but also have NHL experience.  All things considered, their depth is pretty strong.
There's nothing wrong with having extra depth but there's a case to be made to move one of them even after trading Sean Walker earlier today.  Durzi's just 24 with three years of club control remaining and should bring back a nice return and a bit more cap room (he has a $1.7MM AAV) while making room for one of Spence or Clarke.  They could try to move Spence and cash in on his rising value.  There's still room to move one more defender and with demand for blueliners being high, that should work in Blake's favor should he opt to make another move.
Photo courtesy of USA Today Sports Images.