The Kings made a pair of additions just before the trade deadline this season, picking up goaltender Joonas Korpisalo and defenseman Vladislav Gavrikov in a trade with Columbus.  While both players are set to have their current contracts expire at the end of June, it appears at least one of them could stick around beyond that point.  Michael Russo and Eric Duhatschek of The Athletic report (subscription link) that there's a belief that Los Angeles is closing in on an extension with Gavrikov.
The 27-year-old had a breakout year in 2021-22, picking up a career-best 33 points in 80 games while topping the century mark in shots on goal, hits, and blocks for the first time.  Unfortunately for the Blue Jackets, Gavrikov wasn't able to maintain that level of production this season, dipping to just three goals and seven helpers in 52 games prior to the trade despite averaging 22:20 per game, slightly over his average from last season.
However, Gavrikov's performance improved considerably following the swap.  He spent a lot of time on the second pairing and the slightly lesser role seemed to work well for him, at least offensively, as he collected three goals and six helpers in 20 regular season games with Los Angeles.  He logged nearly 22 minutes per night for them in the playoffs in their opening-round exit to Edmonton.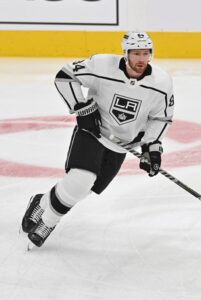 Gavrikov is coming off what could fairly be termed as his bridge contract, even though it's one that walks him straight to UFA eligibility.  His cap hit over the last three seasons has been $2.8MM while his salary this year was $4.2MM.  It stands to reason that his salary this season could serve as a starting point for negotiations, especially if they're trying to convince him to forego testing the open market in July.
If the two sides are able to agree on a deal, it could be the beginning of an interesting offseason for Kings blueliners.  With Brandt Clarke likely to be on the roster full-time next season after dominating with OHL Barrie following his reassignment after the World Juniors and Tobias Bjornfot now waiver-eligible, there's likely to be a bit of a logjam.  There are already five other rearguards signed for next season not including Gavrikov plus promising defenseman Jordan Spence also waiting in the wings after spending most of the year at AHL Ontario.
Cap space is going to be a bit of a premium for Los Angeles next season as they currently have nearly $76MM in commitments for 2023-24, per CapFriendly.  With the Upper Limit likely to be at $83.5MM, spending more than half that money to keep Gavrikov would only tighten things further.  However, if keeping him would allow them to move someone like Sean Walker or Sean Durzi, they'd be able to use the savings from that swap to help subsidize Gavrikov's new deal.
Both Korpisalo and Gavrikov played big roles for the Kings down the stretch and it's quite possible that they're going to take a serious run at keeping both of them around.  But it appears that Gavrikov is their priority and it might not be long now before he puts pen to paper on a new contract.
Photo courtesy of USA Today Sports Images.