Free agency is now a little less than a month away and teams are looking ahead to when it opens up.  There will be several impact players set to hit the open market in July while many teams have key restricted free agents to re-sign as well.  We continue our look around the NHL with an overview of the free agent situation for the New Jersey Devils.
Key Restricted Free Agents
F Timo Meier – The biggest trade of the 2023 NHL Trade Deadline, Meier seemed to have a difficult transition early on in joining the Devils. In 21 games down the stretch, Meier scored nine goals and five assists, not quite what New Jersey was expecting after giving up so much to acquire him. In the playoffs, it was much of the same for Meier, only scoring two goals and two assists in 11 games.
This summer, Meier is due a $10MM qualifying offer, which may have precluded contending teams from acquiring him this year. If Meier is not open to signing a long-term deal, $10MM for one year would make him one of the highest-paid players in the NHL. Down the stretch for New Jersey, Meier was clearly not worth a total of $10MM a season, so the Devils will have a lot on their plate trying to get Meier to accept a lower AAV.
F Jesper Bratt – Once again, Bratt had another terrific season with the Devils. In 82 games, Bratt was able to score 32 goals and 41 assists, finishing fourth in New Jersey in scoring. Drafted 162nd overall in the 2016 NHL Draft, Bratt is quickly becoming one of the biggest draft steals in the league today.
Having already signed a 2-year, $5.5MM contract back in 2021, and then accepting a 1-year, $5.45MM contract this season, Bratt will surely be looking for a long-term extension much like Jack Hughes and Nico Hischier have already received from the Devils. In mid-May, it was reported that although pausing extension negotiations for the playoffs, it is not expected that New Jersey and Bratt will hit many snags in their negotiation.
G Mackenzie Blackwood – Once again dealing with injuries throughout the season, this year may have become the end of the line for Blackwood in New Jersey. Only able to appear in 22 games, Blackwood held a 10-6-2 record, posting a .893 SV% and a 3.20 GAA. Already having Vitek Vanecek for the next two seasons, and the up-and-coming play from Akira Schmid, there may not be any room left on the depth chart for Blackwood.
Other RFAs: F Nathan Bastian, F Jesper Boqvist, F Michael McLeod, F Yegor Sharangovich, D Kevin Bahl, F Timur Ibragimov, F Aarne Talvitie, D Jeremy Groleau, D Zackary Hayes, D Reilly Walsh, G Zacharie Emond
Key Unrestricted Free Agents
D Damon Severson  – Having a little bit of a down year compared to last season, Severson still provided steady play to the Devils' back end, much like he has done throughout the entirety of his career. This season, in 81 games played, Severson scored seven goals and 26 assists, averaging just under 20 minutes a game. On the defensive side of the puck, Severson blocked 115 shots for New Jersey this year and improved quite a bit on his career average in terms of puck possession.
On the right-hand side of their defensive core, the Devils already have All-Star defenseman, Dougie Hamilton, with top prospect Simon Nemec waiting in the wings. If Severson still values himself in the top four of a contending team's defensive unit, it will likely not come in New Jersey moving forward.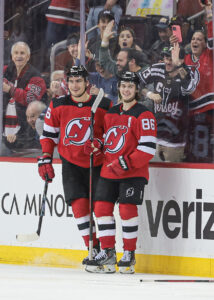 D Ryan Graves  – Acquired from the Colorado Avalanche before the 2021-22 season due to the Seattle Kraken expansion draft, Graves has become one of, if not the best shutdown defenseman in hockey. In 78 games played this year, Graves scored eight goals and 18 assists, carrying an impressive +34 rating. Providing New Jersey with 152 blocked shots, and also playing just under 20 minutes a night, Graves has shown the ability to play with the opposing team's top talent.
F Erik Haula  – Playing on his fifth team in the last four years, Haula will surely be hoping for a multi-year deal, giving himself some security on his next contract. Coming over in the offseason from the Boston Bruins, Haula became a great depth scorer for New Jersey this year. In 80 games, Haula scored 14 goals and 27 assists, playing almost 17 minutes a night. Haula also played quite well for the Devils in the playoffs, scoring four goals and two assists in 12 games. Based on his previous contracts, Haula shouldn't be expected to make north of $3MM a year, which may entice the Devils to extend their relationship.
Other UFAs: F Tomas Tatar, F Miles Wood, G Jonathan Bernier, F Mason Geertsen, F Jayce Hawryluk, F Brian Pinho
Projected Cap Space
Although the Devils are expected to have around $34.3MM available to them in cap space this summer, expect contract extensions to eat into most of that. Based on their market, Meier and Bratt should be expected to both receive contracts of at least $8MM a year, which would cut into the Devils' cap space considerably. Aside from that, New Jersey does have some unrestricted free agents entering this summer that will be expecting decent paydays as well.
Luckily for the Devils, if they are looking to improve this team in any considerable way, it will likely be in the form of Luke Hughes and Nemec getting more ice time next year. In a thin free-agent market this year, New Jersey may be better off extending most of their free agents and injecting even more youth into this exciting lineup.
Photos courtesy of USA Today Sports Images.  Contract information courtesy of CapFriendly.