Free agency is now a little less than a month away and teams are looking ahead to when it opens up.  There will be several impact players set to hit the open market in July while many teams have key restricted free agents to re-sign as well.  We continue our look around the NHL with an overview of the free agent situation for the Minnesota Wild.
Key Restricted Free Agents
G Filip Gustavsson – A 2016 second-round pick, Gustavsson was acquired by the Wild last offseason in a one-for-one trade with veteran Cam Talbot. The expectation was that Gustavsson would serve in tandem with entrenched starter Marc-Andre Fleury, with the future Hall of Famer likely to receive the higher-leverage starts. Gustavsson blew all those expectations out of the water, though, and in 39 games played posted a .931 save percentage and 2.10 goals-against-average, marks that ranked second in the NHL behind Vezina Trophy frontrunner Linus Ullmark.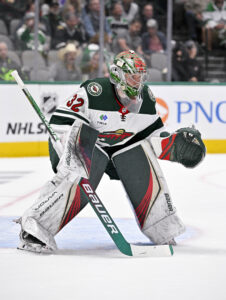 The 24-year-old's breakout came as a surprise due to the fact that he had posted just an .892 save percentage with the Ottawa Senators in 18 games the year prior, and he has a career .898 save percentage in the AHL. But it came at an incredible time for Gustavsson, as he's now due for a new contract and has put together about as strong of a recent body of work as a netminder could hope to have.
For Minnesota, the difficulty with Gustavsson's new deal will be deciding whether they believe he can replicate this past season's form. Investing significant dollars in him based on a sample size of under 50 starts is a risk, and the Wild have to think about who they have in the pipeline – top goalie prospect Jesper Wallstedt. Recent reporting indicates both sides are optimistic a deal will be reached, but with Minnesota strapped for cap space, these negotiations could be difficult.
D Calen Addison – The 23-year-old Addison's rookie season was quite the up-and-down affair. There were some genuine positives, such as Addison leading the NHL in rookie power play scoring with 18 power play points. The blueliner finished with 29 points in 62 games played, which is nearly a 40-point 82-game pace. That's an extremely impressive level of production for a first-year rearguard. But Addison's play at even strength routinely drew criticism and the difficulties he faced defending in his own end resulted in him becoming a frequent healthy scratch later in the Wild's season.
That mix of exciting promise and disappointing inconsistency places Addison in an intriguing spot heading into the offseason. He's clearly developed beyond the AHL level (he was an All-Star and All-Rookie team selection in 2002-21) but in order to earn the trust of head coach Dean Evason, he's going to need to take major steps forward in his game. His box score numbers likely merit a decent raise from the $795k cap hit he played his rookie season on, but one wonders if Minnesota is ready to commit to him in that sort of fashion.
Other RFAs: F Sam Steel, F Brandon Duhaime, F Mason Shaw, F Damien Giroux, F Nick Swaney, G Hunter Jones
Key Unrestricted Free Agents
D Matt Dumba – With the emergence of Brock Faber late in the Wild's season and the team's ever-present salary cap issues, it seems this Dumba's exit from Minnesota after nearly a decade as a lineup regular will be confirmed later this summer. The soon-to-be 29-year-old blueliner is still widely respected in the Wild organization for what he brings to the table, but it would take significant creativity for the Wild to find a way to match the types of offers Dumba could receive from other clubs on the open market.
While his offensive production has declined precipitously from 2017-18's 50-point peak, Dumba still logs top-four minutes and is a valued locker room leader. It's true that he might have trouble earning the $6MM he earns on his current deal in today's current cap environment, though it would be no shock to see him cross the $4MM AAV mark on a multi-year deal, which is likely to be a price too rich for the Wild to afford.
D John Klingberg – Expected to land a major free agent contract in last summer's open market, interest in Klingberg's services was less robust than he or his representation may have anticipated. This resulted in him accepting a one-year, $7MM contract from the Anaheim Ducks with the likely hope that he'd have another strong season and re-enter the open market on even stronger footing. Klingberg didn't exactly have a strong season, though, as he failed to make a difference on what was an anemic Ducks power play, and his declined offensive production shined an even harsher light on his deficiencies as an all-around defenseman.
The former 67-point scorer remains a dynamic offensive defenseman, but as he's set to turn 31 years old he's unlikely to receive the type of payday he seemed lined up for just over a year ago. And whatever contract offer he does end up accepting, it's unlikely to be from the Wild due to their lack of cap space.
F Oskar Sundqvist – Sundqvist, like Klingberg, was a mid-season trade acquisition of the Wild. He actually played quite well in Minnesota, providing versatility and physicality to their lineup, but injuries have significantly impacted his ability to build momentum as a difference-making NHLer.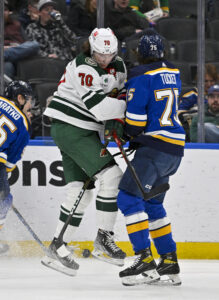 Now 29 years old, Sundqvist is likely to be an in-demand bottom-six option on the open market next month.
While Minnesota would surely like to be able to retain the 2019 Stanley Cup Champion's services, they're also more likely to rely on cheaper players to fill roles deeper in their lineup.
As a result, Sundqvist will likely be forced elsewhere if he wants to have a chance at matching the $2.75MM AAV he earned on his last deal.
F Gustav Nyquist – Nyquist only managed to play in nine games as a member of the Wild thanks to an injury he suffered as a member of the Columbus Blue Jackets, but he nonetheless managed to make his mark. He managed to score 10 points in those nine games, and his five points in six playoff games tied him for the team lead with Ryan Hartman and Mats Zuccarello. Set to turn 34 before the start of next season, Nyquist is unlikely to receive significant long-term offers this summer.
But his form in Minnesota reminded teams that he's still capable of some valuable offensive production, and it was only one season ago that he managed to cross the 50-point mark for the third time in his career. Nyquist has scored 40 or more points in a season eight times and is likely to be an option for a team with some cap space looking to add some reliable production to their middle-six.
Other UFAs: F Ryan Reaves, F Brandon Baddock, F Mitchell Chaffee, D Joe Hicketts, D Dakota Mermis, G Zane McIntyre
Projected Cap Space
This is where things get tricky for Minnesota. The team will have $14,743,588 in dead money on their books thanks to the buyouts of Ryan Suter and Zach Parise, a figure that eats up nearly one-fifth of their total available salary cap space. Since their core of key contributors from Kirill Kaprizov to Joel Eriksson Ek eat up significant cap space as well, the team has very little financial room to maneuver this summer. They should have enough to take care of contract extensions for expiring players such as Gustavsson and Addison, but pursuing more meaningful roster upgrades (such as acquiring a long-awaited star-level first-line center) is likely to either require major roster surgery or some extreme financial creativity.
Photos courtesy of USA Today Sports Images.  Contract information courtesy of CapFriendly.