Free agency is a month away and teams are looking ahead to when it opens.  There will be several impact players set to hit the open market in July while many teams have key restricted free agents to re-sign as well.  We continue our look around the NHL with an overview of the free agent situation for the Dallas Stars.
Key Restricted Free Agents
F Ty Dellandrea – Playing in his first complete season in the NHL, Dellandrea made a massive improvement on his previous two seasons. This year, playing in a full 82 games, the young forward scored nine goals and 19 assists while averaging a bit over 14 minutes of ice time per night. Dellandrea also provided the Stars with a serious physical presence, throwing 125 body checks on the season.
Drafted 13th overall in the 2018 NHL Draft, the Stars were waiting on a talent outburst that Dellandrea could provide. Playing mostly in the AHL last season, Dellandrea scored 23 goals and 27 assists in 68 games for the Texas Stars, finishing second on the team in points.
In the playoffs this year, Dellandrea actually received more playing time than he did during the regular season, based in large part due to Joe Pavelski's injury against the Minnesota Wild. In 15 games, Dellandrea scored three goals, two of those coming in the Stars' Game Five victory against the Vegas Golden Knights in the Western Conference Finals.
As Dallas looks to remain competitive in the Western Conference, and will surely look to continue their run of being a Stanley Cup contender, Dellandrea will be an important piece to keep around. Holding a workhours mentality, Dellandrea's ability to provide offense at clutch moments, and also provide an undeniable physical presence, is an important piece to have on any team looking to capture the Stanley Cup.
Other RFAs: F Nicholas Caamano, F Riley Damiani, F Scott Reedy, F Marian Studenic, D Dawson Barteaux, D Oskari Laaksonen, G Matt Murray, G Adam Scheel
Key Unrestricted Free Agents
F Evgenii Dadonov – Acquired in an under-the-radar trade with the Montreal Canadiens prior to the 2023 NHL Trade Deadline, Dadonov quickly became the most important trade acquisition for Dallas during the regular season. In 23 games for the Stars, Dadonov scored only three goals but still managed 12 assists down the stretch for Dallas.
He continued his strong pace in the playoffs, scoring four goals and six assists in 16 games, including one game-winning goal. Although finishing a contract that was paying him a total of $5MM a season, Dadonov's next contract should come at a much lower cost. The contract was originally signed with the Ottawa Senators back in 2020, but Dadonov has been traded three times since the ink hit the paper.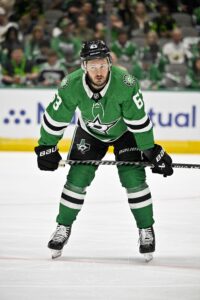 F Max Domi – Also coming in as a trade deadline acquisition, Domi was brought in to fill the hole on the Stars' second line next to Tyler Seguin and Mason Marchment. The trio did not stay healthy down the stretch, and fans were unable to see the full line in action until the Stanley Cup playoffs.
Although Domi had a slow start to his career with Dallas, this line really came together during the playoffs, completely taking over the game during the series against the Minnesota Wild. On an individual level, Domi himself completely unleashed during the Stars' Game Four win over the Seattle Kraken, scoring two goals and one assist to secure the victory. Being traded twice in as many seasons, Domi will surely be looking for a multi-year agreement this summer to obtain some security.
Other UFAs: F Luke Glendening, F Joel Kiviranta, F Frederik Olofsson, D Joel Hanley, G Dylan Wells, F Riley Barber, F Rhett Gardner, F Fredrik Karlstrom, F Tanner Kero, F Riley Tufte, D Will Butcher, D Benjamin Gleason, D Alexander Petrovic, D Jerad Rosburg, D Ryan Shea
Projected Cap Space
With several depth pieces scheduled to hit free agency, the Stars only have around $7.4MM available to them in cap space this summer. Their major extension has already been signed, as Pavelski will remain another year at $3.5MM.
If the team does look to extend all three of Dellandrea, Dadonov, and Domi, they will undoubtedly need to create some sort of cap space in the process. Unfortunately, if the team is not looking to include a draft selection or prospect in a trade, they will likely lose either Dadonov or Domi to free agency.
Photos courtesy of USA Today Sports Images.  Contract information courtesy of CapFriendly.