The Los Angeles Kings and defenseman Vladislav Gavrikov have agreed to terms on a two-year contract extension, as per Gavrikov's agent, Dan Milstein. Sportsnet's Elliotte Friedman reports the deal carries a $5.875MM cap hit, and will make him an unrestricted free agent in 2025. PuckPedia reports the breakdown of the contract as follows: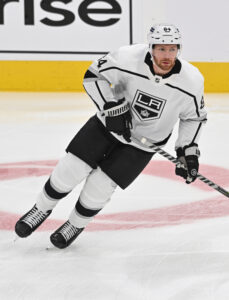 2023-24: $775,000 salary, $5.725MM signing bonus, full no-movement clause
2024-25: $775,000 salary, $4.475MM signing bonus, full no-movement clause
By signing Gavrikov, the Kings take one of the top pending UFA defenders off the board. They were able to make the transaction work by clearing goalie Cal Petersen's buried cap hit off the books, dealing him to the Philadelphia Flyers in a complex swap yesterday.
Los Angeles acquired Gavrikov, along with netminder Joonas Korpisalo, from the Columbus Blue Jackets in March in exchange for a first- and second-round pick, as well as goalie Jonathan Quick who was moved in the deal for salary cap purposes. Gavrikov fit right in with the Kings down the stretch, notching nine points in 20 games, averaging over 21 minutes a night, and posting some of the best advanced defensive metrics among Kings defenders post-deadline (and, especially, in their playoff loss against the Edmonton Oilers).
Columbus selected Gavrikov in the sixth round of the 2015 NHL Draft after he was passed over the year prior. It took another four years for Gavrikov to head to North America, signing his entry-level deal near the end of the 2018-19 campaign and making his NHL debut in the playoffs.
It's been a strong run for Gavrikov since, who developed into Columbus' top shutdown defender in a short time while developing solid offensive play too. The latter half of that statement was a bit of a surprise – his 33 points in 80 games with Columbus in 2021-22 was his highest total in any documented league dating back to his junior days.
But his two-way acumen was on full display in a Kings uniform, taking on more than just a defensive specialist's role. If he can keep up his post-March play for the duration of this contract, it's a solid bit of business by the Kings.
It is a bit of interesting business, given the short-term nature of the deal. Two-year extensions aren't all that common for high-caliber pending UFAs, to the point where CapFriendly notes not a single highly comparable contract to Gavrikov's has been signed dating back to 2013.
The deal also allows the Kings to make room on their blueline for their large group of young prospects, many of whom should be ready for larger roles upon Gavrikov's expiration in 2025.