With the All-Star break now upon us, the trade deadline looms large and is just over a month away. Where does each team stand and what moves should they be looking to make? We continue our look around the league with the Boston Bruins.
Unlike the two prior teams covered in this series, the Anaheim Ducks and Chicago Blackhawks, the Boston Bruins' goal is not to sink as far down in the standings as possible to ensure the best possible chance at landing Connor Bedard. In fact, the Bruins' play so far this season makes such a plan at this point almost impossible.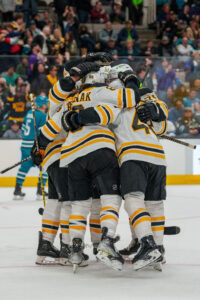 The Bruins have been the best team in hockey so far this season, and it's not really up for debate. The team is 39-7-2 with 83 points.
Last season, the Washington Capitals made the playoffs out of the Eastern Conference. They won 44 games.
The Bruins have already won 39.
This is a team looking to win a Stanley Cup this season, a year that could potentially be the final campaign for core pieces such as Patrice Bergeron and David Krejci.
But where the trade deadline is concerned, the team's success is a double-edged sword. On one hand, the Bruins players have absolutely earned some reinforcements. Should GM Don Sweeney remain entirely passive during the trade frenzy, that could send a poor message to the Bruins' players, that their immense efforts this season were not rewarded with some additions to their lineup. But on the other hand, it would be reasonable for Boston to be weary of making changes to a lineup formula that has worked so well.
That leaves the team in an intriguing position heading into trade season. There are definitely ways for Boston to bolster its already formidable lineup, and there are quite a few high-end players who would fit very well in coach Jim Montgomery's lineup. But with how well the team has done as currently constructed, the team's trade deadline strategy may not be as simple as just trying to add the most talented player available.
Record
39-7-2, 1st in Atlantic
Deadline Status
Buyer
Deadline Cap Space
$3.25MM today, $3.25MM in deadline space, 0/3 retention slots used, 47/50 contracts used, per CapFriendly.
Upcoming Draft Picks
2023: BOS 1st, BOS 3rd, BOS 4th, BOS 5th, BOS 6th, BOS 7th, LAK 7th
2024: BOS 1st, BOS 3rd, BOS 4th, BOS 5th, BOS 6th
Trade Chips
This is where things get a bit more complicated. The Bruins' success this season makes it unlikely that they would entertain removing a roster player from their lineup as part of a trade. It's not impossible, of course, but subtracting from the current lineup in order to add outside talent would be a risk.
But on the other hand, it may be a risk the Bruins are forced to take. Outside of players currently on their roster, the Bruins have one of the thinner pools of assets to deal from in the entire NHL. The Athletic's Scott Wheeler recently ranked the Bruins' prospect pool as the 30th-best in the NHL, and the team is missing both this year and next year's second-round picks. (subscription link)
So if the Bruins want to go all-in on this season and have the best chance at putting together a winning offer for a top-end player, their best trade chip is likely 2021 first-round pick Fabian Lysell. Lysell, 20, has played this season for the Providence Bruins, and scored decently well. He has 22 points in 27 games, and has the potential to be a top-six forward in the NHL.
Like any prospect, there are question marks regarding Lysell's future and the eventual NHL career he'll end up having. But he's an undoubtedly talented offensive threat and clearly the Bruins' top prospect. If the team is engaged on a player such as Timo Meier, the Bruins may not be able to compete with the offers other clubs can make without including Lysell.
Other trade chips from the team's prospect pool include Ohio State defenseman Mason Lohrei, undrafted winger Georgii Merkulov, and OHLer Matthew Poitras, though it's unlikely anyone in that trio would be able to center a trade offer the way Lysell could.
Should the Bruins be forced to deal from their NHL roster in order to get a trade over the line, potential names they could deal include speedy winger Jakub Lauko, whose path to success on the team's left side seems cloudy, or Trent Frederic, who is in the midst of a breakout year offensively but will be an arbitration-eligible restricted free agent in the summer.
Other potential trade chips: 2023 first-round pick, 2024 first-round pick, Jakub Zboril, Mike Reilly, John Beecher
Team Needs
1) Another high-end offensive weapon: It's difficult to really pick any major "needs" on the Bruins' roster, as the team is extremely well-rounded. When the roster is at full health, 2018 Hart Trophy winner Taylor Hall is the Bruins' third-line left winger. That's the kind of depth and roster balance most teams can only dream of. But if there's one thing the team could prioritize going into the deadline, it's adding another high-end piece to really solidify their spot at the top of the NHL. Sweeney hasn't been shy about adding big-name players in the past, whether it's in trades for players such as Hall, Hampus Lindholm, or Rick Nash. If the Bruins are committed to going all-in on this year's team, they could shop at the top of the market once again.
2) Left-Shot Defenseman: At the current moment, the Bruins have Reilly, an NHL veteran, in the AHL due to not only his cap hit but also the immense amount of depth the team has on the left side of their defense. But if the Bruins want to add major cap dollars to their roster, trading Reilly could be one of the more viable ways for the team to get that done. In that case, adding another left-shot defenseman could end up being a priority. Sportsnet's Elliotte Friedman wrote on his 32 thoughts column that the Bruins are "believed to be in the left-defense market," citing names such as Jakob Chychrun and Vladislav Gavrikov as possibilities.
Photo courtesy of USA Today Sports Images