With American Thanksgiving now behind us and the holiday season coming up, PHR is taking a look at what teams are thankful for in 2022-23. There also might be a few things your team would like down the road. We'll examine what's gone well in the early going and what could improve as the season rolls on for the Los Angeles Kings. 
Who are the Kings thankful for?
The Los Angeles Kings' offseason acquisition of Kevin Fiala from the Minnesota Wild, a deal that cost them a first-round pick and top prospect Brock Faber, was seen as a transaction carrying quite a bit of risk.
While Fiala had undoubtedly reached a new stratosphere of production in Minnesota (he scored at a 65-point pace in 2020-21 and scored 85 points in 2021-22) there were some who still believed that he was too inconsistent and his playoff production was too spotty to make acquiring Fiala a shrewd acquisition.
So far, Fiala has proved to be a strong investment for GM Rob Blake and the Kings. After a somewhat slow start, Fiala's offensive production has really picked up, and he now leads the Kings with 28 points in 26 games, a total helped by a four-assist performance in a game against the division rival Seattle Kraken, a game that featured 17 total goals scored.
While finding the ideal fit for Fiala in the Kings' lineup has been a bit of an adventure for head coach Todd McLellan, his current spot as the right winger next to Anze Kopitar and Adrian Kempe could be a smart long-term role.
Fiala is one of those rare wingers in the NHL who can reliably drive play, and as Kopitar, 35, begins to slow down the presence of Fiala should be able to keep the Kings' offense chugging along.
While there are other players, such as Arthur Kaliyev or Gabriel Vilardi, whose strong performances are perhaps a bit more surprising, Fiala's strong start to his Kings career is undoubtedly the most important development for the franchise as a whole.
If Fiala can continue to be a point-per-game, play-driving winger in Los Angeles, that seven-year, $7.875MM AAV extension could start to look like a bargain, which is definitely something for the Kings to be thankful for.
What are the Kings thankful for?
Their dynamic second line.
While Fiala and Vilardi have gotten more overall attention for their performances, the bedrock of this Kings' team and their success so far this season has been their second line. Led by Phillip Danault, that line has been one of the league's most well-rounded trios since they were first put together.
Danault, 29, arrived from the Montreal Canadiens with serious questions attached regarding his offensive game. Many wondered if the defense-first center would be able to muster enough of an offensive game to warrant his $5.5MM cap hit.
All Danault has done in Los Angeles is prove that he has a quality offensive dimension to his game, one that he hadn't truly flashed in the NHL since the days when he was an up-and-coming player centering the Canadiens' top line between Max Pacioretty and Alexander Radulov.
In 79 games last season Danault flew past his previous career high of 13 goals scored to pot 27. This year has been more of the same, as he has 18 points in 26 games. By pairing elite defensive play with the ability to mesh offensively with some quality linemates, Danault has quickly become a quality top-six center in Los Angeles.
But the Kings' second line is more than just Danault. It also features Viktor Arvidsson, who ranks third on the Kings with 19 points in 24 games this year. Finishing the trio is Trevor Moore, a California native who had a breakout year in 2021-22 after he earned a role next to the two established NHLers. Moore scored 48 points in 81 games last year and has 17 points in 26 games this year.
The consistency and all-around quality of the Kings' second line is something that sets them apart from many other NHL teams, which is undoubtedly something to be thankful for this holiday season.
What would the Kings be even more thankful for?
Improved play in the crease.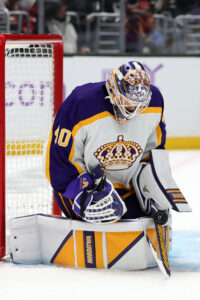 While the Kings are currently sitting in a playoff spot, the success they've found this season has come despite their goaltending, not because of it.
That point was made strikingly clear when the team placed Petersen on waivers this week, a transaction that came as a major setback for a player once seen as the Kings' future at the position.
It's not often that a team waives an in-his-prime player making $5MM or more, and yet the fact that Petersen found himself available to every other NHL club speaks to just how dire the Kings' goaltending situation has been this year.
Jonathan Quick's reliance on his superb athleticism and unbelievable instincts earned him two Stanley Cup rings and two William M. Jennings trophies. But now a 36-year-old veteran, Quick's athleticism has waned, and much of his effectiveness has gone with it.
Quick is no longer the elite goalie he once was, and while his .910 save percentage last year was certainly acceptable, his .889 so far this year is not.
Petersen has struggled this year to an even greater extent than Quick. As mentioned earlier, he hit waivers this week after posting a grisly .868 save percentage in 10 games.
The Kings are saddled with Petersen's backloaded $5MM AAV contract ($11MM of the total $15MM cash is due in the next two years) so getting him back to the level of performance he showed in 2020-21 will be important. If the Kings could pair their current level of play with better play from their goalies, they'd certainly be even more thankful than they are now.
What should be on the Kings' holiday wish list?
Productive extension talks with Vilardi.
Just a year ago, it looked as though Vilardi was trending toward "bust" territory. On one hand, the 2017 11th overall pick looked to have finally put the injury troubles that came to define his early years as a prospect behind him, and he was productive in the AHL with 38 points in 39 games.
But on the other hand, Vilardi was ineffective in 25 NHL games and scored just seven points in that span. Vilardi's skating, which had been seen as a potential issue since his days as a Windsor Spitfire, looked as though it was going to hold him back from being an impactful offensive generator in the NHL.
This year, though, Vilardi has flipped that script with a hot start. While a six-game scoreless streak has lowered his overall totals, Vilardi still leads the Kings with 13 goals and is scoring at a 62-point pace.
It looks like Vilardi may have finally found his groove in the NHL, and if he has indeed done so, the price on his next contract will only go up from here. Vilardi will be a restricted free agent with arbitration rights this summer, and with that on the horizon, the Kings should have productive extension talks with Vilardi on their holiday wishlist.
Vilardi has worked tirelessly to get past his earlier injury issues and become the productive scorer he has been so far this season.
The Kings never seemed to lose faith that Vilardi would eventually sort things out, and this year Vilardi has rewarded their faith. Next, it could be the Kings' turn to reward Vilardi.
Photo courtesy of USA Today Sports Images