As American Thanksgiving and the holiday season are upon us, PHR is taking a look at what teams are thankful for in 2022-23. There also might be a few things your team would like down the road. We'll examine what's gone well in the early going and what could improve as the season rolls on for the Florida Panthers.
Who are the Panthers thankful for?
You might think the easy answer here is Matthew Tkachuk. The newcomer is leading the team in points by a wide mile and has established himself as the new face of the franchise next to Aleksander Barkov. But given how Sergei Bobrovsky has played so far this year, the Panthers would be absolutely lost without Knight's performance.
The 21-year-old netminder has posted a .919 save percentage in 13 games, essentially taking over of late. With a win last night, he became the fastest goaltender in franchise history to 30 wins, reaching that number in just 42 starts. A .919 isn't world-beating, but when compared to the .878 that Bobrovsky has recorded, it seems like an entirely different class of performance. The veteran netminder – who is still set to earn $10MM in each of the next three seasons – has allowed five or more goals in three of his last five appearances, and the only reason it isn't worse is that he was pulled after allowing four in the first period a few weeks ago.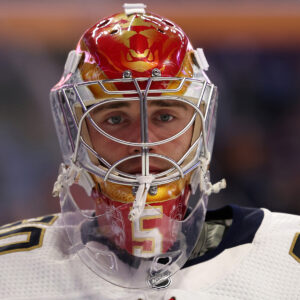 Bobrovsky has gone through these bad stretches before and rebounded nicely. Last season he led the entire league with 39 wins and had a solid .913 save percentage. But the stinkers are coming more frequently now, and without Knight's emergence, the Panthers would be stuck without an answer.
What are the Panthers thankful for?
The impatience of other teams.
When you take a look at how the Panthers were built, it really is impressive how many reclamation projects or fringe players they have found success with. Carter Verhaeghe was a minor league forward that had 13 points for the Tampa Bay Lightning in his only NHL experience before coming to Florida. He is now the team's second-leading scorer with 20 points in 24 games.
Brandon Montour was acquired for a third-round pick from the Buffalo Sabres, who were fed up with his inconsistent play. He too has 20 points in his first 22 games this season, and is averaging close to 25 minutes a night. Sam Bennett, the playoff-only performer from the Calgary Flames, has turned into a consistent two-way player with the Panthers – even playing center again. Gustav Forsling, probably the team's most consistent defensive presence, was claimed off waivers. Colin White, nabbed after a buyout.
That's not even counting Anthony Duclair, who hasn't played yet this season as he rehabs a torn Achilles.
The Panthers aren't really built through the draft like so many other good teams. Outside of Barkov, Knight, Anton Lundell, and Aaron Ekblad, the rest of their team has been put together by taking advantage of specific situations. The question now will be whether they can pull off another couple of moves to vault them back into real Stanley Cup contention this season.
What would the Panthers be even more thankful for?
Continued health for Ekblad.
It's been a long time since Aaron Ekblad was consistently healthy. The 26-year-old's 61 games last season felt a full year compared to the nightmare 2020-21 season, and he showed what he could do. Fifty-seven points in 61 games and sixth place in the Norris Trophy voting led to high expectations for this year. But he has missed half the season already due to injury, only making his return recently.
If somehow, Ekblad can play in every game for the rest of the year, the Panthers will have an elite defenseman to lean on. But after Mackenzie Weegar's departure, the depth chart is a lot less forgiving should he miss more time. Fans in Florida are dying to see what the 2014 first-overall pick could do with another 82-game season.
What should be on the Panthers' holiday wish list?
Defensive depth.
Speaking of Weegar, the Panthers sure could use someone like him right now. The team has leaned heavily on the top three of Ekblad, Montour, and Forsling this year, to the point where all three are averaging close to 24 minutes a night. While Radko Gudas is a fine piece to include, and Marc Staal is doing as much as he's capable of, the team needs another defenseman. Josh Mahura has been fine in that sixth spot, but there are nights the coaching staff doesn't even trust him to play ten minutes.
The forward group will get a boost when Duclair comes back, and Barkov won't be snake-bitten all year. But if that defense were to face two key injuries at the same time, it would likely mean any chance of contention is out the door. The Panthers need to reinforce the group, though maybe not in the same way they did a year ago.
At the deadline, Florida used a first-round pick to land Ben Chiarot, who didn't exactly work out the way they had hoped. They are already missing a huge number of picks thanks to the Tkachuk deal, meaning they'll have to get creative about how they add some talent to the back end.
Photo courtesy of USA Today Sports Images