As Thanksgiving and the holiday season approaches, PHR will be taking a look at what teams are thankful for in 2022-23. There also might be a few things your team would like down the road. We'll examine what's gone well in the early going and what could improve as the season rolls on for the Colorado Avalanche.
Who are the Avalanche thankful for?
The Avalanche have an incredible team, so naturally, it's difficult to pick just one person the franchise should be thankful for. That being said, though, one name does emerge above the rest of the pack: Georgiev. Why? Because when looking at both a player's performance alongside what could reasonably be expected of that player, Georgiev soars above all other Avalanche players.
Cale Makar is doing extremely well. Nathan MacKinnon has been brilliant. Mikko Rantanen has stormed out the gates. But brilliance is the expectation for those players. For Georgiev, what could reasonably be expected from a netminder who posted an .898 save percentage last year? Could the Avalanche have expected the performance he's given them?
Even the most optimistic Avalanche fan would have to admit that Georgiev's play so far this year has come as a surprise. The netminder has gone 9-2-1 with a 2.40 goals-against-average and a sterling .929 save percentage. That .929 mark is tied for third-best in the NHL, and is eight points better than the .921 save percentage former starting goalie Darcy Kuemper gave Colorado last season.
The Avalanche surrendered three draft picks to the New York Rangers in order to acquire Georgiev, and then promptly gave him a $3.4MM AAV contract that runs until the summer of 2025. At the time, it was viewed as a risk, seen as the team taking a major leap of faith in trusting such an unproven goalie in a year where they would be defending a Stanley Cup championship.
Now, it seems that leap of faith is being rewarded, and that's something for the Avalanche to be most thankful for.
What are the Avalanche thankful for?
The depth of talent in their organization.
Every NHL team faces its fair share of injuries over the course of a season. That much is unavoidable. But in the Avalanche's case so far in 2022-23, their injury woes have gone beyond "fair share" territory. At the moment, the team has two players on injured reserve and two more on long-term injured reserve. In addition to those inactives, numerous players are either playing through ailments or battling day-to-day injuries that aren't worth full IR placements.
It is no secret: Colorado has dealt with an avalanche of injuries so far this year. But what has kept the team afloat (to the tune of a three-game winning streak and an 11-5-1 overall record, has been the depth players who have adequately taken on spots in the lineup that were vacated by injured players.
Players such as Martin Kaut, who hit waivers earlier this year, and Jacob MacDonald, an undrafted 29-year-old blueliner, have been forced into impact roles this year. While the team would still ideally have the players originally penciled into those roles healthy, the contributions of these depth players cannot be forgotten.
Once the Avalanche's injured stars return to full health and resume their spots in the lineup, the help given to the team by their depth players cannot be forgotten.
What would the Avalanche be even more thankful for?
Better performance from Alex Newhook.
So much has gone right for the Avalanche so far this year, and much of what has gone right has been related to the risks the team took last summer as they walked a salary cap tightrope after winning the Stanley Cup.
One of the major dice rolls the team took was to trust their internal options (plus Evan Rodrigues, who they eventually signed to a one-year deal) to be able to handle their second-line center role.
The thought was that Newhook, a 2019 first-round pick who had 33 points in his 71-game rookie year, would be ready to take the next step and occupy the spot in which Nazem Kadri had so much success.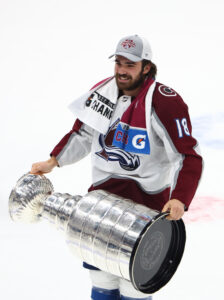 So far this year, though, that thought has been proven to be a bit premature. Newhook, who has spent time on the wing as well, has found consistent scoring to be a struggle and has just six points in 17 games so far.
What would make the Avalanche even more thankful this holiday season is if Newhook could manage to play like the top-six center the team expected him to be. If he could, that would go a long way toward providing confidence that the Avalanche could defend their 2022 Stanley Cup title.
What should be on the Avalanche's holiday wish list?
A cleaner bill of health.
When the Avalanche are fully healthy, their roster has precious few holes. The team is built like a juggernaut and is fully capable of winning another Stanley Cup. But to get to that point, they'll need their players to be healthy enough to contribute. So far this year, that hasn't been the case.
They'll need captain Gabriel Landeskog to return from his major injury, Valeri Nichushkin to return to the ice and get back to where he was last season, and they'll need the rest of their roster to avoid extended stays on injured reserve.
This general sentiment — a need to stay healthy — applies to all teams, but it's especially important for a team on a Stanley Cup-or-bust trajectory. Triumphing over every other NHL team is extremely difficult, and requires the right balance of talent, will, and luck.
The Avalanche have no shortage of talent, that much is clear, and they proved their mettle during their run last season. But luck is that final championship-winning component, and getting some better luck than they've had so far in the health department should be the number-one item on the Avalanche's holiday wish list.
Photo courtesy of USA Today Sports Images