Topics in this edition of the mailbag include what the Kings should be doing next, Matt Dumba's future with Minnesota, plenty of predictions and projections, and more.  If your question doesn't appear here, check back in last weekend's mailbag.
bigalval: The Kings look to build on their surprise season last year, A full season of Doughty and Walker should help along with the kids having a season under their belts. I know they're against the cap but what about trading Iafallo or Peterson for some cap space and going after Jakob Chychrun? They have plenty of kids to help get it done. Your thoughts on this or any other moves they can make to get better? Good news is cap help is coming with Quick (1 year left) and Kopitar (2 years left) on their deals.
The problem with trading someone like Cal Petersen for cap space is that you then have a 36-year-old Jonathan Quick as your starter on an expiring contract.  That's quite risky.  Many teams have wingers that they wouldn't mind moving to free up cap space so there wouldn't be much of a market for Alex Iafallo to the point of making it worth trading him.  Honestly, both of them are young enough that the Coyotes might be okay with taking them back in a hypothetical return for Chychrun if they had to.
Now, is this the right time to make the move that pushes in more future capital for Chychrun?  I don't think it is.  Generally speaking, my philosophy is that those moves get made when it's one that will make you a contender.  I don't think Los Angeles is much more than a bubble team this season and while Chychrun would undoubtedly make them better, I don't think he'd make them a contender, especially if they have to move Petersen as a salary offset.
What can they do to be better?  Right now, doing nothing is the right move.  They're pretty tight to the cap right now and they need to leave themselves enough wiggle room to navigate some short-term injuries that inevitably will creep up during the year.  If they manage to stay relatively healthy, they might be able to bank enough cap space to add some depth at the trade deadline but for now, what they have is what they're going to go with.
Johnny Z: Do you perceive the Blues being interested in Chychrun now that Scandella is out?
In last weekend's column, I talked about St. Louis likely wanting to wait until closer to the trade deadline to spend their LTIR money with Marco Scandella out long-term.  In theory, the asking price for Chychrun should be a little cheaper in March than it is now so if he's still in Arizona by then, I could see them kicking the tires at least.
That said, they already have $67.5MM committed for next season to just 13 players.  With the cap projected to be $83.5MM, that doesn't leave a lot of wiggle room, especially when you consider that Ryan O'Reilly and Vladimir Tarasenko have to be re-signed or replaced.  Even on a team-friendly $4.6MM for two more years after this one, is there really room for St. Louis to fit Chychrun in?
Arizona is known to be looking for future assets and young players and probably isn't going to be interested in taking on multiple years of a salary offset.  GM Doug Armstrong will kick the tires, I'm sure, but I think a trade would be hard to make, especially since there won't be many teams capable of taking on a salary offset to facilitate a Chychrun trade.  I'd be surprised if they wind up with him as a result.
DarkSide830: Are the Flyers cursed?
This question comes on the heels of the playing future of Ryan Ellis coming into significant question and what's perceived to be a long-term injury to Sean Couturier who officially has been listed as out week-to-week.  For a team that has stated publicly that their intention is to get back into playoff contention, that's not ideal so you could say that they're cursed.
On the flip side, if you're like me and have some skepticism about their ability to get there, this could be viewed as a blessing in disguise.  Without two of their top veterans, perhaps this could push management towards at least some sort of rebuild if things don't go well early on.  In the long-term picture, that's probably more beneficial for them in the long run.  It's a different way of looking at it but this might not be all bad for Philadelphia.
Zakis: What is Matt Dumba's future? Extension with the Wild – terms? – or a trade?
Last week, Michael Russo of The Athletic reported (subscription link) that there haven't been any discussions on an extension yet and GM Bill Guerin's comments intimated that they won't be starting anytime soon.  That isn't to say they won't happen – both sides have expressed a desire to get something worked out – but they're okay with letting things play out for now.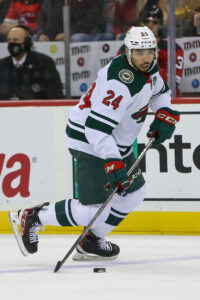 My prediction is that an extension eventually gets done.  Yes, he has seemingly been on the verge of being traded for a while now (looking back through our archives, it has been about five years of posts where his future was seemingly in question) but every time, they find a way to get it done.  To be honest, this isn't a high-end defensive group where they could afford to lose someone that logs over 23 minutes a game on the right side of the back end.  Calen Addison is in the system but is he going to be able to step in and fill that void?  Probably not.
The other factor that works in favor of a deal getting done is that Dumba isn't going to be in a position to command a significant raise on this next contract.  His 50-point season is the outlier with his point-per-game averages in other seasons having in the 30-35-point range.  I have a hard time thinking he can command more than Jared Spurgeon's $7.575MM AAV; his next deal is probably coming in lower than that.  Let's say it's $7.5MM for simplicity.  That's only $1.5MM more than what he's making now and the increase to the salary cap covers two-thirds of that.  Yes, the buyout costs are a bit higher next year and Matt Boldy will have to get a bridge deal but I expect they'll find a way to make it work to keep Dumba around.
W H Twittle: It is most probable that the Habs finish last in the East. Several teams that finished close to the bottom last year like the Sens, Devils and Sabres will increase their point totals as other teams in the East like the Panthers, Bruins, Capitals, and Bolts finish the year with fewer points.
But what about the West? How many teams will finish lower than the Habs? And which teams are most likely to significantly improve their points total? Kings, Oilers, Wild?
I think the only two that I could safely peg as being below Montreal would be Arizona and Chicago.  I could see San Jose having a rough year but the Canadiens would have to exceed my expectations for the Sharks to be below them.
As for who will significantly improve their point total, I'm not sure any of the three you named will.  Edmonton has a bit more goaltending stability so they might go up a bit but a big jump would make them a Presidents' Trophy contender and I don't see that happening.  Los Angeles is still a Wild Card team and I could see Minnesota taking a step back, not improving.
I'm going to go off the board a little bit and say Winnipeg.  Sure, the core is still the same but there will be a lot better of a defensive structure under Rick Bowness.  I think that will bring out the best in Connor Hellebuyck and as we've seen in the past, when he's at the top of his game, the Jets can be dangerous.  Anaheim could also have a bit of a jump although perhaps not to the point of contending for a playoff spot.  Their young core will take a step forward which should get them a few more victories at least.
pawtucket: Overachievers and underachiever predictions for the WEST and EAST. Two each. Also, include one example of alliteration using a player name.
I've basically covered part of the West already with Winnipeg and Anaheim being teams that could take a step forward so that covers the overachiever portion.
As for underachievers, St. Louis comes to mind and not just because I can make the oddly-specific prediction that Vladimir Tarasenko tickles the twine thirty-two times.  Jordan Binnington hasn't been great the last couple of years and with Ville Husso gone, there's no in-house safety net.  If he plays to a .901 SV% again, they're in some trouble, especially with Thomas Greiss not exactly inspiring much confidence behind him.  I'll use the Wild as the other underachiever.  Not having Kevin Fiala hurts and I'm not sold on Marc-Andre Fleury being an undisputed starter at this stage of his career.  Again, like St. Louis, they've lost their safety net (Cam Talbot).  Filip Gustavsson could be an NHL-caliber goalie but we don't know for certain.  If he struggles, they'll find out the hard way.
For overachievers, it all depends on the definition.  If it's an increase in points compared to last season, it's Ottawa.  But I think a lot of people are expecting that so if they succeed, are they really overachieving?  Let's leave them out as a result.  I'll say Detroit as one team.  They've made some incremental upgrades just about everywhere.  That along with some younger players developing in what could be a better offensive environment under Derek Lalonde could make them more dangerous than some might think.  New Jersey would be my other team in this category.  I think Vitek Vanecek really helps.  He's got great but they now have two goalies capable of being league average which is a good improvement.  They have some youngsters that should take a step forward and Ondrej Palat will help deepen their attack.  The Metropolitan Division is going to be really close and it wouldn't shock me if the Devils are in the Wild Card mix.
Onto the underachievers.  Florida is an easy pick as realistically, it'd be hard for them to overachieve after the year they've had.  They'll be playing a new system under Paul Maurice and their back end has taken some hits.  They're still good enough to be a playoff team but this feels like more of a reshaping year than a contending one.  I'll pick Washington as the other one here.  They have some injuries to contend with early on and their roster is getting old in a hurry.  Their hold on a playoff spot last year was somewhat precarious to begin with and a step back is definitely a possibility.  If that happens, they won't have a playoff spot to hold onto.
The Duke: All-seeing, -knowing, and -telling Crystal Ball, please rank the following could-be studs in terms of goals – and then total avg. points/year moving forward – and which ones jump outta the gate first (in alphabetical order for now): Beniers, Holtz, Jarvis, Kent Johnson, Perfetti & Zadina. As always, thank you for your 20/20 eyesight, insight, and foresight.
Here's hoping the crystal ball has better eyesight than I do.  Otherwise, these predictions might not go so well.  Anyways, here we go.
1) Matthew Beniers – If you're looking for one of your six players to have a big year this season, I think it's him.  He didn't look out of place at all in a late-season debut and there's a top-six spot waiting for him from puck drop.  Seattle has some decent offensive wingers that will give Beniers some point-producing opportunities fairly quickly.  From a long-term perspective, I could see him settling in around 30-35 goals and 75 or so points per season on average.
2) Alexander Holtz – I could see him in the AHL at times this season so this is more of a long-term projection.  I was really impressed with how he fared as an underager in the minors last season; teenage players typically don't score as much as he did.  I wouldn't be shocked if his average numbers come in around the same range as Beniers down the road.
3) Kent Johnson – Again, this is a longer-term projection as I think he'll be eased in a bit this season.  I'm not sure he's a true top center in the future but with Patrik Laine and Johnny Gaudreau on the wings, he could rack up a lot of assists.  25-30 goals a year on average is doable with 40-45 assists.
4) Seth Jarvis – He's the other one who could safely be counted on for a productive season in 2022-23.  He acquitted himself quite well last year and should be able to get a bit more ice time this year which could push him into the 50-point range.  Long term, I'm not sure he's going to make it onto their top line which limits his ceiling a bit but 25-30 goals and 60 or so points a year would be a solid outcome on a 13th-overall pick.
5) Cole Perfetti – I think he's more of a playmaker than a scorer which brings him down on the list a bit and the last two seasons being short ones for him doesn't help in terms of short-term contributions.  He's in the 20-25-goal, 30-35-assist range long-term.
6) Filip Zadina – If the coaching change helps him unlock the potential he showed in junior, this won't age well.  But I don't see a big jump coming in production.  At this point, 20 goals might be his ceiling unless he can become a consistent second-line option.  There's room for his assist totals to go up on a better team so 25-30 isn't out of the question there but I think he might be hard-pressed to get much more than 45 points.
Grocery stick: Ok, this one is for the crystal ball: What are the first three waiver wire pickups of the season and who will pick them?
Also, will the total goal average go up again after this past season's (almost)-time-of-my-life-high?
I saved this for this weekend so I could predict Arizona getting a goalie.  Too late for that.  This question is particularly tough in that we don't know who will be on waivers, or, more importantly, when.  I can't really give specific names as a result but I'll try to give you some predictions.  Montreal is going to claim a defenseman (I wonder about Leon Gawanke who is on there today as a possible target), that seems pretty safe.  But they probably have their eyes on one or two in particular.  Will they be waived next week or right before the season?  The answer to that determines whether or not they're one of the first three claims.  I could see Toronto claiming a short-term veteran depth defender that gets re-waived as their other players return and they may want to do that sooner than later.  I think Chicago has at least one forward claim in them as well.  But again, they'll be working off a short-list and will want to get the right guy which might not come until closer to opening night.
Teams finished off last season averaging 3.14 goals per game, the most since 1995-96 which was also 3.14 goals per game.  Interestingly (to me, at least), the 95-96 mark came with a league-wide .898 SV% while last season, the league average in SV% was .907.  Save percentage has very gradually been on the decline over the last decade and a half while teams are trying to become more offensive-minded; obviously, there's a correlation between the two.  I do think we will see a goal-per-game average that will be higher in 2022-23 but only incrementally.  At some point, the save percentage trend will stop and things will start to level off but an average closer to 3.2 is definitely doable this season.
Photo courtesy of USA Today Sports Images.