Topics in this edition of the PHR Mailbag include Colorado's recent additions, some CBA questions, going over some under-the-radar signings, and more.  If your question doesn't appear here, check in next weekend's mailbag.
haubrick4: With Scandella being gone most if not all of the season, do the Blues go and trade for, go and sign, or promote from within a defenseman?
In the short term, I don't think they look outside the organization.  Marco Scandella's injury (which I think will keep him out for the whole regular season by the time you work in a possible conditioning stint in early April) opens up a full-time roster spot for Scott Perunovich.  In a perfect world, he's able to log the 18 minutes per game that Scandella did and give them a bit of a lift on the offensive side of things.  If that happens, they don't need to go get a defenseman.
The other thing that's worth noting is that Scandella will be on LTIR and when a team is in LTIR, they're not banking cap space.  For the sake of simplicity, let's say St. Louis gets the full cap relief for Scandella's contract at $3.275MM.  It's worth $3.275MM today, next week, next month, or in March at the trade deadline.  If you're GM Doug Armstrong, you get one shot at utilizing that cap space.  Is it better to do it now to fix a perceived problem or is it better to wait until midseason or the trade deadline when you have a better understanding of the weaknesses of your roster?  If it were me in charge, I'd be waiting to make that move.
vincent. k. mcmahon: Who is more likely to remain in St. Louis past this upcoming season between O'Reilly and Tarasenko?
I touched on Ryan O'Reilly's situation in more detail in the last mailbag so I won't rehash it too much here.  At this point, they can't afford either him or Vladimir Tarasenko beyond this season.  Armstrong would need to clear some salary out for 2023-24 and beyond for signing one of these two to be viable.
Of those two, if one stays, I think it's O'Reilly.  I don't get the sense that Tarasenko's trade request has really gone away but both sides know one isn't feasible at this point.  If that is indeed the case and the request hasn't been rescinded, he probably isn't going to be overly amenable to re-signing.  At least, not without testing the market first.
O'Reilly, meanwhile, has indicated that he'd like to stick around and discussions on a new deal have already started although there is no perceived urgency to get something done.  I think he'll have to accept a pay cut from the $7.5MM on his current deal to stay but as long as he's willing to do, there's a much better chance that it will be him in a St. Louis uniform in 2023-24 and not Tarasenko.
@iwtfwc: What are your thoughts on Evan Rodrigues joining the Avalanche? Where will he fit in? Do you think he can play 2nd line center over J.T. Compher? And what chances do you give Alex Galchenyuk to make the team?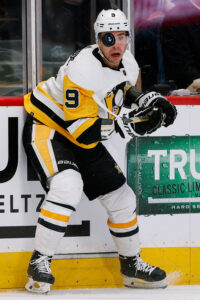 I'm not sold on Rodrigues being a legitimate top-six player for any extended stretch.  Yes, he had a good few months last season with Pittsburgh but beyond that, he has been more of a depth player.  Waiting out the market for a stronger deal that never came didn't turn out to be a wise move.
However, I do like the fit in Colorado.  He'll probably split time in that second center spot with Compher but he'll see more time on the wing.  He'll bounce around in the middle six and put up 25-30 points which, for $2MM, isn't a bad deal.  I thought they'd get someone a little more proven to fill that spot but with this signing, Colorado still has enough cap space that they can bank some in-season money and perhaps go for that more impactful second option closer to the trade deadline.  As far as 'bridge' players go, adding Rodrigues is a good move for the Avs.
As for Galchenyuk, it has been a long time since he was a legitimate top-six player for an extended stretch and even longer since he was a legitimate top-six center.  He's not the type of player that fits well lower in the lineup.  Perhaps with Gabriel Landeskog's injury, there's a chance for him to earn a two-way deal at the NHL minimum and break camp with the team.  I'll put it at 40% and while you might think that seems low, I think most PTO players have a lot lower of a chance than that of making their respective teams.
Gmm8811: When a player signs a PTO, what exactly is the club liable for? Lodging? Travel? Per diem? Medical? Are all PTOs standard across the NHL in regard to the language in the contract?
Technically speaking, the only truly defined PTO in the CBA is for a one-game emergency goaltender.  These are the players that get a one-day contract to dress as the backup but aren't actually part of the team.  In other words, the 'EBUG' such as David Ayres, Thomas Hodges, and Jorge Alves (and many others).  Their contracts are form deals and are in the CBA as Exhibit 17-A.  The highlights are that they get $500 and get to keep their game-worn jersey.
I suspect you're asking about the long list of NHL skaters that have signed PTO agreements to go to training camp with a team.  There's no formal contract in place and it can be terminated at any time by the team or the player (if he gets an offer from elsewhere).  Article 15 of the CBA does, however, provide some guidelines for this question.  Teams are required to pay for travel to camp, and provide lodging and per diem money (which can be reduced if the team offers breakfast and/or lunch at the training camp facility).  I can't say for certain on the medical but considering there is no contract in place, the team probably isn't under any obligation to cover any costs associated with injuries.
wreckage: Differences between a 1-way and 2-way contract?
The only difference is salary.  A one-way contract means that the player receives the same salary no matter what level they're playing at.  A two-way contract means that the player receives a specified lesser sum at the minor league level.  Worth noting, more and more two-way deals now have a third dollar amount, a guaranteed salary above the level of the two-way provision.  No matter what, they get that guaranteed figure with the team being responsible for topping up the AHL pay if they're not brought up to the NHL for enough days during the regular season.  There used to be three-way contracts a few CBAs ago (with fixed amounts for NHL/AHL/ECHL salaries) as well but those aren't permitted anymore.
I'll also note that a common mistake is that some interpret one-way and two-way deals with waivers.  This is not the case.  Waiver eligibility is solely defined by age, NHL games played, and the number of years that the player has been on an NHL contract.  Salaries, whether they're one-way or two-way, do not figure into the mix.
aka.nda: There have been several "big" stories this offseason that garnered a lot of attention. Do you have any hunches about any of the lower-key moves yielding more (or less) than the market value suggested?
One of the lower-key moves that I particularly liked was Washington's signing of Dylan Strome.  He has a clear and defined role as their second center behind Evgeny Kuznetsov and while Nicklas Backstrom hopes to play this season at some point, I'll believe it when I see it.  This is a prime opportunity for him to show that he's a legitimate top-six option for a full season and if he does, the Capitals still have club control on him through arbitration for another year.  That's a tidy piece of business as far as I'm concerned that will yield a pretty good outcome for the Capitals.
A little lower on the radar was Edmonton's signing of winger Mattias Janmark.  He's a versatile player that can play anywhere in the lineup, kill penalties, and is a safe bet to land somewhere between 20 and 30 points.  On a team that is going to have some cap challenges when it comes to being able to afford some of their better prospects on recall, Janmark is going to become a very valuable role player for them.  A shrewd addition a few days into free agency.
On the flip side, Columbus isn't going to get a good return on the four-year, $16MM deal that they gave to Erik Gudbranson.  He's a capable fifth defender but giving him top-four money for that long was puzzling.  Justin Schultz's contract with Seattle (two years, $3MM AAV) also flew under the radar as one of many first-day signings in free agency but I don't think it will work out as intended.  He struggled last season and is more of a depth player than an impact one but they're paying him to be a secondary producer and he has scored just 16 goals over the last five seasons combined.
Breakaway: The definition of insanity is doing the same thing over and over and expecting different results. This offseason that applies to which team(s)?
The Islanders are the first team that came to mind when I saw this question.  Yes, they made a coaching change but I'm a little skeptical that a coach (Lane Lambert) that worked with Barry Trotz for as long as he did is magically going to unlock their offensive potential.  At least, not to the point that they get back to being a playoff contender.  This is a team that succeeded as a group that was greater than the sum of its parts.  That formula is hard to replicate from one year to the next but it feels like that's what GM Lou Lamoriello has gone for.
I have to put the Flyers in that category as well.  Yes, I think they underachieved but no, not to the point where I think they're a playoff team.  This summer, they acted like a team that doesn't want to rebuild but knows that they're not quite good enough either so they largely stood pat aside from adding Anthony DeAngelo.  That puts them from a team that's spinning its wheels to a team that's still spinning its wheels.
There's a case to be made that the Maple Leafs are also in that category as GM Kyle Dubas continues to double down on his core group.  But with the talent they have, that's at least defensible in theory.  They're certainly running out of time with this roster but looking at it from the outside, they're doing the same thing again but I can see a scenario where they get a different outcome this time around at least.
WilfPaiement: Have the Vancouver Canucks apologized to Jake Virtanen? He wasn't allowed due process by his former club. Can Virtanen sue and or collect his full wages from his former employer?
It's important to note that what Vancouver did with Virtanen last summer is much different than what San Jose did with Evander Kane.  The Sharks unilaterally terminated his contract and, until the settlement was recently reached, paid him nothing.  The Canucks didn't do the same with Virtanen.  They executed an ordinary course buyout in full compliance with the CBA and are paying him the required amounts accordingly.
It's immaterial what the reason for a contract buyout is.  As long as the player isn't injured, if the team is willing to pay the prescribed amount to make the player go away and eat the required cap charges, they can do it.  Virtanen played in the KHL last season so he can't exactly turn around and claim they shouldn't have bought him out for that reason.
While I sense you're implying his then-pending court case was the reason for him being let go, I can make a pretty good hockey-related reason for why they bought him out as well.  He had five points in 38 games in the season before he was bought out.  That's not worth the $2.55MM they were paying him.  The buyout reduced his cap charge last season to $50K while creating a $500K charge this season.  Court case or not, at the time, the buyout was the logical choice for them to make.
Virtanen can't sue the team for lost wages as what Vancouver did is completely legal and happens multiple times per year.  They had to pay him a total of $1MM (in terms of salary) to go away, half of which was last season and half of which comes this season.  As long as they do that, his file is completely closed.
Photo courtesy of USA Today Sports Images.