Topics in this edition of the mailbag include Ottawa's back end, what's next for the captain of the Blues, Philadelphia's future, and more.  If your question doesn't appear here, check back in last weekend's mailbag.
W H Twittle: The 2023 draft promises top-end talent with the first five picks: Bedard, Michkov, Fantilli, Dvorsky, and Yager not to mention Benson, Ritchie, and Danielsson. With their current rosters and notwithstanding the lottery which teams will finish in the bottom five this coming season? Chicago, Arizona, San Jose, Montreal, and Philadelphia?
I think it's safe to put Chicago and Arizona in there.  But those are the only two truly obvious ones.
Montreal finished dead last and their back end is now worse.  That's typically a recipe for a lot more losing but a full year under Martin St. Louis and a better forward group than they finished up with could push them out of the bottom five.  For this exercise, I'd still put them there but it's not as obvious a choice as it might seem.
I get the temptation to put Philadelphia there but I think John Tortorella will give them a bit of a boost.  Not enough to get into the playoffs, mind you, but they'll be better than this level.  Instead of a Metropolitan team, I'd put another Atlantic squad in and say Buffalo.  Yes, their young core did well down the stretch but their goaltending is going to cost them a lot of games.  Between that and it being a tougher division with Detroit and Ottawa both improving and I could see the Sabres sliding back into the bottom five.
As for a team from the Pacific, I'd lean towards the Sharks finishing at the basement but I'd also have Seattle in that mix.  The Kraken improved this summer but they still are going to struggle mightily when it comes to scoring which will offset some of the eventual improvement between the pipes.  Let's go with San Jose here at this point but it's far from a given.
Of course, we're still six weeks away from rosters being finalized so things could definitely change between now and then.
jdgoat: Does Ottawa still make a move for a top-four defenseman or are they going to have to hope a young player is able to step up and take that spot?
We know they want to do that but there's basically only one available on the trade market in Jakob Chychrun and the asking price is too steep for their liking.  Between Jake Sanderson, Lassi Thomson, and Jacob Bernard-Docker, at least one of them should be ready at camp and by midseason, another one might be ready so the internal option makes the most sense.
There are two ways to upgrade the top four.  The most common one is to add a top-four player but I also believe that upgrading the third pairing upgrades the top four.  If the floor of the third pairing improves and all of a sudden can take on a bigger role, that's less pressure for the top guys and over time, it's a little less wear and tear on a cumulative level and a little less on an in-game basis as well.  That's a worthwhile improvement as well and is typically easier to do than to add a proven top-four option.
I've mentioned this before when discussing Detroit but it applies to Ottawa as well.  Teams rarely go from missing the playoffs to contenders right away and there's some value in seeing what your youngsters are going to do in the heat of a playoff race and perhaps a playoff round.  From there, then the GM can go and add that final piece based on what they saw actually happened with their youngsters compared to what they think will happen if they made that move now.  My sense is that they'd be better off going with what they have on the back end to start the year and if they hold their own, let them go through the playoff run and then reassess the state of the defense corps from there.  But if the asking price for Chychrun drops a bit, I probably wouldn't fault Dorion for going to get him if a trade wound up materializing.
Gmm8811: Looking into the crystal ball and wondering about your thoughts on Ryan O'Reilly? Contract is coming up and we all know Doug Armstrong is not afraid to let a captain walk if he perceives the value to be too high. I'm fairly sure there's no prospects in the pipeline that has all the intangibles to bring to the table that ROR has. Then there's the Tarasenko thing.
In a perfect world, there's a pathway to bringing O'Reilly back.  That perfect world includes him taking a notable cut in pay which isn't something I'm sure he's willing to do, at least to the extent that would likely be needed.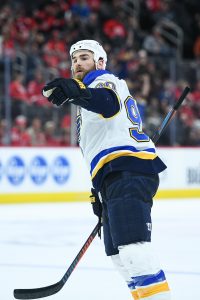 The good news, however, is that even if he was to leave, St. Louis would still be in pretty good shape down the middle.  Robert Thomas has an eight-year extension in place already and Brayden Schenn has six years left on his current deal.  That could very well be their one-two punch for a while and would go a long way towards easing some of the concerns about not having a key middleman in the pipeline that's close to being ready for an impact role.
If O'Reilly wanted to take a couple million less on his current deal and sign for around $5.5MM on a medium-term contract, I think Armstrong would find a way to make that work.  That's a premium for a third center but those three comprise one of the stronger center groups in the league so why wouldn't they want to keep that together?
You mention Vladimir Tarasenko whose contract is up and with his trade request still believed to be intact, it's hard to envision an extension.  The problem is that they've already spent most of his expiring deal on Thomas and Jordan Kyrou is a year away from a big contract of his own.  Even if Tarasenko wanted to stay on a market-value deal, that would be tricky to accomplish.
If I had to guess, I think O'Reilly would leave a little money on the table to stay but there will be a sizable market for his services if he wants to go to free agency.  I don't think the Blues will be able to afford him at market value so it will be tough for them to keep him around unless Armstrong moves out a contract of note first.  I do expect they'll push hard to find a way to make it work though as he'd be a tough player to lose.
The Duke: All-seeing, -knowing, and -telling Crystal Ball: Who are your top-four candidates to become can't-miss 30-goal scorers; top-three scoring defensemen + top-three standout goalies from the recent draft? Bonus Q: is UPL or Devon Levi the Sabres' goalie of the future?
Forwards: The big three from the top of the draft projections – Shane Wright, Juraj Slafkovsky, and Logan Cooley are the obvious ones to choose from.  If we're talking about can't-miss players before they even play an NHL game, the logical choices are the top picks.  Joakim Kemell (17th to Buffalo) might not be a can't-miss guy but he should have some 30-goal seasons under his belt and is an early candidate to outperform his draft position.
Defensemen: Simon Nemec is the obvious choice so let's go with him first.  I think David Jiricek will be the next best defender in terms of value but he might not be a huge point producer.  Denton Mateychuk is someone that should be an offensive threat at the next level so let's put him here and Pavel Mintyukov's aggression will get him into trouble defensively at times but it'll help him put up points in the NHL so he should be one of the top-scoring blueliners from this class.
Goalies: The crystal ball spat out a different answer for this one – NA as in not applicable (or no answer).  Honestly, I'm not sure there's one standout goalie from this draft class let alone three.  Sure, the odd one will probably see some time as a backup but if none of them became NHL starters, it wouldn't surprise me in the least.  This was not a good class for puck stoppers.
Bonus: I've always been a Levi fan.  Yes, he's small but he stops a lot of pucks and wins a lot of games and no matter your size, that combination is enticing. I think he can be a starter in the NHL and I'm not sure Ukko-Pekka Luukkonen is a 1A starter down the road.  I'd lean Levi here but a tandem with a 45/37 split or something like that is what I think their long-term preference would be.
Nha Trang: Heh, why not go whole hog? Who wins the Cup this season, and who wins the scoring race?
I'll even recycle a question from last year, which Brian killed, if you run short of questions: what guy comes out of nowhere to dish out an unexpected career year?
First, thanks for the reminder that sometimes a prediction (Tage Thompson) actually turns out to be right.  (For anyone looking for a reminder of the last one that went wrong, just click the link to last weekend's column at the top of this article as Lou Lamoriello made my guess about the Islanders look bad in a hurry.)
For the scoring race, Connor McDavid has won it four times in the last six seasons.  I see no reason for him not to make it five in seven.  I don't want to go with two obvious picks in a row so I'll go a different road for a Cup winner – how about Carolina?  I think they're a bit weaker now than a year ago but they have a lot of young players with room for improvement to help offset that.  They'll get a top scorer back late in the year to really deepen their attack and their back end is still quite strong.  Teams can win without elite goaltending so the Hurricanes could pull it off and it will help that the Metropolitan is probably the easiest division to come out of; while there are a lot of good teams, there aren't any great ones.
Thompson wasn't in the top 300 in scoring the year before I picked him to let's use that as a cut-off point to pick from; anyone above that isn't really coming out of nowhere anyway.  Out of who's left, Blackhawks winger Taylor Raddysh jumps out (and happens to be the same age as Thompson).  He was more or less an afterthought in the Brandon Hagel trade with the two first-rounders getting the attention but he got a bigger role down the stretch and notched 10 points in 21 games after the swap.  There's a good chance he's in their top six in 2022-23 and with him being one of their younger forwards, he'll get some leeway if things don't do well early on.  Is he going to have a year like Thompson did last season?  Probably not but Raddysh is someone that's under the radar that could wind up as one of their top scorers.
@Joebad34TD: Have the Buffalo Sabres reached a point where they need to consider making trades that would create roster openings for some talented Rochester players such as Quinn and Peterka? What current Sabres players do you consider on the trading block to clear roster spots?
I think there's a simple enough path for both Jack Quinn and J-J Peterka to break camp with the team without them necessarily having to do anything.  Let's use CapFriendly's projected roster for illustrative purposes.  Quinn's on there and they have an open spot that Peterka could jump into.  Technically, that's all they need to do to get them on the roster.
As for putting them in the lineup, that's also not that hard.  They brought back Vinnie Hinostroza but if it's deemed that one of the youngsters is ready for that spot on a full-time basis, they won't hesitate to sit him.  Anders Bjork's hold on a lineup spot isn't overly strong either and if they needed to actually open a spot on the roster for one of those youngsters, all they'd need to do is waive him.  With a $1.6MM cap hit, he'd go through unclaimed and that would solve the problem.  If those two are sitting, there's a lineup spot for both Quinn and Peterka right there.
As for who's on the block?  If anyone, it's the pending UFAs (Kyle Okposo, Zemgus Girgensons, and Hinostroza) plus Bjork.  Frankly, I don't any of them are going to draw trade interest at this point in time.  At the deadline, the rentals might be worth a draft pick when most of the salary has been paid but right now, they really don't need to do anything on the trade front.
Emoney123: With Emil Andrae, Tyson Foerster, and Elliot Desnoyers playing well in WJC, who are other Flyers prospects to watch or have a chance to make the team? Is there hope for a faster, more skilled, scoring playoff team in the future?
Let's rule Andrae out first as he's signed in Sweden for next season (and not signed by the Flyers); he's not making the team.  Foerster is coming off an injury-riddled year and they'll probably want him to spend some real time with Lehigh Valley and Desnoyers probably isn't bypassing the minors either as a fifth-rounder from two years ago.
If we're talking about prospects with a chance to make the team, Cam York and Ronnie Attard are the ones to watch for on the back end.  York spent a lot of time with the big club last season but his spot isn't secure so I'm still calling him a prospect.  Attard didn't look out of place down the stretch so he should get a real look in camp.  I think Yegor Zamula should be in the mix a bit more as well so while he might not make the team in October, he should see more NHL action than the ten games from a year ago.
Up front, there is a definite shift towards trying to become a bit tougher, hence them committing four years to Nicolas Deslauriers, a forward that has scored more than seven goals just once in his career.  That's going to make someone like Wade Allison or Isaac Ratcliffe a bit more appealing in training camp.
Is there room for hope in the future?  Sure.  Honestly, I don't think they're quite as bad as some want to make them out to be.  I think Carter Hart is better than the goalie he's been the last couple of years and there are enough prospects that a few should pan out, giving them some cost-effective options that will eventually free up the money to add a free agent or trade acquisition of note to give them a lift.  They won't be true contenders but it wouldn't shock me to see them in the playoff mix before too long.
Photo courtesy of USA Today Sports Images.