Topics in this edition of the mailbag include fixing Boston's cap situation, the future center market, when the Islanders might announce a move this summer, and more.  If your question doesn't appear here, watch for it in next weekend's mailbag.
case7187: What do you think the Bruins will do to get cap space?
Right now, probably nothing of consequence.  They have time to work with as they can get through the first two months of the season simply using LTIR.  A lot can change from a roster perspective in that time; does someone else get injured that could extend that LTIR safety net?
The reality is that moving out a contract is quite difficult right now and while it wouldn't cost a first-round pick to offload the final year of Craig Smith's deal or Nick Foligno's, parting with future assets at a time when they might not be far from a rebuild of some degree is going to sting.  They might be able to take a smaller contract back and save a bit of money that way but there's a better approach than that and it's the one that I think Boston (and a whole lot of teams) are going to use.
Rather than part with an asset to move Smith and take a smaller contract back, why not just waive Smith?  Or Foligno?  Or, when healthy, Mike Reilly, who's another potential casualty?  If you lose one of them for nothing, it's still a better outcome than trading a future asset away to accomplish the same thing.  If they clear, they'd free up $1.125MM in cap space each time.  Do that two or three times and voila, problem solved.  If they get to the playoffs, those players return to the roster when there's no salary cap so there's no need to go for a rental depth piece or two at the deadline.
To be clear, I'm not singling those players out as not being worthy of being claimed.  Instead, I think there are going to be plenty of players in that price range ($3MM or so) that are dumped on waivers because teams know there's little chance they'll be claimed.  Think back to a couple of years ago when we saw some veterans waived to bounce back and forth from the taxi squads in an effort to bank any sort of cap room.  I expect that will be much more prevalent this coming season.
If there's a reasonable opportunity to move a player out that doesn't cost an asset of some significance, that's obviously Plan A.  But if it doesn't happen, I think they play things out, see how far they can get with LTIR, and then waive their way into cap compliance with two or three players being waived, clearing, and getting sent down to Providence.
rpoabr: Do the Kings get both Anderson and Durzi signed or do they make a trade to alleviate the logjam?
I think there's enough money for both to sign without a trade needing to be made.  Let's break down the current projection from CapFriendly that has the Kings only have around $1.5MM to spend on both players.
There are 15 forwards on that roster.  At most, they're carrying 14 and in all likelihood, probably 13.  At a minimum, that frees up $750K with the likelier outcome being closer to $1.6MM in extra space.  Now they're at $3MM or so to spend which is a lot better.
Defensively, there are seven signed players on there once you factor in the ones showing as injured.  Again, at least one has to go and the easiest solution is probably Jordan Spence even though it's not the fairest solution.  It could be Jacob Moverare but Spence is waiver-exempt and Moverare isn't.  Those things matter at the beginning of the season.  At a minimum, that's another $762.5K off the roster, bringing the actual cap space closer to $3.8MM.
That should be more than enough to get both players signed on short-term bridge deals.  It's doubtful either one gets more than two years so it's not a long-term fix but it's enough to get contracts done without compromising any of their depth.  Players in these situations don't have any leverage outside of holding out and hoping for a better offer so even with that cap space in mind, it might take a few more weeks at least for one or both of them to sign.
baji kimran: Do you seen any real good (maybe even elite) centers coming available in the next year or two?
On the trade front, the first one that comes to mind is Winnipeg's Pierre-Luc Dubois.  It sure seems like he has no intention of signing with the Jets on a long-term basis which will either have him traded in the next year or so to a team where he will sign or take another one-year deal next summer to hit the open market in 2024.  He's not elite but as a fairly young player that can play on the second line, I'd say that would qualify.
Looking ahead to next summer's free agent class, it's actually pretty good as things stand.  Nathan MacKinnon would command a king's ransom if he was to somehow make it there and definitely is in the elite category.  Dylan Larkin and Bo Horvat are also up at that time and are very good fits for plenty of teams.  Ryan O'Reilly is a capable veteran and Jonathan Toews will be up as well.  In 2024, the list currently consists of Auston Matthews, Sam Reinhart, Sebastian Aho, Elias Lindholm, Mark Scheifele, and Anze Kopitar, among others.  That's a pretty good group as well.
Obviously, not all of those players are going to actually become available.  Most probably won't.  But with a flat salary cap, some of them are probably going to make it there or at least become available in a sign-and-trade proposition.  For teams hoping to add an impact middleman over the next couple of years, there's a bit of cause for optimism as a result.
Zakis: What free agent forward will the Wild sign? Or will they try and trade from the D depth to acquire a more impactful F?
I'm going to tackle these out of order.  I don't see Minnesota moving their defensive depth to acquire a more impactful forward simply because there isn't one that they'd be willing to move that would bring in a forward of significance.  I think they'd move Dmitry Kulikov but there aren't teams lining up to trade a good forward for him.  Jon Merrill's value has been limited in the past as well so he wouldn't bring back a big return either.
When I first saw this question, Phil Kessel was the player that came to mind in free agency.  He's someone that would probably play on the third line at five-on-five but he'd help the power play and in a more offensive environment, he'd probably give them a good return on a $2MM or so investment, which would ensure that they have ample cap space for midseason activity as well.  I think Paul Stastny would be a good fit as well with their center depth not being the strongest and Sonny Milano in that system would be intriguing from an upside standpoint.  If they sign a free agent, I could see it being one of those three.
There's another option in between these and that's taking on a contract with another asset for future considerations.  There are several teams that need to make a cost-cutting move and several more that might not have to but want to.  That might be a more desirable approach for them to take to add a middle-six forward plus a draft pick or prospect.  GM Bill Guerin would have plenty of options to ponder if he was open to going that route and it wouldn't surprise me if that's the path he ultimately takes.
Johnny Z: When does Stevie pull the trigger on that blockbuster trade? He has two big guns in Larkin and Bert that have not been extended as of yet, an under-performing Zadina, and some depth D to bargain with.
I've had similar questions in recent mailbags so I won't go through the whole answer again but I keep coming back to the fact that teams rarely go from also-rans to contenders right away.  How will their core perform under the pressure of important games night after night in the playoff hunt and the playoffs themselves?  The problem with answering that is another question in itself; when was the last time Detroit's core played in a bunch of meaningful games?  It has been so long that GM Steve Yzerman simply doesn't know how that's going to go.
When you bring up that blockbuster trade, I think of that move being the one that will vault them into contention.  They know what that missing piece is and they go and get it.  But I'd argue that they don't know what that missing piece is yet.  They can hope that everyone will perform to expectations but that's all it is, hope.  They need to see this group go through some legitimate pressure points which will tell them when the time is right to make that move.  It's not this coming season and I'm not convinced it's the year after either as what happens with Dylan Larkin and Tyler Bertuzzi (both 2023 UFAs) could impact their contention timeline.
Teams should be making that blockbuster move to bring in that missing piece of the puzzle.  Detroit isn't particularly close to that point and making it too early could present more problems down the road.
gowings2008: Any legitimacy to the Barzal to Detroit rumors? If so, what could a trade package look like?
We see plenty of trade rumors and speculation on a regular basis and a big part of our job here is to filter through all of that.  Generally speaking, if you don't see it on this site, it typically means we don't think there's anything to it or at least that there's something that gives us pause about posting.  You haven't seen Barzal linked to Detroit on here.  Personally, I don't think there's any legitimacy to speculation that Mathew Barzal is getting traded to Detroit or anywhere for that matter.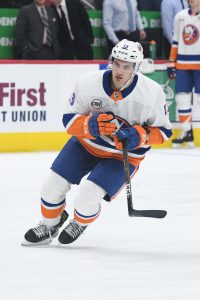 The Islanders are a year removed from back-to-back final four playoff runs.  They traded their first-round pick at the draft to get someone that will help them win now.  They fired their coach with an eye on becoming a more offensive-minded team.  How does trading their most talented offensive player fit into this equation?  Wouldn't that be a giant step backward for them and a move that directly contradicts what they've already done this offseason?
If Barzal indicates that he won't sign a long-term contract to stay with the Isles, then at some point he'll be moved.  But GM Lou Lamoriello is a big proponent of using all the time that's possible so a move like that wouldn't be coming later this summer or even this coming season.  I'm confident in saying there's nothing to speculation that would send him to Detroit.
Y2KAK: Over/Under September 1: Islanders make a signing.
Rdiddy75: Is Lou ever gonna sign Dobson and Romanov anytime soon?
Speaking of those Islanders…  There's no reason to think that Noah Dobson and Alexander Romanov won't sign contracts.  In fact, it sounds as if both may very well be done already and just not announced.  Lamoriello's logic here is that the less teams know about his plans, the better.  If they're trying to move money, it's not preferable for everyone to know how much has to be cleared out from a leverage standpoint.  In the end, I'm not sure it's going to make much of a difference but it matters to him so that's what they're going to do.
With Nazem Kadri now off the market, there isn't a free agent left whose signing would move the needle enough to put the rest of their summer movement in motion.  With that in mind, I'll take the over and say nothing is announced until after September 1st.  But there's no reason for concern that their RFA deals aren't going to get done.  They probably already are and eventually, we'll get a small press release announcing that they've signed contracts.  Not for how long or how much, just that they signed deals.  After all, it is Lamoriello who will try his best to shield terms even though they're readily made available elsewhere within a few days, if not hours.
Photo courtesy of USA Today Sports Images.