Per a series of team announcements Monday morning, the New York Islanders have finally locked up a trio of restricted free agents in defenseman Noah Dobson (link), defenseman Alexander Romanov (link), and forward Kieffer Bellows (link). Dobson and Romanov have signed three-year deals, while Bellows has signed a one-year deal.
The Athletic's Kevin Kurz reports Dobson's deal carries a $4MM AAV, while TSN's Chris Johnston reports Romanov's deal has a $2.5MM cap hit. CapFriendly reports Bellows' contract carries a $1.2MM cap hit, all in base salary.
Dobson, 22, enjoyed a career season in 2021-22, something that couldn't be said for much of the team. The team's 12th overall selection in 2018 displayed his full potential, leading the team's blueline with 51 points in 80 games while averaging over 21 minutes a night. His defensive game has remained solid throughout his three-year career so far, but it was his offensive vision and confidence that spearheaded his breakout this year. He was never drafted to be a defensive stalwart, but not being a liability in his own end of the ice certainly helps his case to continue developing into a superstar defenseman.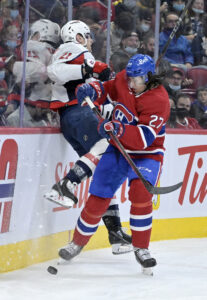 Romanov, however, was drafted to be that defensive stalwart, and he took a real step towards that last season in Montreal despite playing in a porous system. Acquired this offseason in exchange for the 13th overall pick, Islanders general manager Lou Lamoriello gets a great value signing here with a three-year term on that $2.5MM cap hit. Romanov showed that he can be a dependable defensive presence while playing top-four minutes, a role he'll undoubtedly continue on the Island this season. A stark upgrade over the play of Zdeno Chara and Andy Greene, Romanov could likely play with Dobson on the team's second pairing, one that could end up being their best one in a few seasons' time. He set career-highs in 2021-22 with 79 games played, three goals, 10 assists, 13 points, and an average time on ice of 20:24.
Bellows has struggled to crack the lineup on a nightly basis under former head coach Barry Trotz, and he's hoping a new face behind the bench will get him some more playing time. His offensive numbers finally showed great promise at the NHL level last season, posting 19 points in 45 games despite playing under 12 minutes a night. He'll compete with veterans like Matt Martin and Zach Parise for spots in the lineup, as he'll try to work his way into a consistent bottom-six role (with some power play time, hopefully).
All three players will again be restricted free agents at the end of their contracts.