Considering their recent rise to relevancy, it seems like forever ago that the Minnesota Wild acquired center Victor Rask in a one-for-one deal with the Carolina Hurricanes in exchange for Nino Niederreiter. The since-lopsided trade finally met a sort of resolution this year when, after clearing waivers, Rask and the final year of his contract were dealt to the Seattle Kraken for future considerations.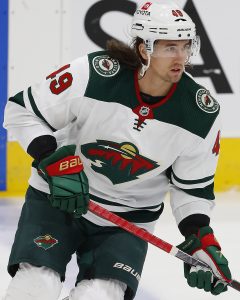 It also seems like forever ago when Rask had a breakout season at the perfect time. In the last season of his entry-level contract, 2015-16, Rask had a 21-goal, 48-point season, setting career highs in both marks. It prompted then-general manager Ron Francis, who hilariously enough re-acquired Rask as the GM of the Kraken, to give the Swedish forward a six-year, $24MM contract. He maintained solid middle-six production until 2018-19 when Carolina traded him to Minnesota after amassing just a goal and six points in 26 games.
In Minnesota, Rask's production never recovered. As the team got better (and more expensive), Rask was frequently healthy scratched, and then waived this season, reporting to the AHL's Iowa Wild where he scored 10 points in 10 games. Seattle kept him in the NHL down the stretch, where he did just fine with eight points in 18 games.
Over the past two seasons, though, Rask has been solid defensively, though Minnesota's system could carry the weight of that. He carried the bad reputation that comes with being overpaid into free agency, which certainly hasn't worked in his favor, but the 29-year-old could still have the defensive acumen (and shot) to be an NHL forward. He's had a shooting percentage of at least 13% over the past three seasons.
Stats
2021-22: 47 GP, 9-12-21, +4 rating, 2 PIMs, 58 shots, 53.3 CF%, 50.6 FO%, 12:12 ATOI
Career: 506 GP, 89-134-223, -22 rating, 86 PIMs, 848 shots, 51.4 CF%, 50.1 FO%, 14:58 ATOI
Potential Suitors
Rask is an ideal fourth-line center for teams looking to solidify their bottom sixes. He carries some scoring upside and serious defensive upside, and he can be used on the power play in a pinch. Teams without young players ready to take bottom-six spots, or teams looking for some utility help in a limited role, would be wise to make an offer to Rask to continue his NHL career.
Everyone seems to be waiting on the Winnipeg Jets to do at least something with their cap space, namely improving and adding depth to their bottom six filled with question marks and experience. Rask would be a solid upgrade over Dominic Toninato in the fourth-line center role, as Rask's 21 points in just 47 games this year nearly match Toninato's career total of 29 in 164 games. He's got more special teams acumen than Toninato as well, making him a more attractive lineup option for coaches.
If Rask wants a bigger role, the obvious bottom two teams in the league next season still need NHL players. The Chicago Blackhawks especially don't have many young forwards that can step in next season, and Rask could potentially find himself back in a top-nine role if he heads to the Windy City.
Projected Contract
Rask certainly won't receive anything more than a $1MM, one-year contract, especially at this point in the offseason, but he could likely at least secure a one-way deal greater than the league minimum. The teams with a spot left for him likely wouldn't have any trouble accommodating that.
Photo courtesy of USA Today Sports Images.