The New Jersey Devils were once again in the league's basement in 2021-22, finishing fourth-to-last in the NHL standings with a 27-46-9 record. Perhaps the single biggest reason for the Devils' struggles this past season was their goaltending. The team had a combined .881 save percentage, which was second-worst in the NHL, only ahead of the expansion Seattle Kraken. No Devils goalie managed to get into more than 25 games, and significant injury woes to the team's two main goalies, Mackenzie Blackwood and Jonathan Bernier, meant the Devils needed to use seven different goalies just to make it through the year. That group of seven included promising 21-year-old 2020 draft pick Nico Daws, a player the Devils undoubtedly would have rather let develop peacefully at the AHL level. So, with that nightmare season behind them, the Devils' have set forth in this offseason with the intention of stabilizing their situation in net. With significant cap space to spare, many have speculated on what direction the Devils could go in their crease.
According to the New York Post's Larry Brooks, "multiple industry sources" indicate that the Devils "will be in on impending Toronto free agent goaltender Jack Campbell if he hits the open market on July 13." Additionally, Brooks adds that the Devils might even attempt to acquire Campbell's signing rights in order to get a head start on the process. Along with Campbell, Brooks also reports that the Devils "could have interest" in Rangers goalie Alexandar Georgiev, if Georgiev is not issued his $2.65MM qualifying offer.
Targeting Campbell would certainly make a lot of sense for New Jersey. The American netminder had a brilliant 2020-21 campaign, unseating Frederik Andersen as the Maple Leafs' starter on the back of his 17-3-2 record and .922 save percentage. In his first full year as the Maple Leafs' number-one goalie in 2021-22, Campbell weathered some mid-season struggles to post a 31-9-6 record and .914 save percentage. While the playoffs were not kind to him, Campbell, 30, is likely to be considered the second-best goalie on the UFA market behind Avalanche starter Darcy Kuemper, who could win the Stanley Cup tonight. The Devils landing Campbell would be a clear indication of the front office's intention to transition from their rebuild into a more competitive phase, an intention they signaled with their signing of Dougie Hamilton last summer.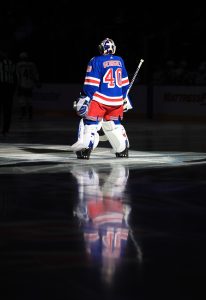 The Devils' reported interest in Georgiev is a bit more curious. While the Georgiev from 2017-18 to 2019-20 would certainly be an improvement from the Devils' current crop of goalies, Georgiev's recent form does not make him a slam-dunk upgrade over someone like Blackwood. Georgiev had a .898 save percentage this past year while playing behind a very strong Rangers squad. Perhaps the Devils are confident that Georgiev can revert back to playing as well as he did a few years ago, but relying on that would be risky. Brooks did clarify that the Devils' interest in Georgiev would be as part of a tandem rather than as a true number-one, however.
While we don't know exactly which goaltender the Devils will ultimately choose, we do know that goaltending will be a top priority for the them this offseason. The Devils have a strong young core centered around Jack Hughes, Nico Hischier, and other emerging stars. Armed with the number-two overall pick at the draft, the Devils clearly want to be in the hunt for a playoff spot next season. In order to get there, they'll need significantly improved goaltending, and targeting a top free agent like Campbell is perhaps their clearest path to stability in the crease.
Photo courtesy of USA Today Sports Images