The New Jersey Devils have landed today's biggest prize, signing Dougie Hamilton. It's a seven-year deal paying a total of $63MM, meaning an average annual value of $9MM for the free agent defenseman. Devils GM Tom Fitzgerald released a lengthy statement about how excited the front office is to land a player of Hamilton's caliber:
We are thrilled to welcome Dougie and his family to the New Jersey Devils organization. As a player and person, he has consistently shown a commitment to excellence and will play a leading role in our franchise's return to an elite level in the League. We believe that the magnitude of his contributions on the ice will be equal to his impact on our culture as we continue to position ourselves for long-term success. I am proud of the work our entire staff did to promote the amazing attributes of this organization and to bring aboard one of the most sought-after free agents this year.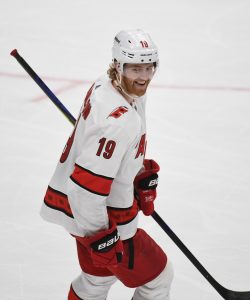 There's no doubt about it, this is a huge win for a Devils team that has struggled to attract key free agents in the past. In fact, before today, only a single player on the active roster was acquired via free agency. That was Scott Wedgewood, who also just so happened to be drafted by the Devils back in 2010 and returned years later. Otherwise, the entire team was built through the draft or trade, something that Hamilton and new goaltender Jonathan Bernier change with their hefty deals today.
Hamilton, 28, will now be tied with teammate P.K. Subban and Colorado superstar Cale Makar for the fourth-highest cap hit among NHL defensemen next season, only behind Erik Karlsson, Drew Doughty and Roman Josi. Seth Jones will join that group when his $9.5MM extension kicks in for 2022-23, but Subban's contract will fall off the list as it expires. For that much money, Hamilton will have to perform at an elite level for the Devils if this contract is to be worth the risk.
So far in his career, that hasn't been a problem. Norris Trophy finishes the last five years: 9th, 14th, 14th, 7th, 4th. The right-shot Hamilton has been one of the most consistent offensive defensemen in the league for seven seasons now, scoring at least ten goals and 39 points in each year since 2014-15. That includes 40+ point performances even in the last two shortened seasons. Equally effective on the powerplay or at even-strength, Hamilton's puck-moving and playmaking ability far outweigh the defensive deficiencies he may have. Even those are sometimes overblown given how much he has the puck, though he won't have quite the same quality of teammate in New Jersey.
Still, it's hard to imagine he doesn't continue to put up elite offensive numbers for the next few seasons, if not the whole contract. There's no one to challenge him for the top powerplay spot and Hamilton's potential partners should only improve moving forward. Ty Smith or Ryan Graves figure to line up next to him in 2021-22, but either one could be keeping the spot warm for top prospect Luke Hughes, selected fourth overall over the weekend. Hughes is off to the University of Michigan for the time being, but projects as a top-pairing defenseman with elite skating ability.
Even if that young talent is coming, the Devils will still be battling just to make for the playoffs next season. Hamilton is taking a significant step back from the Stanley Cup contender in Carolina and could potentially have some lean years. The entire Devils forward group is 26 or under, and only he, Subban, Bernier and Wedgewood are older than that. It's a reason for excitement in New Jersey, but success may not come right away.
Photo courtesy of USA Today Sports Images