The offseason has arrived for half of the league's teams that weren't playoff-bound plus those who were eliminated early in the postseason.  It's time to examine what they will need to accomplish over the coming months.  Next up is a look at San Jose.
After being a consistent playoff threat including 14 appearances in a 15-year stretch, things haven't gone as well for the Sharks in recent years as they've missed in three straight seasons.  With a veteran-laden roster and minimal flexibility from a salary cap perspective, it's a big checklist for them to navigate through this summer.
Hire A GM
Before even getting into what needs to be done, the Sharks need to determine who is going to do the work.  Interim GM Joe Will clearly has the green light to make moves as evidenced by the contract extensions for Alexander Barabanov and Jaycob Megna earlier this month.  Ownership has expressed an openness to having Will take the team through the draft and potentially into free agency as well.  While that's a nice short-term vote of confidence, it doesn't seem as if Will is considered a strong candidate for the full-time position.
But it isn't just a matter of who the next GM will be, it's when that person takes over.  If Will has control going into free agency, it's possible he makes decisions that his successor won't like.  That makes that scenario a tough one to play out.  As a result, determining who the full-time GM will be and getting that person under contract as soon as possible needs to be at the top of their priority list.
Move A Goalie
Most of the time, a three-goalie system isn't tenable for a full season.  San Jose was able to make it work after the trade deadline with Adin Hill missing time but he'll be fully recovered for training camp.  James Reimer is still on the roster while Kaapo Kahkonen was brought in at the deadline in the Jacob Middleton trade.  At first glance, it sure seems like one of them needs to be moved.
Kahkonen is the youngest of the three at 25 and is a restricted free agent this summer.  To move a quality young blueliner for him only to trade Kahkonen away later doesn't seem likely to happen.  Instead, a multi-year contract that buys out some UFA years is probably their preferred outcome if they can afford it on the cap.
That leaves Hill and Reimer battling for one spot.  Both players have one year left on their contracts and will be UFA-eligible in 2023.  The cap hits are nearly identical ($2.25MM for Reimer, $2.175MM for Hill).  But when it comes to age and experience, there's a big difference as the 34-year-old Reimer has 433 career NHL appearances while the 26-year-old Hill sits at 74.  If the Sharks are prioritizing the longer-term, Hill has the most upside but it's also possible that it comes down to if one is willing to sign an extension this summer.  Neither netminder is likely to carry much trade value but it would be tough for the Sharks to carry all three on the roster in October.
Meier Extension Talks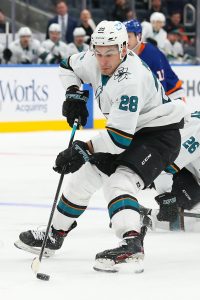 Back in 2019, the Sharks signed winger Timo Meier to a four-year, $24MM contract as a restricted free agent.  On its own, the AAV was reasonable and it allowed him to still be RFA-eligible at the end of the deal.  But his contract was the most extreme of the backloaded contracts done that summer as his salary for next season is $10MM.  Since that deal was signed before the new CBA, he's not subjected to the new rule where the qualifier is the lower of the previous salary or 120% of the AAV.  In other words, they have to qualify him at $10MM next summer if he's not on a new contract by then.
A few years ago when the salary cap was steadily on the rise, the number would have been a little inflated but potentially manageable.  Now, with the Upper Limit barely moving for the time being, offering Meier $10MM isn't manageable, at least with the state of the rest of their roster.
While Meier is signed for next season already, there is a pressure point of sorts this summer.  In an ideal world, San Jose doesn't want him to enter 2022-23 without a new deal in place.  Getting to next summer where Meier either has to be let go or qualified at an above-market rate isn't palatable for the team.  As a result, finding a suitable extension now has to be a priority.  Meier is worth a raise on his current AAV and is coming off a career year that saw him pick up 35 goals and 41 assists but it shouldn't be up to $10MM per season.  Whoever is named as the permanent GM is going to have a big negotiation this summer as a result.
Free Up Cap Space
The Sharks have some big contracts on the books, especially on the back end where they have over $31MM in commitments and that doesn't include RFA Mario Ferraro who is coming off a season where he logged 23 minutes a game.  Even without arbitration eligibility, he's in a good position to command a sizable raise of his own off his entry-level salary.
Right now, San Jose could get through the summer okay.  They could try to sign Ferraro and Kahkonen for one year, sign their other RFAs to one-year deals, trade a goalie, and manage to narrowly stay cap-compliant by carrying a roster close to the minimum size.  But will they be any better than they've been the last few seasons?  Probably not.  Looking ahead to the 2023 summer, they'll have 11 players signed at just over $57.5MM which doesn't leave a lot of wiggle room for improvement in the future either, especially considering Meier needs a new deal that summer.
As a result, if they want to add an impact player or even have the flexibility to shake up their roster, they need to move a big contract.  Brent Burns ($8MM through 2024-25), Erik Karlsson ($11.5MM through 2026-27), and Marc-Edouard Vlasic ($7MM through 2025-26) are the oft-discussed possibilities although they each have at least some form of trade protection and not a particularly robust trade market because of their contracts.  No one said it would be easy but for the Sharks to have a chance to shake things up, they will need to find a way to move out one of those rearguards.
Resolve Kane Grievance
There is one other factor at play when it comes to San Jose's summer and that's the Evander Kane situation.  The expectation is that it will be resolved by the start of free agency but there is still plenty of uncertainty surrounding whether or not his deal will be put back on their books, the termination will be upheld, or, most likely, a settlement is reached which is what happened with the Kings and Mike Richards when things went down that path back in 2015.  The details of any potential settlement will go a long way towards determining what space they have to work with this summer and how much extra emphasis will have to be placed on clearing out one of their existing contracts.  The sooner they find out the end result of this, the better.
Photo courtesy of USA Today Sports Images.  Contract information courtesy of CapFriendly.