The offseason has arrived for half of the league's teams that weren't playoff-bound plus some that were eliminated early in the playoffs.  It's time to examine what they will need to accomplish over the coming months.  Next up is a look at Detroit.
It has been a rough few seasons for the Red Wings.  After their streak of 25 straight playoff appearances came to an end in 2017, they haven't seen the playoffs since then.  They have brought in several promising youngsters in recent years and the expectation is that they'll soon get back to battling for a playoff spot at a minimum.  With that in mind, their summer checklist is more geared towards win-now moves compared to recent years.
Hire A Head Coach
First things first.  After parting ways with Jeff Blashill, who had been one of the longer-tenured coaches in the league, Detroit now needs a new bench boss for the first time since 2015 when Mike Babcock left for Toronto.  Blashill's tenure wasn't overly successful in terms of his record (204-261-72) but with the team going through a reset, it wasn't as much of a concern.  But now with an expectation of more on-ice success, GM Steve Yzerman decided now is the right time for a change.
With that in mind, it will be interesting to see what direction they go.  Are they looking for someone that is going to help them get back to the playoffs first and foremost or are they hoping for a longer-term fit?  The two don't have to be mutually exclusive but the first category opens up the ability to hire a veteran coach who can get quick results but who typically has a short shelf life, giving them some extra options to consider.  On the other hand, if Yzerman is looking for a long-term fit, then the potential for a first-time hire stands out a bit more.
Either way, getting a coach in place well before the summer transactions get underway will be important as whoever takes the job will likely want to provide some input on what else the Red Wings do this summer.
Extension Talks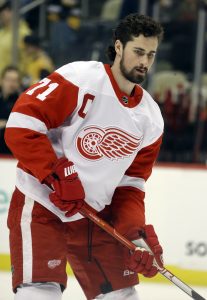 Two of Detroit's top players will be eligible for contract extensions once free agency opens up in July in Dylan Larkin and Tyler Bertuzzi.  Larkin, their captain, has been on a bargain contract for the past four seasons with a $6.1MM AAV, a price tag that's below market value for a number one center.  That will certainly change on his next contract as recent comparables will likely push his price tag over the $8MM mark per season.  There's no doubt that Yzerman will want to extend the Michigan native and keep him in the fold, especially since they don't have an up-and-coming number one center behind him.  In Tampa Bay, Yzerman's talks with captain Steven Stamkos went right down to the wire.  In an ideal world, that doesn't happen so they're likely to try to hammer something out this summer.
As for Bertuzzi, while he was in the headlines for not being able to play in Canada due to his vaccination status, that overshadowed a career year that saw him set career highs in goals (30) and assists (32) in 68 games while averaging nearly 20 minutes a night.  That's top-line production at a $4.75MM price tag which is also well below market value.  Bertuzzi is a couple of years older than Larkin but at 27, he's still young enough to be part of the core.  This summer, Yzerman needs to find out what Bertuzzi's asking price is to see if it fits within their future salary structure.  If not, his name could be in trade speculation soon after.
Reshape The Back End
Detroit's back end got a big lift this season with the arrival of Moritz Seider who is a very strong contender to win the Calder Trophy as the top rookie next month.  However, their defense corps has been a weak spot for the past several seasons and will need to be addressed this offseason.
Long-time rearguard Danny DeKeyser is set to become an unrestricted free agent this summer and is unlikely to return unless it's at a very steep discount.  Marc Staal is also a pending UFA and while he's not the higher-end shutdown player he was in his prime, he still filled a stable stay-at-home role for the Red Wings over the last couple of years.  He could be back but would need to be replaced if he doesn't return.
At the moment, there are only three other regular defensemen signed for next season beyond Seider – Filip Hronek, Gustav Lindstrom, and Jordan Oesterle.  Hronek had a tough year in his own end but has some trade value if they decide to shake things up while Lindstrom and Oesterle are better as depth pieces.  So, too, are recent signing Steven Kampfer and pending RFAs Olli Juolevi and Jake Walman.  Beyond Hronek, none of those players should be in impact roles next season.
Detroit will have another top youngster coming to North America in 2022-23 in Simon Edvinsson and while he has shown plenty of promise, it's hard to expect he'll come in and suddenly solve all of their defensive issues.  Adding an impact veteran (if not two) will be needed to help shore up a group that allowed the third-most goals in the league this season and help take some pressure off the goaltenders.  Fortunately, they have over $35MM in cap space at their disposal so they can afford to shop at the higher end of the market this summer.
Find A New Second Goalie
Speaking of their goalies, Detroit needs to find a second goaltender to partner with Alex Nedeljkovic.  Thomas Greiss had a particularly tough season and is unlikely to be retained while Calvin Pickard, their third-string option, is also a pending UFA and isn't really in the mix for an NHL spot either.  Magnus Hellberg signed late in the year but he's more of a viable third-string option than a strong contender for the backup spot.
As usual, there are several Greiss-like goalies available, veterans that can be signed for a year or two to continue the platoon and maintain the status quo.  Alternatively, a handful of netminders could be moved this summer that could be plausible platoon options as well.
That said, are the Red Wings better off looking for a longer-term option?  Darcy Kuemper still has a few years as a starter left in him while Ville Husso and Jack Campbell have both shown flashes and are young enough to be around for a while.  While Detroit has Sebastian Cossa, a prospect they have high hopes for, it typically takes a few years for a goaltender to be NHL-ready.  Instead of continuing to churn through goalies for short-term fixes, perhaps a longer-term solution that serves as a bridge to Cossa is a better way for them to go this summer.  Either way, they will need a new netminder in the next couple of months.
Photo courtesy of USA Today Sports Images.  Salary figures courtesy of CapFriendly.