The Carolina Hurricanes are two wins away from the Eastern Conference Final, and they have gotten there in large part thanks to the heroics of backup goaltender Antti Raanta. Raanta took the starter's crease in Carolina after regular starter Frederik Andersen suffered a major injury, and hasn't looked back. In these playoffs, Raanta has a .939 save percentage and a 1.86 goals-against-average, two elite marks. But now a month removed from the initial injury to Andersen, it seems that the Hurricanes' goaltending situation is about to become uncertain once again, albeit for different reasons.
The Hurricanes' goaltending uncertainty was once driven by a lack of options. They had Raanta, who had a decent 28-game stretch in the regular season, but his name wouldn't exactly strike fear in the hearts of the Eastern Conference's top contenders. But now, as the Hurricanes inch closer to the Conference Finals, their goaltending situation looks increasingly uncertain once again, but this time for the opposite reason: an overabundance of options. Today, Andersen returned to the ice, practicing with his teammates as they prepared for tomorrow's game against the New York Rangers.
Per the practice report from Walt Ruff of NHL.com, this was Andersen's first time skating since his April 16th injury, and he worked for 20 minutes. Forward Sebastian Aho spoke glowingly about his performance, saying "I don't think I scored on him once today, so he's still a great goalie." But coach Rod Brind'Amour was more reserved about Andersen's situation, opting to keep his cards closer to his chest. Brind'Amour told the media: "I'll tell you when he's an option, how about that."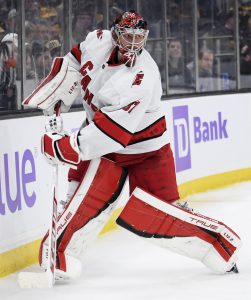 The Athletic's Sara Civian reported that Andersen "was taking shots and saving them normally" and "walked off the ice normally." While this development does indicate that a return for Andersen could be right around the corner, his participation in only half of practice does communicate that the Hurricanes could prefer to offer him as much time as possible to get to full health. Raanta's play has given them the option to do so, and choosing patience with regard to Andersen's health does have the added benefit of stalling the eventual need to choose between a red-hot Raanta and Andersen, who was in the conversation for the Vezina trophy at times during this season.
Regardless of what happens going forward with the Hurricanes and Andersen, it's likely that any choice Brind'Amour makes will be highly scrutinized. That being said, though, there are definitely worse situations to be in than having to choose between two in-form goaltenders who have each played extremely well.
Photo courtesy of USA Today Sports Images