Earlier in the week, PHR's own Ethan Hetu covered the situation surrounding the pending free agency of Carolina Hurricanes forwards Vincent Trocheck and Max Domi. Now, however, we pivot to the Western Conference, turning the magnifying glass on Arizona Coyotes veteran (and two-time Stanley Cup champion) Phil Kessel. Arizona opting to not move Kessel for a return at this year's Trade Deadline surprised many. The NHL's now-resident iron man has a respectable 52 points in 81 games this year on a Coyotes team that's put up just 202 goals on the season, the worst such number in the NHL, and that wasn't due to a crazy post-deadline bump in production. Now, after the eight-year contract extension he signed with the Toronto Maple Leafs in 2013 expires this offseason, the 34-year-old could hit the open market for the first time in his NHL career.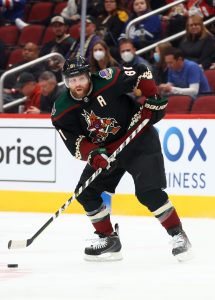 The bottom line remains that the Coyotes need NHL forwards next season. While their situation for 2022-23 has improved slightly after the acquisitions of young forwards Jack McBain and Nathan Smith, it's unlikely that both of them (especially McBain) are ready for full-time NHL roles as soon as this fall. With the team surely a no-go destination for most of the NHL's free-agent pool due to their arena situation, it's not too far out of left field to assume Arizona's choice not to move Kessel was influenced by the team's desire to extend the veteran before he hits the open market.
If Kessel decides though, as he very well could, to join a team with more hype for 2022-23, the market for him should and will likely be there. While Kessel does just have eight goals on the year, his disastrous 4.7 shooting percentage (the lowest figure of his career) offers a compelling explanation for that. He's not a factor defensively and hasn't been for a few seasons now, but he remains a skilled and intelligent play-driver as evidenced by his 44 assists on the year. The fact that he's having his best offensive season in Arizona in the year where he's had the least talent surrounding him is sure to convince multiple general managers that Kessel still has it in him as a middle-six winger.
One near-perfect past comparable to Kessel's situation is that of Corey Perry. Bought out a few years ago by the Anaheim Ducks, Perry signed a one-year, $1.5MM contract in Dallas after a career-worst season in Anaheim. He's managed to continue performing as an extremely valuable depth piece on successful teams, helping provide secondary scoring. Kessel likely fits right into this mold, and could see a similar one- or two-year deal signed this offseason, albeit likely with a higher price tag. Perry had just 10 points the prior season, with Kessel outproducing that by about five times.
While there are multiple younger, flashier options on the market this offseason, they're also a lot more expensive than Kessel would be. A short-term deal limits the negative implications of the contract if Kessel does enter a steep decline, and his Stanley Cup pedigree is obviously attractive around the league. A cap hit in the $4MM neighborhood seems likely for Kessel on a one- or two-year deal, though it could of course be lower if he opts to take a discount to join a cap-strapped contender. Arizona would likely need to offer more than that number to retain his services if they wish.
Photo courtesy of USA Today Sports Images