The Los Angeles Kings announced today that two-time Stanley Cup champion forward and former captain Dustin Brown will retire from the NHL at the conclusion of Los Angeles' time in the 2022 Stanley Cup Playoffs.
The team will hold a press conference tomorrow with Brown, team president Luc Robitaille, general manager Rob Blake, and head coach Todd McLellan at 1:30 p.m. Central time.
Now 37 years of age, Brown played all of his 18 seasons and (as it stands) 1,295 regular-season games in a Kings uniform, remaining a gigantic voice in the room and one of the team's most well-respected players. The Kings named Brown the 13th captain in team history after Blake left the team for the second time as a player before being replaced in the role by Anze Kopitar after a mid-career dip in production. With Brown currently slated to miss the 10-goal mark for the first time since his rookie season, and the team's solid drafting prompting youth to challenge for lineup spots at all positions, it's a natural end to his time in Los Angeles and the league.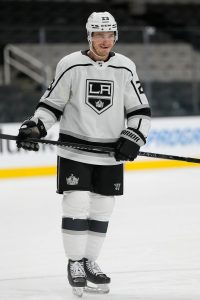 While he did have ups and downs in his career, Brown, a member of the star-studded 2003 NHL Draft class (13th overall), will remain one of the most impactful and universally loved players in Los Angeles history. Those 1,295 games are the most by any player in a Kings uniform, though it's a record that may not stand for long with Kopitar close behind. Even despite those mid-career struggles, Brown has still scored 325 goals and 387 assists for 712 points during his time in L.A., ranking seventh in franchise history behind Bernie Nicholls' 758. His 47 points in 85 playoff games are eighth in franchise history.
Brown, a native of Ithaca, New York, medalled twice internationally with the United States, winning bronze at the 2004 World Championships and taking home silver at the 2010 Winter Olympics. He was an alternate captain on both the U.S.'s 2010 and 2014 Olympic teams, further showcasing his stellar leadership. He's the second member of the 2003 draft class to announce his retirement this month, joining longtime rival Ryan Getzlaf.
He's still put up some decent production this season in a greatly reduced role, notching 28 points in 63 games while averaging under 15 minutes per game for the first time since 2005-06, his first full NHL season. He also had 28 points that season, offering a somewhat poetic bookend to his career.
Brown was the recipient of the 2014 Mark Messier Leadership Award, given "to the player who exemplifies great leadership qualities to his team, on and off the ice during the regular season." It's fitting that Brown's only individual NHL accolade honors his contributions to his team.
Photo courtesy of USA Today Sports Images