As the calendar turns to March, the trade deadline is inching closer. Where does each team stand and what moves should they be looking to make?  We continue our look around the league with the Anaheim Ducks.
The youth is here in Southern California, perhaps a bit earlier than planned. Jamie Drysdale, Trevor Zegras, and Troy Terry are just part of the young core that's helped to spearhead the Ducks into the playoff conversation early in the season, although things have begun to fade recently. Sonny Milano and Isac Lundestrom have also made sizable contributions to the Anaheim lineup this year.
But Anaheim has stuttered in recent weeks, now under .500 in their last ten games and two points out of a playoff spot despite playing more games than everyone else. Now in battle with more experienced teams like Nashville, Dallas, and Edmonton, the Ducks simply aren't in a position anymore to consider selling assets for a playoff run, if they ever were. How the Ducks and new general manager Pat Verbeek navigate the Trade Deadline in this stepping stone season could have big dividends for their future.
Record
26-21-9, (.545), fifth in Pacific Division
Deadline Status
Seller
Deadline Cap Space
$38,364,807 today, $55,628,970 in full-season space, 0/3 retention slots used, 45/50 contracts used per CapFriendly
Upcoming Draft Picks
2022: ANA 1st, ANA 2nd, ANA 4th, ANA 5th, TOR 5th, NSH 6th
2023: ANA 1st, ANA 2nd, ANA 3rd, ANA 4th, ANA 5th, ANA 6th
Trade Chips
The name that likely jumps off the page for many NHL fans is defenseman Hampus Lindholm, who's in the final season of a $5.21MM AAV deal and is a pending UFA. However, the Ducks do hope to extend Lindholm, so unless it becomes apparent in the next few weeks that an extension isn't possible, he likely won't be moved.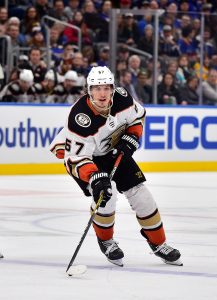 One forward who could likely get shipped out of town after many years of speculation is Rickard Rakell. He's also a pending UFA with a cap hit of $3.79MM, an extremely reasonable hit for Rakell, who has 15 goals and 26 points in 46 games this season. He would provide great middle-six depth for any team looking to add another scoring winger to their lineup, and with Anaheim's breadth of forward prospects, he may not really fit into their long-term plan at this point.
There's also Nicolas Deslauriers, who was nearly a Pittsburgh Penguin at last year's trade deadline. Now a pending UFA as well with a $1MM cap hit, the gritty fourth-line checking winger is the type of player playoff teams salivate over to complete their lineup. He has nine points in 53 games this season.
There's also the question of captain Ryan Getzlaf, who's again a pending UFA after signing a one-year deal to remain in Orange County. He'll likely control his own destiny, but if he wants to chase another Stanley Cup in what could be his last season, Anaheim would likely oblige.
Defenseman Josh Manson is definitely another trade candidate and another pending UFA. One of the better defensive defensemen in the league, he can handle top-four minutes with ease and can play a bruising game. But he's on the shelf right now with an injury, and it's uncertain whether he'll be healthy before the Trade Deadline. If he's not, he can't be moved while on injured reserve.
Team Needs
1) Defense Prospects — Anaheim's starting to get good things out of their young defensemen like Drysdale and Josh Mahura. But the team's prospect pool remains top-heavy as players like Jacob Larsson begin to flame out. The team's best defensive prospect right now is likely Jackson LaCombe out of the University of Minnesota, and while he's solid, they could use another piece or two like him to help round out their list of prospects. If teams are willing to part with players instead of draft picks in any deadline deals Anaheim makes, they'd do best to shoot for a 'D'.
2) More Draft Picks — The Ducks only have six selections in each of the next two drafts, trading away their 2022 3rd for an additional 2021 3rd last year and trading away their 2023 7th for Alexander Volkov, who has since departed the organization. The team should definitely be in a contending position in three or four years at this trajectory, and they'll need more players from these upcoming drafts to step into the lineup on cheap, entry-level deals as they begin to spend to the salary cap again.
Photo courtesy of USA Today Sports Images