Topics in this edition of the PHR Mailbag include what the Rangers could do at the trade deadline, potential returns for Philadelphia's pending free agents, Arizona's situation with Jakob Chychrun, and much, much more.  If your question doesn't appear here, check back in last weekend's mailbag.
pitmanrich: With the Rangers exceeding expectations for the season and the likes of Kreider, Fox, Shesty, and Panarin at the top of their games, what does Chris Drury do at the trade deadline? Add rentals or add players with term knowing that more key players need re-signing within the next couple of years?
I think their interest will skew more towards rental players or at least those that aren't signed for much longer beyond this season.  With new deals for Adam Fox and Mika Zibanejad adding nearly $12MM to the books for 2022-23, a lot of the flexibility they have now won't be there in a few months let alone to the contracts you may be thinking of (Alexis Lafreniere, Kaapo Kakko, K'Andre Miller, etc).  Ryan Strome's free agency looms large and that's the one spot I think they could prove me wrong as getting another impact center locked up long-term is worth creating some possible cap challenges down the road.  And no, J.T. Miller for one extra season isn't what I'd be targeting unless they think there's an extension that can be done.
They have the cap space (this season) plus the draft pick and prospect capital to make a splash and adding a key player certainly wouldn't hurt.  That said, I wouldn't be surprised if the bulk of their moves are a little quieter.  A top-four defender would really go a long way towards slotting some of their defenders in more optimal spots in the lineup and there is definitely room to make at least a couple of additions to the bottom six.  Adding a strong checker/penalty killer would be wise for matchup purposes in the playoffs, a middle-six center is always a good thing for a contender to add, and a secondary scorer on the wing as an injury hedge are all good options.  They could probably afford to do all of these things by waiting until the deadline but I don't think they'll add that many players.  There will be some new faces at MSG though but I wouldn't be shocked if most of them are free agents in July.
DarkSide830: What would realistic returns look like for certain Flyers players? Claude? Braun? Jones? Maybe Provy?
@SSBRealtor: What could the Flyers realistically get for 'G' if they traded him?  A decent prospect?
GBear: It would seem that the Flyers will move Giroux at the deadline, so what teams do you see being interested in him and what will the asking price look like?
Let's combine all of the Flyers stuff together.  Before getting to Giroux, I'll touch on the other players first.
Justin Braun – Third-round pick.  He definitely can help a third pairing and on the penalty kill but he has his limitations and is probably a sixth defender on a lot of contenders.  He's also a right-shot defender in a marketplace that doesn't have a lot of those.  I don't see anyone going higher than a third but if a few teams are willing to pay that third-rounder, perhaps they can squeeze a later pick or depth prospect as well.
Martin Jones – Late-round pick if he moves at all.  How many playoff-bound teams look at him as an improvement on their current backup?  It's a small list.  If there's a team with ample cap space that can carry three goalies and effectively have Jones as a highly-paid reserve, there's probably a move to be made.  But how many third-string goalies generate a strong trade return?
Ivan Provorov – I don't think he moves.  If the Flyers were selling, I'd say he's worth a first-round pick, an 'A' prospect, and some sort of established defenseman (for cap purposes).  But I don't think Philadelphia is selling.  Last summer, they made some player-for-player moves to shake up the core.  That's the type of scenario that seems more plausible to me if they were considering moving him but that's a trade that's easier to make in June or July than it is now.  Having said that, I think he's in a Philadelphia sweater in October.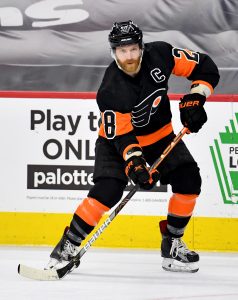 As for Claude Giroux, he is one of the more intriguing players to think about as far as rentals go.  No one knows if he's willing to waive his trade protection to go to a contender.  He doesn't even know at this point.  If he is, he'd jump pretty close to the top of the list among rental players that are realistic candidates to be moved with the caveat that the Flyers retain half of his $8.275MM AAV.  Without that, they can't maximize their value and if they're moving him, they're going to want to maximize their value so for the purposes of this exercise, let's assume they're picking up 50%.
I think any return for Giroux is a three-piece one.  A first-round pick should be on the table at a minimum.  There's going to be some sort of cap/salary ballast even with retention, a $2MM winger or something like that on a short-term if not expiring contract.  Who's giving up the first-round pick and when will determine how prominent the third piece – a prospect – is.  If it's a true contender who's expected to be picking in the late 20s/early 30s, that prospect is going to be close to an A-level one.  But if it's one who could be an early-exit candidate where the pick is a bit higher, the caliber of prospect will drop accordingly.
In terms of possible suitors, I like the Avalanche here if they can make the money work.  Adding another impact forward would give them a big boost offensively and while that's not necessarily a huge need for them, they're all-in and any upgrade is a good one.  If the Rangers opt for a prominent rental, they should be in the mix as well.  Minnesota has a need and while there's no way he'd fit cap-wise beyond this season, they can add him this year.  I've seen Boston suggested as a fit and while there is one on paper, I'm not sure this is the right time for them to pay the type of price that should be needed to get him when they're a team that seems likely to be in a Wild Card spot.
pawtucket: Should Arizona stand pat with Chychrun since he's playing like a pile of hot garbage right now (considering his success last year) and maybe look to move him when his stock is back where it belongs?
The Coyotes are playing the market perfectly for Chychrun right now.  They've set an exorbitant asking price to the point where if a team met it, they'd be overpaying by a considerable margin (such as the Kings proposal from last weekend's mailbag, it's absolutely a crazy overpayment by Los Angeles but barring that type of return, they'll hold onto him).  They're firmly in the driver's seat here.
Teams are smart enough to realize that Arizona is a bit of a unique environment to the point where it's hard to look good, especially when you're the one going against top competition every night on a team that has no hopes of winning anytime soon.  On a more competitive team, I think pretty much everyone thinks Chychrun will rebound so his current season shouldn't hurt his value much, if at all.
There are several teams where he'd be a number one defenseman and at $4.6MM for three more years after this one, there is plenty of surplus value in his deal.  It may be easier to move him in the summer when more teams have cap flexibility and a willingness to change core players but even at that point, the price will be significant.  Ask for the moon now and if someone is willing to pay it, ask for a bit more and then make the deal.  If no one's willing to pay up, they can easily wait things out.
wreckage: Should the Oilers trade one of McDavid or Draisaitl in an attempt to build a more complete team. And what could the return look like?
GM Ken Holland has boxed himself in to an extent with some of the long-term contracts he has handed out as of late.  There isn't a lot of financial flexibility moving forward which is going to make it extremely difficult (if not impossible) to address improved depth for next season and beyond and their goaltending for the foreseeable future.
Trading one of Connor McDavid or Leon Draisaitl shouldn't be Plan A so I'm not going to sit here and say they should do that but I wouldn't be shocked if it came to that in a couple of years.  If they can't make a deep playoff run this season or next, it's going to be time for the Oilers to look in the mirror and ask themselves if a team built this way can ever get to that level (and by then, it may not be Holland trying to answer that question).
At that point, Draisaitl will be two years away from testing the market and McDavid three.  If they can't clear out some of their long-term contracts, it's going to be hard to keep them both.  So when is the optimal time to try to move one of them?  It's probably in this stretch and I'd suggest Draisaitl would be the one to go.  Two full seasons of an elite center would yield a big return and allow them to either kickstart a rebuild or try to fill some of those big holes.
That makes a trade hard to forecast.  If they're rebuilding, they'd be looking for multiple first-round picks, top-end prospects, and young, controllable NHL talent.  If they're retooling, they'll be looking to fill some holes and I can't project what those would be in 2024 as I expect some of their current ones will be addressed by then (or at least they'll try to do so).  I'd think they'd want an established cost-controlled top-six forward and top-four defenseman, plus some other younger assets to either serve as low-cost regulars for a bit or assets to flip for other win-now pieces.  It's a fun 'what if' scenario but it's a bit early to try to make some projections on what they'd get back.
Coach Tucci: Do you see the Islanders making any moves to strengthen the team or will they be sellers?
I feel the Islanders are better than where they are in the standings.  They had a lot go against them in the early going this season.  But they're 17 points out of a Wild Card spot.  I know they have games in hand on everybody but that still seems like far too much of a gap to try to make up.
That said, I don't think they're going to sell all that much, in large part because they don't have a great group of pending unrestricted free agents.  Cal Clutterbuck has a bad contract and probably isn't worth much, Zach Parise can't score, and Zdeno Chara and Andy Greene are role players at most for contenders.  There could be a late-round pick or two for some of them but that's about it.
Because they had so many negatives early on (the long road trip to start, plenty of injuries, and an untimely COVID outbreak), I can't see Lou Lamoriello really wanting to subtract too much from his core.  They'll actually have a bit of cap flexibility next summer to try to add at that point so I suspect they'll want to keep their cap space for that time.
If I had to pick one veteran signed for next season that could go, it's goalie Semyon Varlamov.  Having that platoon with Ilya Sorokin is nice but that could be money that's reallocated towards another impact piece for 2022-23.  There are playoff-bound teams that could use Varlamov but it might be easier to do that deal in June or July than it is now.  Long story short, I expect a pretty quiet deadline from the Islanders.
The Duke: Oh, Mighty Crystal Ball: Do CBJ re-sign Patrik Laine or is he a Trade Deadline surprise? Are UPL's days in the minors over? Does Rasmus Sandin ever take the reigns from Morgan Reilly or is he forever a Tier-2 or -3 scoring D-man? And lastly, will Filip Zadina become a bona fide Top-6 scorer (or perhaps get traded to become one)? As always, much thanks for the foreseeing…
1) Can I say neither?  I mentioned in last week's mailbag that I don't think Laine is going to be on the move at the deadline.  That said, I'm also not particularly confident he's on the roster in October either.  It's a lot easier to move core players in the summer when there is more cap and roster flexibility and contenders are more willing to shake things up.  So while I don't think he'll be traded at the deadline, I don't see him signing on long-term with the Blue Jackets either so I'll take the unstated other option and say he's traded in between.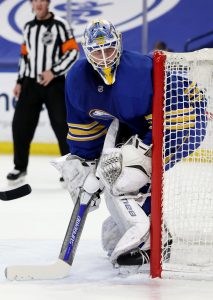 2) Close, but no.  I wouldn't be shocked if Buffalo sends Ukko-Pekka Luukkonen back to AHL Rochester when he comes back from his lower-body injury.  Craig Anderson and Dustin Tokarski are both back now and while neither of them are going to be part of the long-term plan for the Sabres, they can serve as a bridge to Luukkonen.  The youngster has only played in 37 AHL games which isn't a lot for someone Buffalo hopes can be an NHL starter.  I can see him up full-time next season but I suspect they'll decide that a heavy workload in the minors for a couple of months and possibly a playoff run down there is better for him from a development perspective.
3) I don't see Sandin becoming that higher-end point producer and becoming the go-to threat on Toronto's back end.  For starters, Reilly's new contract is going to earn him plenty of minutes which means he'll probably be their top power play threat for the long haul.  I expect Sandin will find another gear and could push for 30-35 points a season which is still well above-average for a defenseman but still in that second tier, not the top tier.
4) I'm a bit surprised that Zadina hasn't been able to do a lot with Detroit.  I didn't project him as a top-line winger when he was picked but I felt he'd be a good second-liner.  And he still could get there although I'm not confident in projecting he'll get there in Detroit.  I wouldn't be surprised to see him traded over the next year or so and getting a short-term boost off of that.  Overall, I could see him having a few seasons with top-six (second-line) production but more routinely being in the 35-point range as a capable secondary piece that can move up when injuries strike.  That's not a great return on a high draft pick but still good enough for him to have a quality NHL career.
YzerPlan19: Crystal ball, I'll add two more to the list, Alex Nylander is doing well in Scranton, does he finally decide to make his own name (become a top 6 scorer) or just play on his family name? Cody Glass is having a decent AHL season, does he mature into a top 6 option?
I'm not too optimistic that Nylander is going to become a consistent top-six forward in the NHL.  Some players can produce in the minors but can't repeat that success at the top level.  I actually think his chances of making it are better now than they were before his trade from Chicago as Pittsburgh will need cheap wingers and having one with some track record of offensive success will help, especially if he can find some chemistry with Sidney Crosby or Evgeni Malkin (assuming he re-signs this summer).  That will give him a shot but I don't think he will become a full-time consistent top-six option.
As for Glass, his production this season actually concerns me.  The assists are great but five goals in 36 games in his third professional season doesn't scream top-six forward.  I think the Predators are playing it right with him by keeping him in Milwaukee to maximize his ice time but his lack of goal output this season coupled with his struggles the last couple of years make it much more probable that he's a bottom-six player in the NHL.  He can get to the third line eventually but I think that's his realistic ceiling at this point.
Weasel 2: Two more: updated scouting/projections for Alex Turcotte and Brandt Clarke?
If done over again Zegras was the better prospect vs Turcotte?
Turcotte turned pro early and that's an important distinction.  For most players his age, this would be their first season in the minors.  In that sense, 15 points (6-9-15) in 23 games is pretty good.  Again, I'd like to see more goals, especially since it's his second AHL campaign.  Turcotte hasn't looked out of place in his limited NHL action but they're easing him in.  I don't necessarily see a top-line profile based on how things have gone early on but there's no reason to think he can't slot in as a second-line pivot.  There's also plenty of development time left where he could make that last sentence look ridiculous a few years from now.
I don't think much has changed from a scouting or projection standpoint for Clarke since he has been picked.  He's a terrific offensive blueliner and he should have a long NHL career based on that.  His skating isn't great but it's not going to hold him back too much and I think his defensive play is better than some give him credit for.  He won't be out in late-game defensive situations but how many top offensive blueliners are?  I believe he's a second or third defenseman.
Picking early in the draft is always a question of who the better player will be long-term, not necessarily who gets to the NHL right away.  I'd like to see Turcotte for a full season in the NHL before really being able to compare him to Trevor Zegras but as of this point, yes, it certainly looks like Anaheim got the better of the two young centers.  It's far too early to make that a definitive proclamation though.
@jfcsoup: Buffalo needs a right-shot defenseman. Who would you target in free agency?  And don't say Risto!!!!
@Joebad34TD: How active do you expect the Buffalo to be by the trade deadline? Do you expect them to take on some salary in order to acquire higher draft picks for the upcoming draft? I ask in light of some teams wishing to dump salary so they can acquire players in other trades.
I'm not sure Buffalo is in a spot where they necessarily should be targeting impact free agents.  They're going for another long-term, full-scale rebuild and adding a top UFA – even if it fills a need – would counteract what they're trying to do.  I'd off John Klingberg a contract and see if he wants to team up with Rasmus Dahlin for a while but in terms of impact right-shot free agent defensemen, that's probably all I'd pursue if I was GM Kevyn Adams.  I'd take a run at Anaheim farmhand Brogan Rafferty to see if a change of scenery could help return the offensive upside he showed in Vancouver's system but the goal there would be adding a young-ish depth defender, not an impact one.  With what they're doing, they shouldn't be shopping at the top of the free agent pool for a few years.
As for trade deadline activity, I think there are a few trades to come from them.  Robert Hagg should generate some interest and there will be contenders eyeing Cody Eakin as an upgrade on the fourth line.  With some retention, Colin Miller should have a market and I wouldn't be shocked to see a goalie go to a team looking for some insurance in the form of a third-string netminder.  Vinnie Hinostroza would a depth winger for some playoff-bound squads and might get a small something as well.  None of those players will generate huge returns but more draft picks are always a good thing for a rebuilding squad.
As for taking on salary to facilitate trades, I don't expect them to do that.  This is a team that went out and traded for Johnny Boychuk's contract just to get to the cap minimum instead of adding some extra players that could actually play.  With a low salary and partially insured contract, that was more desirable than spending money to upgrade the roster even if it meant adding a player they could turn around and trade later for a pick or prospect.  To me, that says that ownership is intent on limiting spending as much as possible, understandable given where they are in the standings.  That suggests to me that they're unlikely to go that route.
Photos courtesy of USA Today Sports Images.