Topics in this edition of the PHR Mailbag include the back end for the Kings, New Jersey's goaltending situation, Boston's trade deadline approach, the idea of the Red Wings being buyers, Toronto's new lines, trade odds for Columbus, and Seattle's recent victories.  If your question doesn't appear here, watch for it in next weekend's mailbag.
Weasel 2: Realistic opportunity for the Kings to add an impact defenseman? What would a Kings package for Chychrun look like?
Honestly, I don't think it's the right time for the Kings to push in some of their chips to try to make a big splash, especially on the back end where the options are rentals or paying through the teeth for Jakob Chychrun.  If Alexander Edler returns during the regular season, they need to have the cap space to be able to activate him which effectively cuts what they can currently spend in half.    I'd shop more on the depth side of things where the cost is a lot lower (I've mentioned Detroit's Troy Stecher in the past as someone I think would be a worthwhile and affordable addition) as I don't think they're a big add away from really contending.
Among the impact rental defensemen out there, I'd look at Montreal's Ben Chiarot as a realistic option.  I don't see Anaheim dealing their two key rental blueliners in the division if they sell and I don't think Chiarot will get the first-round pick that some have suggested is the current asking price; there are only so many first-rounders that are going to move and there will be better players moved than Chiarot.  A second-round pick and a good prospect (of which the Kings have several) could be enough without taking away any top assets.  Newly-hired advisor Marc Bergevin is quite familiar with what Montreal has and that type of familiarity can help on the trade front.
There are varying reports as to how many pieces are needed for Chychrun.  It ranges between three first-round elements and an Eichel-like return.  The Kings don't quite have the similar pieces from the Eichel return so I think something along the lines of Quinton Byfield, Alex Turcotte, and a first-round pick is probably in the range of what Arizona is looking for with perhaps a secondary piece (prospect or second-rounder tacked on to get closer to the four-piece Eichel return).  It's a huge ask but Arizona doesn't have to move Chychrun unless they're blown away and I don't think the Kings should be the team to make that type of move.
Speak Of The Devil: What can the Devils realistically do to make their goaltending situation better? Blackwood is clearly not the answer here and Bernier is done for the year and there are rumors he may be done for his career. So, who can we go after to end this hamster wheel of mediocrity?
Jack Campbell is setting himself up for a nice payday as the best starter available in free agency and New Jersey has plenty of cap space at their disposal still.  He's about the only long-term option available (I know Darcy Kuemper is another option but with his injury history, there's some risk) so if they're convinced his stint with Toronto isn't a mirage but rather a true sign of where he is, back up the money truck and make sure not to get outbid for his services.  With his overall inexperience though, it's a bit of a risk.
The first name that came to mind when I saw this question was Sergei Bobrovsky.  Florida is going to want to move him at some point even with the season he's having; Spencer Knight is their goalie of the future and they're going to want to reallocate Bobrovsky's $10MM price tag with Aleksander Barkov's new deal starting next season and Jonathan Huberdeau up next summer.  There's a chance for the Devils to take advantage of that if they think Bobrovsky's back on track and could get him for a below-market trade return.  But it's a gamble again.
But here's the thing.  Every goalie I can throw out there is a question mark.  Alexandar Georgiev is probably going to move and the rivalry notwithstanding, is he really a starter?  He could be but it's a risk.  If St. Louis wants to go all in on Ville Husso and move Jordan Binnington, is he much of an upgrade on Blackwood?  Semyon Varlamov would be a short-term solution so the hamster wheel wouldn't stop spinning for long.  Philipp Grubauer has had a brutal season in Seattle but was good in Colorado so maybe he's a fit but five years is a lot for a gamble.  You could sell me on adding Linus Ullmark to that list to let Boston run with Jeremy Swayman but there are question marks with him as well.
In pretty much every scenario, it's going to be a roll of the dice.  That's the challenge with the way the league is going with goaltending – there just aren't 32 legitimate starting goalies out there let alone teams having a surplus at that spot that doesn't come with a poison pill of sorts.  There are upgrades available but few guarantees and with Bernier's future in question, it wouldn't be shocking to see the Devils try to add a goalie next offseason.  These will be some of the names they likely look to.
case7187: Do you think the B's could package those three horrible first-round picks DeBrusk, Senyshyn, and Zboril for a guy like J.T. Miller or someone similar to him or would they have to add picks or Vaakanainen to any deals?
SkidRowe: Realistically, what can the Bruins do? They have a lot of talent but they also have glaring needs at C, LD, and RW. Besides draft picks, they don't have many cheap, young assets to trade (unless they're willing to move Swayman). Studnicka and Vaakanainen are okay prospects but not exciting. DeBrusk is overpaid and underperforming. Frederic is a former 1st rounder but he's bottom 6 only. It will be tough for the Bruins to make a competitive offer for any of the big names that may be out there (Chychrun, Hertl, J.T. Miller) given their lack of assets. If they were lucky enough to acquire one of the bigger fish, they would have nothing left to fill their other needs.
@BobbyRotondo: What are the Bruins going to do?
Let's put all of the Boston questions together.
On the first one, I'll pose a question back – if the picks are as horrible as they've been, why is Vancouver dealing an impact player on a team-friendly contract for them?  Draft pedigree is meaningless at this stage of their careers.  Jake DeBrusk's trade value is next to zero with his salary and limited production.  He's not getting a qualifying offer and he's not producing enough to get teams interested.  They can make a move involving him for a similarly-paid underachiever but that's about it.  Zach Senyshyn cleared waivers at the start of the season and has been good but not great in the minors.  I wouldn't be surprised if he moves but it'd be for a depth piece in lieu of trading a late-round pick back; that's where his value is.  I think Jakub Zboril could become a third-pairing player but he's out for the year with a torn ACL so his value right now is minimal at best.
So, what can the Bruins do?  They have some cap space to work with which puts them in pretty good shape to try to make a splash.  But they also don't have the long-term cap room to work with to add another high-priced player to this core assuming they're able to re-sign Patrice Bergeron this summer and David Pastrnak the following offseason.  Making the playoffs shouldn't be an issue but they look like a Wild Card team more than a contender.  Is moving one of those few quality young trade assets as was correctly noted for an impact rental player the right move at this time?  I don't think so.  You do that when you're trying to contend, not become less of an underdog in the first round; there is no one rental player that puts them over the top in terms of contention.
Remember the Drew Stafford trade from a few years ago?  Boston was able to get him for cheap in large part because of his contract.  That's the type of move I think they'll look at.  Add a quality veteran or two that will improve the depth and provide a bit of upside relative to the players they'll be replacing but with their cap hits being higher than they should be, they won't have to move much to get them.  Those are incremental improvements to the roster without mortgaging the future.  For a team in their situation, they shouldn't be doing much more than that.  That's not exciting but it's prudent and with their prospect pool not being the deepest right now, I think it's the right course of action.
HockeyBoz: Is there a chance that the Red Wings are interested in Klingberg? Staal, Leddy, DeKeyser all could be gone next year. Hronek slipping on the depth chart. Might be a good pick-up. They have draft picks stockpiled. Thoughts??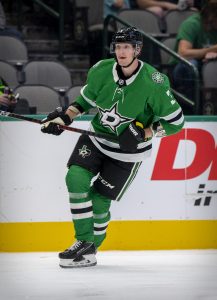 John Klingberg is going to yield a nice return in a trade for Dallas even as a pending free agent.  I want to particularly emphasize that last bit.  Klingberg will be an unrestricted free agent this summer.  Detroit enters play today nine points out of a playoff spot with Boston (the team holding the final spot) having three games in hand.  It would make no sense for the Red Wings to trade for Klingberg as a rental; they'd still almost certainly miss the playoffs and be out some draft picks or prospects for good measure.
Now, if Klingberg was to sign a contract extension as part of a trade, that's another story.  Is it worth parting with a good pick or prospect to secure Klingberg for seven or eight more seasons?  Sure.  And in that situation, it would make sense for GM Steve Yzerman to consider.  If Klingberg makes it to free agency in July, then they should absolutely be involved; at some point, Detroit will need to start building back their veteran talent base which would go a long way towards helping them take a big step or two forward.
If Klingberg is willing to sign with Detroit right now, then they should be interested in him over the coming weeks.  Otherwise, they have no business being involved in a trade for him and would be best served to wait until the summer to go after him.
Detroit_SP: Does the Red Wings' best QUALITY option at 2C for 2022-23+ already play on the team? If not, how does the team add a non-rental piece that can contribute quickly enough not to waste Bertuzzi, Larkin, Fabbri, and Vrana's time with the organization?
I don't think so.  I like Joseph Veleno but he's more of a checker than a top-six guy.  Michael Rasmussen shows flashes of offensive skill but I feel he's also more of a third liner in an ideal situation.  Pius Suter isn't going to be a second liner long-term either.
So how do they get one?  They can offer a huge contract to Nazem Kadri in free agency or pay a hefty price to get one in a trade.  It cost Montreal a first-rounder plus a second-rounder to get Christian Dvorak, a lower-end 2C.  If you want a quality piece, it's going to cost a high-end prospect at a minimum; teams moving one with some team control would be asking about guys like Simon Edvinsson.  Controllable impact centers are worth that much.
You make a good point about not wasting the remaining years for their current veteran core and I tend to lean the same way.  Cup contention comes from a combination of good veterans, young impact players that aren't on high-priced contracts, and impact pieces on entry-level pacts.  That's the ideal way to maximize talent in the salary cap era.  That particular structure only has a few years left as at that point, their current veterans will either cost more or will have moved on.  This isn't the season to do it – they're probably not making the playoffs – but that switch should be flipped this summer.
kingmatthew325: How do you feel about the new lines employed by the Leafs (I call it the Spread Offense)?
Fundamentally speaking, I get the idea of spreading out the top players to shield some from top defenders with the hopes of exploiting some mismatches.  But I don't like it that much.  Part of what makes top players top players is their ability to play with other top players.  William Nylander is a dangerous player but he's a lot more dangerous with John Tavares feeding him the puck than David Kampf.  That offsets a good chunk of the gain they get from getting Nylander out against lesser checking.
Having said that, I think this is a worthwhile test for a little bit.  I think Toronto overuses their top forwards and this is a way to scale things back a tad.  It's also a good test to see if it can be used in the playoffs.
And let's face it, the playoffs are what matters.  At this point, unless Boston really goes on a run and Toronto struggles in the second half, the Maple Leafs are lining up against Florida or Tampa Bay in the first round and probably the other one if they can get to the second round.  The second half of the regular season needs to solely be about postseason preparation so this is the time to experiment.  But as a long-term strategy, no, this probably shouldn't be their Plan A for the playoffs.
baji kimran: As the trade deadline gets closer and closer give me your thoughts on who the Blue Jackets will move, or better yet tell what percent chance the likes of Korpisalo, Domi, and Laine have of being moved? Might there be a surprise player in Columbus on the move? The Jackets have scored two goals or less in five of their last six games. The offense is sputtering and Perry Como sang with more energy than the Blue Jackets have been playing with. Might the club re-think their efforts to try to tread water during their rebuild and just tear the whole thing down?
Let's start with some percentages on the three players you mentioned.
Joonas Korpisalo: 55%: It's clear there's no future for him with Columbus with Elvis Merzlikins as the starter and Daniil Tarasov waiting in the wings.  But it's not as if the 27-year-old is playing well at all; his numbers are near the bottom of the league and his $2.8MM AAV isn't exactly cheap for a backup.  There are teams that will look at his overall track record and still show some interest but it will be a minimal return.
Max Domi: 85%: At this point, it certainly doesn't look like he's going to be getting a contract extension.  Domi has had an okay season in what has been a limited role but a $5.3MM cap hit hurts his value.  Columbus should be open to retaining 50% and at that price point, the 26-year-old becomes an intriguing option that can play at center or on the wing.  It probably won't be a big return but they'll be able to get something for him.
Patrik Laine: 20%: Yes, the ability to have Laine for two playoff runs instead of one sounds good in theory.  But how many contenders can afford to take Laine on for this season, can afford the qualifying offer, and can do so without breaking up the roster now?  That's a pretty small group.  If they wait until the summer to move him, more teams will be willing to shake up the core of their team, making it easier to match money.  I suspect the bigger market at that time will yield a better return than if he was traded away now.
I don't think the Blue Jackets are necessarily trying to tread water too much, this feels like a longer-scale rebuild already to me and I'm not buying the idea that they have serious interest in Chychrun.  Over the next couple of seasons, they'll probably move many of their remaining veterans but there needs to be a bit less term on those deals before those trades happen.  As for this season, you can add Dean Kukan to the list that they'll try to trade but his value won't be too high.  Aside from Domi and maybe Korpisalo, I expect a fairly quiet deadline for Columbus.
trak2k: What have the Kraken done to win three out of four games as I type this message?
Off the top of my head, the first thing that comes to mind is that it's midseason and some teams will take their foot off the gas a little bit.  Arizona has won some games lately and so has Montreal.  I don't think they've done anything special but bad teams will eke out some wins here and there.  Seattle's better than those two squads but not by much in terms of the standings.
Good goaltending goes a long way and Seattle hasn't had a lot of it this season but in that stretch, they had it more often than not.  Fewer lineup changes help as they've been a bit healthier as of late which helps in terms of line chemistry and having goalies in two of those wins put up a save percentage below .860 certainly helps as well.  I know you're hoping for some sort of meaningful answer but I think it's mostly a bit of good fortune more than anything else.
Photo courtesy of USA Today Sports Images.