Topics in this edition of the PHR Mailbag include the slow starts in Seattle and Vegas, Vladimir Tarasenko's hot start in St. Louis, Chicago's struggles, Cam Atkinson's return to form, and Arizona's goaltending situation.  If your question doesn't appear here, watch for it in next weekend's mailbag.
trak2k: Is it worrying that the Kraken have the lowest amount of shots per game and also not really anyone on offense who can score?
Also. do teams who do well at the beginning of the season do well at the end of the season?
An uptick in shots now has Seattle out of the basement in that regard but it isn't really cause for concern that the volume isn't there.  The bigger issue is the second half of your first question in that they don't have a lot of firepower.  This isn't a team built to do a whole lot at the offensive end as GM Ron Francis opted to pass on some more prominent offensive players in expansion and only added some secondary pieces in free agency with an eye on longer-term flexibility.
It's important to hammer home that they're an expansion team.  They're supposed to struggle.  What Vegas did when they entered the league is by far the exception to what first-year teams are supposed to do and it unfairly raised the bar for the Kraken in the process.  They're supposed to be a middling team and with seven points out of their first eight games, they're basically doing what most expansion teams do.
It's not a given that teams that start strong will also finish strong.  The good teams are generally good throughout but there is usually a team or two that gets off to a hot start and fades as the year goes on and vice versa.  If you're hoping that Seattle goes from a slow start to a good finish though, I don't think this is the year for that to happen.
DirtbagBlues: Too early to panic in Vegas?
DirtbagBlues: Would Vegas really trade Theodore (as is being rumored since the Whitecloud and Hutton signings)? What else would they need to add to nab Eichel?
Speaking of that other recent expansion team…  I'm not pushing the panic button right now.  I know the statement "no excuses" tends to be applied but Max Pacioretty, Mark Stone, and Alex Tuch are a big part of their offense and they're all on the shelf plus there have been a litany of minor issues that have kept players out as well.  When a team is icing a lineup with a combined payroll below the cap minimum some nights, they're bound to struggle.  If they were all healthy and they were still struggling, then I'd be a bit more concerned.
As for Shea Theodore's inclusion in a Jack Eichel trade, I think they would do that.  First, I think the expectation of what Eichel will get in a return has swung far too much the other way; the Sabres aren't moving him for pennies on the dollar.  The pressure point is next offseason when his trade protection comes in, not now.  If he sits the season, I don't think they're all that concerned; it's not as if they're actively trying to make the playoffs anyway.
Back to Theodore, then.  Vegas has to match money for this to work on the cap (the LTIR only helps this season, not in the other four years of Eichel's deal) so someone with a hefty price tag has to go the other way.  Theodore at $5.2MM is a start on that front.  But he's young enough to be viewed as a longer-term piece for Buffalo and is signed through 2024-25 which is big for them.  He can be the centerpiece of a return as a result.  From the Golden Knights' perspective, they have Alex Pietrangelo, Alec Martinez, and Zach Whitecloud signed through at least 2023-24 and Nicolas Hague under control through 2026.  That's a good foundation on the back end even without Theodore.
As for what else, someone like Jonathan Marchessault, Reilly Smith, or Evgenii Dadonov would make the money work looking ahead to later in the year if Eichel is able to return for the stretch run and playoffs (LTIR shields them until that time).  I'd lean towards Marchessault solely because he has the longest term remaining which makes the money situation easier to navigate.  Buffalo is open to conditions on other pieces so there's bound to be a conditional first-rounder in there plus probably a lower pick tied to that one.  I could also see someone like Jack Dugan involved, a prospect whose stock has dipped a bit but still carries some potential value to Buffalo.
Johnny Z: Does Tarasenko still get traded? Does he push it or settles in with the Blues?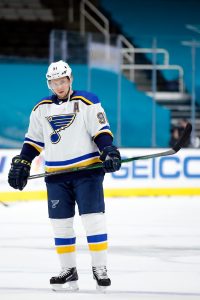 I've never really thought Tarasenko was getting traded in the first place.  Sure, he may want out but with contracts like these, there's a very fine line to navigate.  At $7.5MM for this season and next, teams aren't going to want him if he's not producing and how he finished last year basically cratered any possible value he may have.  On the other hand, he's an important enough piece for the Blues that they weren't going to give him away.
Now he's off to a nice start to his 2021-22 campaign with four goals and four assists in six games.  His value has certainly gone up but where's the motivation for St. Louis to trade him?  If you have a player producing at a top-line level, you keep him.  Winning and success can get rid of a lot of bad blood.  Will that be the case here?  I don't know but considering that it's often easier to try to swap big contracts in the offseason, that might be the time for something to happen on the trade front but not now.  At that point, teams will have a better idea if Tarasenko is truly back to his old form while there will also be the element of being able to discuss and potentially sign an extension which isn't an option if he's moved now.
Nha Trang: Has Marc-Andre Fleury just gotten old, or does the Chicago defense really suck THAT badly?
Why can't it be both?  Fleury is 36 and there is some volatility in starting goalies as they get older.  Fleury didn't hide the fact he didn't want to be traded in the first place and while I'm not accusing him of merely going through the motions by any stretch, going from somewhere you loved to somewhere you don't want to be certainly doesn't help things.
As for Chicago's back end, they've struggled quite a bit as well.  Frankly, they've surprised me with how poorly they've played as on paper, that's at least a decent group.  Seth Jones has struggled mightily, Jake McCabe hasn't quite settled in yet, and returning veterans Connor Murphy and Calvin de Haan have underwhelmed as well.
It's also worth mentioning that in Fleury's case, it's four games.  That's a pretty small sample size.  He isn't going to be that bad all season long; I expect he'll turn it around.  Generally speaking, I expect Chicago will find their footing eventually; there's too much talent on that team to be this bad all season long.  When that happens, Fleury will go back to being a decent starter and that's all they really wanted when they added him from Vegas.
YzerPlan19: Cam Atkinson is off to a great start; will he crack 40 goals this year as he did just a few years back? Also, will the additional goals support/good start to the season be the catalyst to bring back the struggling Philly goaltenders' confidence? Will it help Carter Hart regain his form?
I expected Atkinson would rebound but I know I didn't see him averaging a goal per game through the first couple of weeks of the season.  But that's a pretty small sample size.  I don't think he'll get to 40 goals which is a mark that not a lot of players get to.  That's now the mark of an elite scorer and I don't think Atkinson is quite in that tier.  Even if he 'only' got 30, the Flyers would likely be thrilled.
Right now, Philadelphia is averaging a little over four goals a game.  That'd help the confidence for any goaltender but it's also unrealistic to expect that to continue.  For a recent comparison, Montreal was around that mark through the first month of last season and wound up below the league average in that department by the time the year wrapped up.  The Flyers should regress back towards closer to three goals a game – a 14% success rate on shots isn't sustainable – which is only a little better than where they were last year when they were a middle of the pack team.  They're better on that front and that can't hurt from a confidence perspective but I don't think it'll make a substantial difference either.
I expect Hart will regain his form (and he's off to a decent start this season) but it won't just be because of that.  Last season aside, his track record in junior and the pros is that he's an above-average goaltender.  The bad year was the outlier so the fair expectation is that he'll bounce back, regardless of the improved offense in front of him.
Johnny Z: So, do the Yotes claim Cory Schneider now that Hutton is hurt?
Obviously, the answer to the specific question is no.  Schneider cleared waivers and was sent to AHL Bridgeport.
But I still put this in the mailbag as I do think the Coyotes need to add a goalie.  I get the idea of having a bad goalie to ensure being in the mix for the top spot in the draft lottery but you can get someone that's better than Carter Hutton and still accomplish that objective.  If they have hopes that Karel Vejmelka has legitimate NHL upside (even if it's as a backup), Arizona is not the place to be for him right now, at least not on a full-time basis.  Throwing a young and inexperienced goalie into this environment is asking for trouble from a development perspective.
Should they have claimed Schneider?  I think there's a strong case to be made on that front.  He's not going to steal them a bunch of games but he'd certainly be an upgrade on Hutton even when Hutton is healthy.  I get that the goal is to lose and that a loss is a loss but I'd rather have my players at least being in a somewhat competitive environment.  Throwing Hutton and to a lesser extent, Vejmelka, out there on a nightly basis isn't going to accomplish that very often.  There's an upgrade to be found that could keep some games more competitive (in other words, allow fewer than 4.5 goals per game) while still not being good enough to win.  That has to be one of the strangest objectives in professional sports but it's one worth pursuing for the Coyotes.
Photo courtesy of USA Today Sports Images.