Navigating the salary cap is one of the more important tasks for any GM.  Teams that can avoid total cap chaos by walking the tightrope of inking players to deals that match their value (or compensate for future value without breaking the bank) remain successful.  Those that don't see struggles and front office changes.
PHR will look at every NHL team and give a thorough look at their cap situation heading into the 2021-22 season.  This will focus more on players who are regulars on the roster versus those who may find themselves shuttling between the AHL and NHL.  All cap figures are courtesy of CapFriendly.
Toronto Maple Leafs
Current Cap Hit: $82,894,783 (over the $81.5MM Upper Limit)
Entry-Level Contracts
D Timothy Liljegren ($863K in 2021-22)
D Rasmus Sandin ($894K in 2021-22)
Potential Bonuses
Liljegren: $400K
Sandin saw limited action with Toronto last season but suited up in five of their seven playoff games and with the departure of Zach Bogosian, a top-six spot should be his for the taking in training camp.  While he has shown offensive upside at the lower levels, it hasn't yet materialized in the NHL and barring a big year on that front, he's someone that will likely need to sign a cheap one-year deal to preserve as much cap flexibility for Toronto as possible.  Liljegren also figures to get a look in training camp and should be one of the first recalls otherwise.  He's also a candidate for a one-year deal after the season, likely for the league minimum either on a one-way contract or with a higher AHL salary.
One Year Remaining, Non-Entry-Level
F Adam Brooks ($725K, RFA)
G Jack Campbell ($1.65MM, UFA)
F Pierre Engvall ($1.25MM, RFA)
F Kurtis Gabriel ($750K, UFA)
F Ondrej Kase ($1.25MM, RFA)
F Ilya Mikheyev ($1.645MM, UFA)
D Morgan Rielly ($5MM, UFA)
F Jason Spezza ($750K, UFA)
Mikheyev has shown some flashes of being a quality secondary scorer but consistency has been an issue so far.  With the Maple Leafs likely wanting to funnel some money towards a pair of notable UFAs in this list, it's possible that he becomes a casualty with an eye on someone making less money taking his spot.  Engvall, who was in and out of the lineup last season, also falls under that category.  Kase was a very interesting signing this summer – he's talented enough to be a top-six player but concussions have limited him lately.  If he stays healthy for the full season, he should provide a strong return on this deal.  Spezza should again provide some surplus value from the fourth line and has passed up chances to make more on the open market to play at home.  Gabriel will have a limited role when he's in the lineup and it wouldn't be surprising to see them try to sneak him through waivers for cap flexibility purposes; the same can be said for Brooks who has done well in limited duty but Toronto can't afford to carry a 23-player roster.  These last three roster spots will need to be filled by minimum-salaried players for the foreseeable future.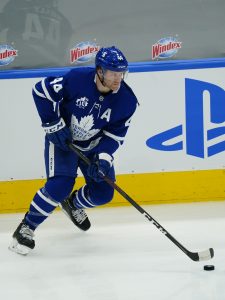 Rielly has been Toronto's top defenseman over the past several years and his contract has proven to be quite the bargain over that span.  That is going to change for 2022-23.  Even though he is coming off a quieter year offensively and likely isn't going to be a 72-point player moving forward like he was in 2018-19, he's a top-pairing player for the Maple Leafs and would be for many other teams as well.  He'll hit the market at 28 where he can command a max-term contract and will have the offensive numbers to land a sizable raise.  Something over $7MM seems likely at this point and a big year could make that price tag even higher.
As for Campbell, he has been everything Toronto could have hoped for.  He came in and stabilized the backup position in 2020 and then played quite well down the stretch, earning the number one job for the playoffs where he only allowed 13 goals in their seven-game series loss to Montreal.  Even so, he still doesn't have 100 career NHL appearances.  That will limit his earnings ceiling unless he can establish himself as a 50-game goalie or more which is going to be hard to do.  He still should be able to double his current price tag based on recent comparables but starter money may be a stretch.
Two Years Remaining
F Joey Anderson ($750K, RFA)
F Michael Bunting ($950K, UFA)
D Travis Dermott ($1.5MM, RFA)
D Justin Holl ($2MM, UFA)
F David Kampf ($1.5MM, UFA)
F Alexander Kerfoot ($3.5MM, UFA)
F Nick Ritchie ($2.5MM, UFA)
F Wayne Simmonds ($900K, UFA)
Kerfoot has been involved in trade speculation for a while now being the highest-paid forward outside of their top-paid pieces.  However, his ability to play in all situations has made him valuable enough that they've made other moves instead and kept him on the roster.  He doesn't produce enough to line himself up for a big raise two years from now but the fact he can play center will give him a strong market where he could come close to matching his current AAV.  Ritchie was non-tendered by Boston and landed quickly with the Maple Leafs.  He has shown the ability to play in the top-six, albeit inconsistently.  If he can be that type of player more frequently, he's young enough to command a significant raise the next time he hits the open market.  Kampf was another non-tender this summer, this time by Chicago and will be a key checker for Toronto.  Scoring has been a challenge for him which limits his earnings upside considerably.  Bunting used a strong second half to land a one-way deal and he'll have a chance to outperform that if he lands a spot in their top nine.  Simmonds took a pay cut to stick around and was rewarded with a no-trade clause in return.  Anderson hasn't played much with Toronto but he's now waiver-eligible and would be at risk at being claimed.  That could keep him on the roster as a result.
Holl has been a nice success story for the Maple Leafs.  After not really being able to crack the lineup under former coach Mike Babcock, he has since established himself as a quality second pair defender at a price tag that is well below market value for someone in the top four.  He'll be in line for a fairly significant raise two years from now.  Dermott has come along a little slower than they may have hoped but he's a regular on their third pairing and should get an opportunity to play a bit more than the 13 minutes a game from last season.  If that happens, they'll get good value on his deal.  Dermott has one more crack at arbitration eligibility and will be owed a $1.75MM qualifying offer.
Three Years Remaining
D T.J. Brodie ($5MM, UFA)
F Auston Matthews ($11.034MM, UFA)
G Petr Mrazek ($3.8MM, UFA)
D Jake Muzzin ($5.625MM, UFA)
F William Nylander ($6.962MM, UFA)
Matthews led the league in goals last season and it's only a matter of time before he notches 50 in a single season.  At first glance, it may seem like someone making that much could be in line for a raise on his next deal but as an elite scorer playing a premium position (center) and the fact he'll hit the open market at 26, the odds are pretty high that he'll command a bigger contract next time around.  The same can be said for Nylander who has either reached the 60-point mark or played at that pace in four of the last five seasons.  By the time he reaches free agency, the cap will have gone up a little bit and he should be well-positioned to be one of the higher-paid wingers in free agency.
Muzzin has been an integral part of their back end since coming over in 2019 from the Kings.  He has helped form a stabilizing defensive pairing but is good enough to still contribute offensively.  He's a high-end second pairing piece and with the way the market was for defenders this summer, it's safe to say he's now on a bit of a below-market deal.  Brodie has seen his production drop off the last couple of years but he's still strong in his own end and was a good partner for Rielly last season.  The contract may be a bit high given the falloff in his offensive numbers but with the top-end offense they have, a jump in scoring can't be ruled out.
Four Or More Years Remaining
F Mitch Marner ($10.903MM through 2024-25)
F John Tavares ($11MM through 2024-25)
Tavares certainly hasn't played poorly since joining Toronto but he hasn't exactly lived up to being one of the highest-paid centers in the league.  To be fair though, that's harder to prove on the second line behind Matthews.  Toronto paid a high premium to have two elite centers and while he's undoubtedly still a high-end player, they're not getting full value either.  Marner has racked up the points in the regular season to the point where it can be suggested that they're getting a good return on their investment but his playoff performances have ended his last couple of years on a down note.  He'll need to improve his showing there if he wants a shot at a bigger deal next time around, something that won't be the case for Tavares since he'll be entering his age-35 season on his next contract.
Buyouts
None
Retained Salary Transactions
F Phil Kessel ($1.2MM in 2021-22)
Still To Sign
None
Best Value: Holl
Worst Value: Tavares
Looking Ahead
Not much is going to change for the next few years.  Toronto is going to carry a smaller roster to preserve cap space (that's how they'll get cap-compliant for 2021-22) and as more key players re-sign (if they can afford to keep Rielly, Campbell, and Holl, among others), more roster spots will have to go to low-cost players, further widening the gap between the top-paid pieces and everyone else.  But this is the road they committed to and with the group they have on paper, it still could pan out.
With minimal long-term commitments on their books, there will be some flexibility when it comes time to re-sign those core pieces.  GM Kyle Dubas added some short-term depth pieces and if that's the strategy over the next couple of years as well, he'll have an opportunity to start to reshape things at that time if they're unable to get over the playoff hump with their current core.
Photo courtesy of USA Today Sports Images.