After his sophomore season, Sabres defenseman Rasmus Dahlin looked primed to take another step forward and potentially establish himself as one of the premier blueliners in the NHL.  Unfortunately for him and Buffalo, that didn't happen.  Instead, he struggled considerably (as did many others on the team) and the end result was a step backwards while he remains unsigned with training camp fast approaching.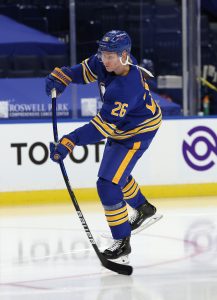 Despite the dip in production last season, Dahlin has shown himself to be a capable offensive blueliner already with a pair of 40-point years under his belt.  He's not going to be at the level of someone like Cale Makar or Quinn Hughes offensively but the 21-year-old has already shown himself to be above average at that end of the ice.
But what about his play in his own end?  That hasn't progressed anywhere near as well and part of the reason his ATOI hasn't jumped up much at all since his rookie season is that Dahlin still doesn't kill penalties.  His in-zone play under Ralph Krueger left a lot to be desired although there was some improvement following the coaching change to Don Granato.  Offensive numbers drive contract negotiations but Dahlin can't command top dollar since he isn't as well-rounded as others around the league are and some of his potential contractual comparables were at the time of signing.
That might seemingly push Dahlin towards a short-term deal, giving him a chance to improve defensively and bounce back offensively while getting arbitration rights along the way.  Buffalo has shown a willingness to do that in the past although the end results haven't been pretty with recent examples of that approach (Sam Reinhart and Linus Ullmark) now playing on other teams.  Accordingly, it wouldn't be surprising to see them try for a long-term pact here even if it might carry a little bit of risk.
Statistics
2020-21: 56 GP, 5-18-23, -36, 26 PIMS, 115 shots, 21:36 ATOI
Career: 197 GP, 18-89-107, -56, 98 PIMS, 382 shots, 20:44 ATOI
Comparables
Zach Werenski (Columbus) – While Werenski didn't take a big step forward in his platform year, he didn't take a step back either.  The offensive numbers are somewhat similar from a per-game perspective although Werenski was better in his own end then compared to Dahlin now.  Even so, this would likely represent the low end of what a bridge deal would cost as Dahlin's draft status gives him a leg up on most of the options here.
Platform Year Stats: 82 GP, 11-33-44, -12, 18 PIMS, 168 shots, 22:54 ATOI
Career Stats at ELC Expiration: 237 GP, 38-90-128, +13, 48 PIMS, 563 shots, 22:08 ATOI
Contract: Three years, $15MM
Cap Hit Percentage: 6.14%
Current Equivalent: Same as above
As this contract was basically the top standard, there aren't really other viable comparable players for bridge deals.  $5MM would be the starting point on a bridge contract with anything over two years exceeding this price tag quickly.  Accordingly, let's now look at longer-term options.
Ivan Provorov (Philadelphia) – Like Dahlin, Provorov entered his platform season as someone looking primed to take a big step forward but ultimately underachieved, leading to some questions as to whether a bridge deal would come his way.  He was more of a number one than Dahlin has been which could be a factor.
Platform Year Stats: 82 GP, 7-19-26, -16, 32 PIMS, 145 shots, 25:07 ATOI
Career Stats at ELC Expiration: 246 GP, 30-67-97, -6, 86 PIMS, 509 shots, 23:45 ATOI
Contract: Six years, $40.5MM
Cap Hit Percentage: 8.28%
Current Equivalent: Same as above
Aaron Ekblad (Florida) – For years, this was the top standard that any young blueliner would want to use as a comparable and like Dahlin, he's a number one pick.  Ekblad's better defensive game looms large here so from a comparable standpoint, this one is a little weaker but it's possible Dahlin still gets something like that (more on why that could be the case shortly).
Platform Year Stats: 68 GP, 10-11-21, -23, 58 PIMS, 225 shots, 21:28 ATOI (deal was signed pre-platform)
Career Stats at ELC Expiration: 227 GP, 37-59-96, +7, 131 PIMS, 577 shots, 21:40 ATOI
Contract: Eight years, $60MM
Cap Hit Percentage: 10.27%
Current Equivalent: Eight years, $66.96MM ($8.37MM AAV)
Dougie Hamilton (Calgary) – After acquiring him from Boston, Calgary quickly inked Hamilton to the contract that he just wrapped up before signing with New Jersey.  The development path was the opposite of what Dahlin's has been so far (his was a slow start and annual improvement) but the overall numbers are relatively close.
Platform Year Stats: 72 GP, 10-32-42, -3, 41 PIMS, 188 shots, 21:20 ATOI
Career Stats at ELC Expiration: 178 GP, 22-61-83, +23, 95 PIMS, 385 shots, 19:32 ATOI
Contract: Six years, $34.5MM
Cap Hit Percentage: 8.05%
Current Equivalent: Six years, $39.365MM ($6.56MM AAV)
Tyler Myers (Buffalo) – Let's use another Sabres deal as the final comparable.  Myers' first two seasons were a lot better than his third year (and as it turns out, those two remain his top years offensively) so at the time, Buffalo was thinking they had a core two-way player on their hands.  Of course, it didn't work out that way in the end but the numbers are somewhat comparable to Dahlin's so far.
Platform Year Stats: 55 GP, 8-15-23, +5, 33 PIMS, 84 shots, 22:29 ATOI
Career Stats at ELC Expiration: 217 GP, 29-79-108, +18, 105 PIMS, 310 shots, 22:57 ATOI
Contract: Seven years, $38.5MM
Cap Hit Percentage: 8.55%
Current Equivalent: Seven years, $48.778MM ($6.968MM AAV)
Projected Contract
In terms of fits for a long-term deal, Dahlin's comparables appear to be in the high-$6MM range.  But if that's the baseline for that type of contract, his camp would argue that a bridge contract would be the better way to go and rightfully so.  If Buffalo wants to buy out a couple of UFA years, they'll need to go a bit higher, perhaps around the $7.5MM range to persuade Dahlin to go that route; a max-term (eight-year) deal could push it closer to $8MM.  Otherwise, a bridge contract starting at over $5MM for an AAV (one that is back-loaded to yield a higher qualifying offer) could very well wind up being the outcome here.
Photo courtesy of USA Today Sports Images.  Contract information via CapFriendly.