Navigating the salary cap is one of the more important tasks for any GM.  Teams that can avoid total cap chaos by walking the tightrope of inking players to deals that match their value (or compensate for future value without breaking the bank) remain successful.  Those that don't see struggles and front office changes.
PHR will look at every NHL team and give a thorough look at their cap situation heading into the 2021-22 season.  This will focus more on players who are regulars on the roster versus those who may find themselves shuttling between the AHL and NHL.  All cap figures are courtesy of CapFriendly.
San Jose Sharks
Current Cap Hit: $78,138,334 (under the $81.5MM Upper Limit)
Entry-Level Contracts
D Mario Ferraro ($925K in 2021-22)
D Nikolai Knyzhov ($797K in 2021-22)
F John Leonard ($925K in 2021-22)
Leonard managed to hold down a regular spot in the lineup in his rookie season, albeit in a limited role.  Barring a jump forward offensively, he's unlikely to land much more than his current price tag on his second contract which would almost certainly be a short-term one.
Ferraro's sophomore season didn't see him upping his production all that much but his role certainly changed.  Instead of being on the third pairing in sheltered minutes, the 22-year-old was a regular on the top pairing, playing in all situations.  There's little reason to think that will change this coming season and while limited production will limit his earnings upside, Ferraro could triple his current AAV on a bridge deal.  Knyzhov had the role that Ferraro had in his rookie season, seeing some sheltered minutes on the third pairing but played in every game.  Even if he stays in that role in 2021-22, he'll be able to pass the $1MM mark on his second contract.
One Year Remaining, Non-Entry-Level
F Alexander Barabanov ($1MM, UFA)
F Andrew Cogliano ($1MM, UFA)
F Jonathan Dahlen ($750K, RFA)
D Dylan Gambrell ($1.1MM, RFA)
F Tomas Hertl ($5.625MM, UFA)
D Nicolas Meloche ($750K, RFA)
F Nick Merkley ($750K, RFA)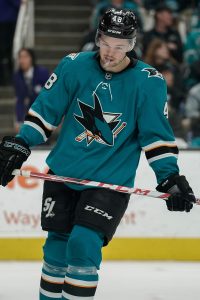 Hertl's name has been in trade speculation over the last couple of weeks following some comments earlier this month that suggested he may not be with the Sharks beyond the upcoming season.  He has become their top-producing center, successfully making the transition from playing the wing at the start of his career.  In doing so, his market value has increased considerably.  While he may not be able to market himself as a true number one center, quality middlemen are always in high demand and low supply on the open market.  Accordingly, a $2MM jump in AAV seems realistic and if it's not coming from the Sharks, will whoever acquires him closer to the trade deadline hand him an extension as part of the swap?
Gambrell had a big jump in playing time last season but the production was still middling.  He's serviceable in a limited role and can kill penalties but that's not a spot where they can afford to pay much more than what they're currently paying and his arbitration eligibility could work against him.  Cogliano is a capable placeholding veteran that could be a trade candidate if they're out of contention at the trade deadline.  He'll be subject to the 35-plus designation next year so he'll probably be going year-to-year from here on out.  Barabanov did well in a very limited stretch after coming over from Toronto and should get a shot at a bigger role.  A good showing could have him in line for a considerable raise but if that doesn't happen, he'll be a candidate to go back to the KHL.  Dahlen managed to land a one-way deal which is impressive for someone who played in Sweden's second division last season.  He'll get a shot at earning a regular spot in camp and if that doesn't happen, his time in North America could be short-lived.  Merkley came over in an offseason trade from New Jersey and will push for a spot on the fourth line; that roster spot will likely continue to be filled by someone making the minimum or close to it moving forward.
Meloche split last season between the Sharks and the taxi squad and at this point, they're likely to carry a seventh defender that can clear waivers and go back and forth when needed.  He'll battle Jacob Middleton ($725K) for that role unless someone else is brought in between now and then.
Two Years Remaining
F Rudolfs Balcers ($1.55MM, RFA)
F Nick Bonino ($2.05MM, UFA)
D Adin Hill ($2.175MM, UFA)
F Timo Meier ($6MM, RFA)
F Matt Nieto ($850K, UFA)
F Lane Pederson ($750K, RFA)
G James Reimer ($2.25MM, UFA)
Meier hasn't been able to get back to the per-game production he had before signing this contract, one that carries the poison pill of a $10MM qualifying offer at its expiry.  It'd be hard to justify paying him that much while that qualifier also hurts his trade value unless an early extension can be worked out in 2022-23.  Bonino came over in free agency, signing a deal that was below our projection for him.  As far as third centers go, he's a decent one on a below-market contract.  Balcers has been one of the better recent waiver claims around the league and is in a spot where he can play a regular middle-six role.  As long as he stays there, they'll get a good return on this deal.  Nieto and Pederson will be cheap depth players and will be retained around that price point or replaced by someone else making that money.
Hill hasn't had much of an NHL opportunity but he'll get one now as he goes from being Arizona's backup to the starter with the Sharks.  We've seen the type of money even top backups get let alone starters; both are price points well beyond what he's making now so the opportunity for a big jump in salary will soon be there.  Reimer returns for his second stint with the Sharks and after effectively being relegated to third-string duty in Carolina by the end of the year, he still landed a decent contract.  He'll be 35 for next trip to free agency and likely will have to go year-to-year at that point.
Three Years Remaining
F Kevin Labanc ($4.725MM, UFA)
D Radim Simek ($2.25MM, UFA)
Labanc's contract was a pricey one for the year he was coming off of but it was also a reward for taking a very team-friendly deal the year before.  Unfortunately for him and the Sharks, last season wasn't much of an improvement.  If he gets even close to his 2018-19 numbers, they will get a reasonable return on his deal but right now, this one is a bit of an overpayment.
Simek's deal also falls under that category.  He was their sixth defender some nights and that type of term and money for someone in that role is not good value.
Four Or More Years Remaining
D Brent Burns ($8MM through 2024-25)
F Logan Couture ($8MM through 2026-27)
F Evander Kane ($7MM through 2024-25)
D Erik Karlsson ($11.5MM through 2026-27)
D Marc-Edouard Vlasic ($7MM through 2025-26)
Couture's per-game numbers have dipped the past two years, moving him from production worthy of a spot on the front line to more of second-line output instead.  In the process, his contract went from a market-value one to an overpayment.  At his age, a rebound to that type of production can't simply be expected which means they may not be getting a great return on this deal moving forward.  In terms of on-ice production, Kane actually provided good value for the Sharks last season.  Overall, it's a bit of a high price tag but power forwards get big money.  Of course, there is way more to Kane than simply the on-ice element and the off-ice stuff simply craters his value.  Instead of being the one big contract that actually gives the Sharks somewhat of a palatable return, it's another anchor for them as things currently stand.
Then there are the defensemen.  Karlsson hasn't come close to living up to his deal and his production has tapered off which is alarming for someone whose offensive game is what got him that record-setting contract in the first place.  Burns is still an impact defender but not a true number one anymore.  He's also 36 with four more years left on his contract.  The drop is coming and when it does, it will hurt.  The drop has already come for Vlasic who is more of a limited role player but is going to be paid number two money for the next half-decade.
Buyouts
G Martin Jones ($1.917MM in 21-22, $2.417MM in 22-23, $2.917MM in 23-24, $1.667MM from 24-25 through 26-27)
Retained Salary Transactions
None
Still To Sign
F Noah Gregor – Gregor has played in 58 career NHL games, notching just 11 points.  His contract shouldn't cost much more than the minimum and at this point, the AHL salary is likely what's still being discussed.
Best Value: Bonino
Worst Value: Karlsson
Looking Ahead
For the upcoming season, things aren't too bad.  There is some flexibility to work with for in-season movement which has them in better shape than a lot of teams.  Meier's deal is an upcoming pressure point but that's more likely to be dealt with next season than this one.
Unfortunately for the Sharks, they have over $43MM tied up in the five players signed beyond the next three seasons plus Jones' buyout.  They're not getting good value on any of those contracts and the cap is only going to go up gradually.  Basically half of their cap space – likely a bit more by the time the Upper Limit is set for a few years from now – is in negative-value contracts.  It's hard to build a contender with maybe a little over $40MM.  That was doable when the cap came in in 2005-06 – it won't be two decades later but that's the path they're heading towards.
Photo courtesy of USA Today Sports Images.