Topics in this edition of the PHR Mailbag include the Rangers and their long-term center situation, some candidates to step up for the Lightning this season, players that have a shot at having their tryouts converted to an NHL contract, and much more.  If your question doesn't appear here, check back in last weekend's mailbag.
jchancel: If the NYR are going to sign Zibanejad long term, what salaries do they move if they want to sign a front-line center? Personally, I'd like to see who they could possibly get that would play better with Panarin than Strome has. I know his faceoff % and defensive abilities aren't the best, but he plays a very adequate game feeding Panarin.
Stop the Eichel nonsense!!! Crazy to overpay for damaged goods. If he's gettable for two returns and a draft pick maybe. But not all your youth!!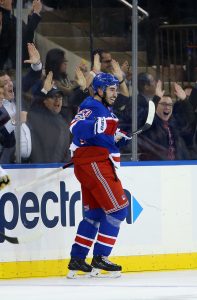 I don't see a scenario where they can afford to give Mika Zibanejad the long-term contract he's seeking and still try to bring in a number one center.  With Artemi Panarin not going anywhere and their young core heading for pricier deals in a hurry – headlined by Adam Fox next summer – they're not going to be able to carry two high-priced pivots on their roster.  If they were absolutely adamant about trying to add another impact center (perhaps a high-end second option), Chris Kreider feels like the one that they'd try to move.  His contract probably won't age well and with the young wingers they have coming, he could be pushed down the depth chart in a hurry.
I understand the temptation to try to upgrade on Ryan Strome given his track record but at some point, he deserves some credit at least.  Yes, he plays well with Panarin but it shouldn't necessarily be taken for granted that whichever potential upgrade they try to get will have similar chemistry.  It could be better but it could be worse.  I'm not necessarily advocating that they keep him but at the frequency he's thrown into trade suggestions, it should at least be said that he has had the best two seasons of his career in the last two years.  That should count for something.
Eichel's trade value is dipping right now but I don't see Buffalo accepting that low of a return for him at this point.  With the Sabres not trying to compete, I think they're perfectly content dragging this out a little while longer.
denny816: If the Rangers do not see a considerable jump in production from Kaapo Kakko (assuming he is given an increased role for the upcoming season), could you see Drury dangling him and one of their plethora of young defense prospects to fill the hole they have at center?
That would certainly make sense in theory but at the same time, if Kakko doesn't have a big jump in production, how much does his trade value drop?  I wouldn't want to put him into 'bust' territory but there's no doubt it would make it harder for him to be the centerpiece of such a move.  If they had any inclination of trying to move Kakko for a center, it may make more sense to try to do it now.  There's some risk in that Kakko breaks out elsewhere but if he landed a promising young, cost-controllable pivot, it could be worth doing sooner than later.
The Captain 11: The NYR are in a no-win situation with the center position right now. Both Zibanejad and Strome are UFA after this season. They have no internal options to replace them and it doesn't look like there are upgrades available in the 2022 UFA market. Are there any possible RFA's ripe for an offer sheet possibly?
Do the NYR overpay both Zibanejad and Strome in both money and term or do they trade one or both to not risk losing them for nothing? With Dolan mandating making the playoffs (or something close to that), it seems like the latter is off the table. A true no-win situation for Drury. I don't see Chytil as a center moving forward even though Drury recently said he does see it. Barron might make a good 3C one day but prob needs more seasoning and some time before being ready. Most people have them both as better suited to wing.
Also, is it me or do the NYR seem to have an organizational aversion to drafting and developing centers? Very few really good centers have been drafted as they tend to get them through trade and free agency.
And, does Gallant finally break up the trio of pairs? Kreider/Zibanejad, Strome/Panarin, Kakko/Chytil. Should they name Kreider captain, would it be a smart move to slide him to the 3rd line and ease that burden on him a bit while simultaneously giving Laffy a good look on the top line?
Let's stick with the Rangers for one more set of questions.  If you're looking for a proven option, an offer sheet probably isn't the best route to try to go.  Even if they find an impact center they like, how much will it cost to get them to sign and get the team to walk away?  Carolina more than doubled Jesperi Kotkaniemi's value and even then, it was far from a guarantee that Montreal wouldn't match.  Let's say there's a center worth $6MM in the RFA class that is willing to sign an offer sheet, they're going to have to offer substantially more than that to get the team to walk away.  That's more cap space and draft picks down the drain and if you're going upwards of $8MM to $9MM, wouldn't they be better off just keeping Zibanejad?
I don't see Zibanejad being moved in-season (I think he re-signs) and if the Rangers are in the mix, I don't think Strome moves either.  There's always risk to that approach but it's hard to see them voluntarily weakening their playoff fortunes to add a pick or a prospect.
I don't think the Rangers have an aversion to drafting centers.  Chytil and Lias Andersson were both drafted as first-round centers and that was just in 2017.  Kakko and Lafreniere are wingers, sure, but they were the consensus top options where they were picked; reaching for a center wouldn't have made sense.  In between that, they added a pair of decent winger prospects and a pretty good defenseman in K'Andre Miller.  Sometimes, sticking with BPA over positional need pays off in terms of stockpiling assets.  Now, they'll have to develop those into trade chips to fill the need unless Chytil is able to establish himself there.
Line combos are meant to be shuffled around so sure, Gallant will probably split them up at points, especially in training camp.  Kreider will be on the third line down the road but if they want to keep his value high (if they have eyes on trading him for cap flexibility purposes), moving him down would make that hard.  That would also take the captaincy off the table.  I wouldn't be surprised if Zibanejad is named captain if they get an extension worked out before the season starts.
Jack10: Which prospect(s) from the defending Stanley Cup champion Tampa Bay Lightning will have the biggest impact, if any after their free agent signings, during the upcoming season in which they have lost their entire 3rd line from their back-to-back championships?
I mentioned him in a recent mailbag but I'll go again with Alex Barre-Boulet here.  He produced at a high-end rate in junior.  He went to the minors and produced at a high-end rate in both of his full seasons while averaging more than a point per game in limited action last year.  His NHL numbers don't stand out – three goals in 15 games – but it was his first taste of NHL action.  He's someone I see having a limited role to start but working his way up into an important secondary scoring role before too long.
He's slightly more proven but I'll also add Mathieu Joseph to the mix.  He may not be a true prospect but he's only a few months older than Barre-Boulet.  He has had a limited role so far in his career but he's someone who should play higher in the lineup now.  He has produced in the past and if he does this season, he'll be a very interesting restricted free agent next summer with salary arbitration rights.
The Duke: Let's once again dust off the Mailbag's Crystal Ball, which sees all & knows all: 1. Fastest path to – and most scoring success in – a top-six role between Newhook, Krebs, Veleno & Tomasino? 2. Brightest scoring future between Eklund, Raymond & Holtz? And lastly 3. the top three scoring forwards in NJ's next 3-4 years? As always, much thanks.
1) The fastest path should be Nashville's Philip Tomasino as there's a very good chance he'll be in that role this season.  The Predators didn't exactly add up front this summer with an eye on giving some youngsters like him and Eeli Tolvanen a chance to step up.  Alex Newhook will get there at some point but it won't be this season.  Peyton Krebs will need some time in the minors and Joseph Veleno I suspect will be more of a high-end third liner than a top-six guy.  Long term, Newhook might have the best path to success if he eventually ascends to the 2C role in Colorado but for the upcoming season, Tomasino should have the most points.
2) If we go strictly with SHL success, it'd be William Eklund who had a nice showing with Djurgardens last season where he was a teammate of Alexander Holtz.  But I'll take Lucas Raymond, who is going to be a focal point of Detroit's rebuild that will eventually come to an end, to slightly outscore the others.  All three should be impact players before too long though.
3) I expect Jack Hughes to continue to develop offensively so he'll certainly be in that mix.  So, too, should Nico Hischier.  Holtz won't play enough to have a shot at that and I don't see many high-scoring forwards coming out of the rest of their group.  I'd like to take Dougie Hamilton as I think he'll out-produce the rest of their forwards over that stretch but he's a defenseman.  I'm not sold on Yegor Sharangovich being a key long-term piece for them but he'll be around long enough to get an honest look so I'll give him the slight edge for the third forward slot.
ericl: If the Bruins struggle to find a center who plays well with Hall, who are some centers that could be available as the trade deadline approaches that could be possible trade targets?
Max Domi would be one but I touched on that scenario earlier this month already so I won't get into that one here.  I suspect the target would be a rental with an eye on extending the right fit which is basically what they did with Taylor Hall.  A lot will depend on where teams are at the deadline as to whether they're selling or not so keep in mind that these names could wind up not being available midseason.
I'd look at someone like Joe Pavelski as a primary target if the Stars aren't in the playoff race.  Dallas would need to retain and Boston would still need to send a salary offset but if they're making one last run with this core and their internal options can't get the job done, I would be surprised if he wasn't Plan 'A'.
Ryan Strome's future with the Rangers is in question and if they're not in the mix, he's someone that could move.  He's another question mark but his price tag would be more affordable.  Paul Stastny would be a good fit if Winnipeg is out of contention and now that his AAV is lower, Ryan Getzlaf is more palatable at the deadline as well.  I doubt all of these players will be available but if they're thinking about a possible rental player already, these players could very well be on the list.
pawtucket: Disappointing year from more than a few players. Many of whom are still young but are certainly paid to be better. Who will bounce back and who will not?
Monahan
Meier
Laine
Dubois
Hart
Hall
I expect more of those players will bounce back than ones that won't.  Carter Hart will have a better defense in front of him and his track record before last season suggests he'll be able to find his past form and give the Flyers a big boost in the standings.  Taylor Hall looked much better in Boston down the stretch last season and while he might not be someone who hovers near a point per game on the second line, he'll still have a productive year.  I believe Pierre-Luc Dubois will rebound nicely with a full camp and season in Winnipeg and it's a contract year for him as well, providing extra motivation.  I'll put Patrik Laine on this side of the list as well as he can't be much worse than he was with Columbus last season.  I don't think he'll go back to being a 40-goal scorer but he'll be better.
I'm a bit uncertain about Sean Monahan.  Calgary's forward group is largely the same as it was last season and Darryl Sutter-coached teams aren't known for a high-flying attack.  Now healthy, I could see a small improvement in his point-per-game average but with Elias Lindholm and Mikael Backlund in the mix still, Monahan's days of frequently lining up with Johhny Gaudreau may have come to an end.  I'm not expecting a big improvement from Timo Meier though.  I think his value was overinflated by the final year of his entry-level deal but he's more of a supporting cast player than a primary one despite being paid like the latter.  San Jose hasn't exactly improved this summer so while a small improvement could happen, he's not getting back to the 30-goal mark either.
One More JAGR: With Hextall's mission of Win Now AND Win Later, is this season it for the current team if they don't advance? If they continue to be a one and done this season, will the team be blown up and look more like a Win Later team thereafter?
With both Evgeni Malkin and Kris Letang both being pending unrestricted free agents, the opportunity to pivot to a rebuild is there but I honestly don't see it coming.  With Sidney Crosby, one of the best players in the league, still signed, it's just hard to see them behaving like a team that's interested in winning down the road when Crosby is no longer under contract.
Will there be changes coming?  Probably.  But they're a team that's more built to retool than rebuild.  Move out some pricey core pieces for other pricey core pieces that ideally complement the roster better.  Basically, do what Philadelphia did with some of their moves.  That seems like a likelier scenario than starting a longer-term rebuild with an eye on winning a few years from now.
Speak Of The Devil: Out of all the PTOs signed this week who has a realistic shot at actually signing a contract with the team that signed them?
Some of the minor leaguers are perhaps the likeliest to get AHL contracts and the success rate with those will probably be higher than the NHLers but here are a few that have a realistic chance of being converted to a contract.
Alex Chiasson (Vancouver) – Chiasson is no stranger to the PTO route having earned contracts that way twice already.  The Canucks have a bit of uncertainty surrounding a few of their depth players and Chiasson is someone that could fit on their fourth line and help the power play.  Considering he'll likely have to sign for close to the minimum, that's a deal that's worth handing out.
Alex Galchenyuk (Arizona) – There is not a lot of firepower on the Coyotes so there is a spot for Galchenyuk to fill in the middle six.  He's already familiar with Arizona having played there before and while it's a new coach, having some chemistry with some of the holdover players should help his cause.  There's going to be plenty of motivation with how last year went and how his stock has dropped and the end result could be a value deal for Galchenyuk when all is said and done.
Jimmy Vesey/Mark Jankowski (New Jersey) – The Devils have ample cap space to carry a max-sized roster so I wouldn't be surprised if one of these two landed a contract.  If they want extra center depth, Jankowski would probably get the nod but Vesey has enough of a track record to warrant a cheap deal as well.
Marc. 20: Do you see any 2021 European draft prospects (Let's say top two rounds) that have a bigger risk of having difficulties translating their talent from Olympic size ice to the North American ice rink?
I have to admit, I'm not particularly well-versed yet in the draft, particularly international prospects.  A lot can change between now and early July in terms of rankings so it's hard to answer this one.
I will say that generally speaking, players that are slower to react or think slower are the ones that are more at risk of struggling when they start to adapt to the smaller ice surface.  Less space means less time to process and react.  If I'm a scout, that would be the red flag I'd be looking for.
Photo courtesy of USA Today Sports Images.