Topics in this edition of the PHR Mailbag include reuniting the Hughes brothers, Henrik Lundqvist, Max Domi, Cole Caufield's production, the Kings' offseason, plus playoff and crystal ball predictions.  If your question doesn't appear here, check back in last weekend's mailbag.
SpeakOfTheDevil: Do you see the Hughes brothers all playing together on the same team someday? What would it take for that to happen via trade?
I don't see it happening and it comes down to money.  Quinn Hughes is going to get very expensive very quickly.  If Jack Hughes pans out as expected, he'll be expensive a year from now.  By the time Quinn becomes a free agent, Luke will be on his second contract which, you guessed it, could get expensive quickly if he puts up the points many think he will.  Dougie Hamilton might still be on the books at $9MM by then (depending on how long Quinn's second contract is – is it a bridge or does it walk him to UFA right away?).
That likely takes the easiest scenario off the table.  Could Vancouver one day trade Quinn?  Sure, anything is possible.  But does New Jersey need a third puck-moving defender with Hamilton and Luke and again, can they even afford that on the cap?  Probably not and even if they could afford it, would they be willing to pay an extremely high price tag (multiple top picks and players) to make a strong spot (puck-moving defender) even stronger?  That's probably not the best use of organizational resources even if it makes for a nice story.
I don't see New Jersey moving Jack and Luke to Vancouver, not with the cap challenges the Canucks are heading towards.  And all three winding up on an entirely different team is even harder to see happening.
Could it happen later in their careers when they're not all on big-money contracts?  That's certainly a little more realistic but even then, the safe bet is to say it doesn't happen outside of them playing some summer scrimmages in the offseason on the same team.
Eaton Harass: Is Lundqvist the best goalie to never win a Cup?
He's definitely in that mix.  He's a sure-fire Hall of Famer but there are others that are in the Hall of Fame that have to be considered.
Tony Esposito played in a much different era so it's hard to directly compare the numbers but he played on some very good Chicago teams that just couldn't get over the hump, much like the Rangers.  Roberto Luongo didn't always have good teams in front of him but was one of the premier goalies of his generation, the same as Lundqvist.  I'd put Lundqvist ahead of Curtis Joseph and Ron Hextall who should also get at least some consideration here as well.
I'd say Esposito and his slightly more decorated track record would get the edge here but it's not really a competition to be the best of that group. Lundqvist was a high-end goalie that never won a Stanley Cup that will one day be in the Hall of Fame.  I know lots of people like 'Best of' lists but I don't think being ranked first, second, third, or tenth matters all that much.
@MarkPaleo: Is Max Domi a possible solution for the Bruins' 2nd line center question?
In the short term, no.  He's going to miss at least the first six weeks or so of the season if not longer after undergoing shoulder surgery in early June.  There's also the $5.3MM AAV which is one they can't really afford.  Yes, he's eligible for LTIR but there would be a cap crunch as soon as he was able to return.
But at the trade deadline?  That could be a really interesting option.  At that point, Domi will have come back and shown if he's capable of still being a top-six piece (particularly at center, after spending time the last two years on the wing) and the money will be easier to fit in with how much time will have passed and Columbus likely being more willing to retain at that time.  Boston has looked at reclamation rental projects in the past at the deadline in the hopes that a change of scenery gets them going and Domi would certainly fit that particular strategy.  If they haven't filled that spot by the deadline, he'd make some sense for them.
wu tang killa beez: What do you expect from Cole Caufield in Montreal in a full NHL season? Can he score 30 goals?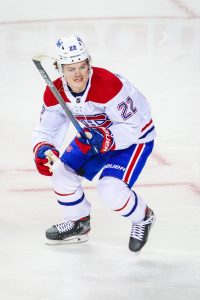 In a single season at some point in his career?  30 is more than doable; it'd be a bit surprising if he didn't get to that milestone a few times at least.  He's undersized but it's hard to teach the scoring touch that Caufield has and he certainly didn't look out of place during Montreal's playoff run.
Now, if you're asking about next season, that's a little less certain.  Don't get me wrong, he could get 30 in 2021-22 but I don't know if I'd necessarily predict that.  The Canadiens are a score-by-committee type of team and outside of a hot start last year, they don't typically score a lot.  They have some decent weapons on the wing with him, Brendan Gallagher, Mike Hoffman, and Tyler Toffoli and that might result in some flatter scoring numbers.  All of those players could (and if healthy, probably should) pass the 20-goal mark but because of that depth, none might reach 30 next season.
Winter in Colorado: Do you think the veteran additions and developing prospects will be enough for the LA Kings to make the playoffs this season? Is 3rd in the relatively weak Pacific Division possible?
bigalval: Can the Kings make the playoffs this year the team looks a lot better and the kids are coming up.
There's no denying that the Kings are much-improved after the additions of Phillip Danault, Viktor Arvidsson, and Alexander Edler.  The depth is a lot better and some players who were in spots higher than they should have been will be pushed back down which, from a development standpoint, isn't a bad thing either.  There's also no denying that the Pacific Division isn't all that strong and it is definitely possible that these additions plus some internal improvement from their youngsters could be enough to get them over the hump and into that third seed.  I wouldn't be shocked if it happened.
That said, I'm not going to predict it'll happen.  Last month, I made my very quick predictions for the playoffs and the Kings weren't in that group.  I think Edler will help their back end but it's still not a particularly strong group.  I don't have a lot of confidence that Calvin Petersen and Jonathan Quick can be a playoff-caliber goaltending tandem, especially with that back end not being an impactful one.  They'll score more but after being 27th in that department last season, that's a low bar to clear.  I could see the Kings being fourth or fifth in the division but if five teams from the Central make it (a definite possibility), that would have Los Angeles just on the outside looking in.  Bright days are soon coming but I think that jump ahead is another year away.
Joe422: 3 in and 3 out…. What 3-teams made the playoffs last season will not make it this season and who replaces them?
Let's revisit those predictions linked above.  I actually have four teams from the 2020-21 playoffs missing as things stand this season – two from the East and two from the West being replaced by one from the East and three from the West thanks to the one-time divisional alignment from a year ago.
Out of the teams missing, let's start with the Stanley Cup finalists in Montreal.  They'll score more this season but they're going to struggle defensively without Danault and Shea Weber.  Their depth down the middle is already shaky – we'll see later today if it gets even weaker – and it's hard to see them making it back in.  Pittsburgh is a team that has a narrow gap between contending and declining.  I don't think they've tangibly improved and their goaltending is still a giant question mark.  Unless Tristan Jarry picks up his play, I think they just miss.  From the West, Nashville has certainly started to rebuild while Minnesota's roster isn't as strong as it was a year ago.  I also don't see them staying in the top ten in goals scored and the end result is them taking a small step back.
As for who gets in, I expect Philadelphia to rebound.  More specifically, I expect Carter Hart to rebound and if that happens, they basically become a playoff team right then and there.  A largely healthy Dallas team (Ben Bishop is still out) should rebound, getting them into the mix in the Central.  Chicago has added enough that they should be able to at least grab a Wild Card spot, especially if both go to Central Division teams.  I'm going to put Vancouver in as well.  As much as I really don't like the acquisition of Oliver Ekman-Larsson with the likely long-term cap consequences, their defense will be better this season and the addition of Conor Garland gives them another scoring threat.  Add that to a quietly good goalie tandem and there's a recipe for a playoff appearance this season.
I still don't think the big moves are done just yet and I don't just mean the offer sheet answer so things could certainly change before the puck drops on the regular season next month.
The Duke: Old & New Crystal Ball, total points moving forward: Wennberg vs Bennett; Saad vs Zucker; Podkolzin vs Lucas Raymond; Owen Power vs Luke Hughes – and GAA: Vladar vs Skinner; Wallstedt vs Cossa.
1) I'm not going to predict Sam Bennett will stay over a point per game with Florida but I could see some 50-plus-point years from him.  I don't see that from Alexander Wennberg who is more of a 30-point player.  Bennett's a year younger but plays a more physical style that will wear down over time which creates some injury concerns so let's say 350 for him and 250 for Wennberg.
2) Brandon Saad is a year younger than Jason Zucker and has five years left on his contract versus two for Zucker.  I think Zucker is the more talented player when both are on their games but if he doesn't rebound soon with Pittsburgh, he won't get the top-six opportunities that Saad will.  Let's go with 250 for Saad, 200 for Zucker.
3) I think Vasili Podkolzin's offensive upside is a bit overstated although he's going to be a key piece soon for Vancouver.  As for Raymond, I feel he has the potential for more points so let's say 620-525?  Guessing production 15 years down the road is a little challenging for the crystal ball.
4) If Luke is like his brother Quinn offensively as some think he can be, I think he beats Power on the points front.  Of course, that's a big if.  Of course, it's Power's all-around game and the potential to be an every-situation number one blueliner that made him the number one pick.  I'll say 625-585 for Hughes; Power plays a little longer to bring the totals closer.
5) I'm honestly not sold that Stuart Skinner is going to have any sort of viable NHL career so his GAA could wind up somewhere in the low threes in limited action.  Daniel Vladar is going to have a chance to play behind a decent back end in Calgary on a Darryl Sutter-coached team that will be defense-first.  That will help his career average in the long run which could be in the mid-to-high twos.
6) This is a fun one.  Like many, I was surprised when Sebastian Cossa went ahead of Jesper Wallstedt on draft day but both should be starters for a long time in this league.  That means their GAAs are likely to be at least somewhat similar in the mid-twos.  I had Wallstedt ahead of Cossa so give him the nod by a few hundredths if you're looking for me to break the virtual tie.
Photo courtesy of USA Today Sports Images.