Navigating the salary cap is one of the more important tasks for any GM.  Teams that can avoid total cap chaos by walking the tightrope of inking players to deals that match their value (or compensate for future value without breaking the bank) remain successful.  Those that don't see struggles and front office changes.
PHR will look at every NHL team and give a thorough look at their cap situation heading into the 2021-22 season.  This will focus more on players who are regulars on the roster versus those who may find themselves shuttling between the AHL and NHL.  All cap figures are courtesy of CapFriendly.
Washington Capitals
Current Cap Hit: $80,831,260 (under the $81.5MM Upper Limit)
Entry-Level Contracts
F Connor McMichael ($863K through 2023-24)
McMichael was able to get his feet wet in the pros a year early with the OHL not playing and he made the most of it with a strong showing with AHL Hershey.  He may have to wait until injuries strike to have a shot at playing but he has enough offensive upside to make an impact when he gets his opportunity next season.
One Year Remaining, Non-Entry-Level
F Nic Dowd ($750K, UFA)
D Matt Irwin ($750K, UFA)
D Michal Kempny ($2.5MM, UFA)
G Ilya Samsonov ($2MM, RFA)
D Justin Schultz ($4MM, UFA)
F Daniel Sprong ($725K, RFA)
G Vitek Vanecek ($717K, RFA)
Sprong has been inconsistent throughout his career but his AAV being below the cap ceiling creates some excess value for Washington to the point where he was protected in expansion.  He has reached double digits in goals in two of the last three seasons and a repeat showing next season could push him towards doubling his AAV or more which could ultimately price him out of their plans.  Dowd has done a nice job as their fourth line center but while he's deserving of a raise, the Caps will need to keep that position at that price point to be able to afford their other contracts.
Schultz's contract with Washington was somewhat of a surprise last fall but he had a nice bounce-back season.  A big raise next summer likely isn't in the cards but if he can pick up the points at a similar level, he could land a similarly-priced deal.  Kempny had a year to forget, tearing his Achilles' tendon and just as he was working his way towards a return in the minors, he was struck by an ice shoveler during a break in play, ending his season in the process.  He was providing pretty good value on his contract before that and will need to get back to a similar level and show he's healthy in order to command interest next summer.  Irwin appears to be a candidate to bounce around as the seventh defenseman and the minors (pending him clearing waivers) as a way to bank a bit of extra room as the season progresses.
Samsonov had a tough sophomore year and with their salary cap situation, Washington was forced to go with a one-year bridge contract.  He will be eligible for arbitration next summer and a strong season could allow him to double his AAV or more.  Vanecek was re-acquired from Seattle and returns as arguably the biggest value contract for goaltenders in the league as he established himself as their starter last season at a price that is the lowest in the league in terms of AAV.  Also arbitration-eligible, he's already heading for a significant raise and it's quite unlikely that Washington will be able to keep both netminders beyond this coming season.
Two Years Remaining
F Lars Eller ($3.5MM, UFA)
F Carl Hagelin ($2.75MM, UFA)
F Garnet Hathaway ($1.5MM, UFA)
D Nick Jensen ($2.5MM, UFA)
D Dmitry Orlov ($5.1MM, UFA)
F Conor Sheary ($1.5MM, UFA)
D Trevor van Riemsdyk ($950K, UFA)
Eller has been a key part of Washington's forward group for the past five seasons, splitting time between the second line and third line depending on their injury situation.  He's a bit pricey on the third line but it's a justifiable premium to pay and with the way the UFA market has been for centers, he can land a similar amount two years from now.  Hagelin has underwhelmed a little bit on this deal; he's still an effective defensive player and a strong skater but his price tag is a bit much for someone in a limited role.  Hathaway's physicality makes him a quality fourth liner and while he's a bit expensive for that role, he has provided good value so far.  Sheary's first season with Washington went well enough to land this two-year deal as a secondary scorer.  If he scores at a 20-goal pace again, this will be a nice bargain for them.
Orlov had a bit of a tough season but is still a fixture in their top four.  He'll be 32 when his next deal kicks in and it wouldn't be surprising if he is looking for a final contract at that time.  With the big commitments they already have on the books (more on them shortly), that may be difficult for Washington to do unless Orlov will take a discount to make that happen.  Jensen hasn't been able to make the type of impact the Capitals hoped when they handed him this four-year deal and he's someone they'd likely be willing to part with for cap flexibility purposes.  As for van Riemsdyk, he spent a lot of last season in the press box but is a capable depth piece at a low price tag which helped him get protected from Seattle.
Three Years Remaining
F Anthony Mantha ($5.7MM, UFA)
F Tom Wilson ($5.166MM, UFA)
Mantha was a bit of a surprising acquisition at the trade deadline with Washington paying a fairly high price to get him from Detroit (and clear out the rest of Richard Panik's contract).  He made a good first impression but has been inconsistent for most of his career.  He will need to improve on that front if he wants a shot at a bigger contract in free agency.  When it comes to Wilson, his price tag looked excessive early on but with the way the market for power forwards has been (in part because of this deal), it holds up better now, especially since he's frequently deployed in the top six.  But with his frequent near-misses with the Department of Player Safety, there will always be some risk when it comes to him potentially crossing the line and landing a hefty suspension that wouldn't allow the Capitals to bring up a replacement with how tight they are to the Upper Limit.
Four Or More Years Remaining
F Nicklas Backstrom ($9.2MM through 2024-25)
D John Carlson ($8MM through 2025-26)
F Evgeny Kuznetsov ($7.8MM through 2024-25)
F T.J. Oshie ($5.75MM through 2024-25)
F Alex Ovechkin ($9.5MM through 2025-26)
While it took a bit longer than some expected, Ovechkin was able to agree on a deal that will give him a legitimate shot at the all-time scoring record.  It's possible that it will be a bit on the pricey side by the time it comes to an end as he creeps closer to turning 40 but even if that happens, I don't think there will be many bemoaning the contract.  Like Ovechkin, Backstrom negotiated his own deal, one that makes him one of the top-paid centers in the league.  As long as he can play at an above-average level for a top liner, he'll provide a good return on his contract but if he has to drop down the level, it will quickly become an overpayment.
Kuznetsov is someone whose value has taken a tumble over the last year.  His production had ticked down the last couple of years before last season which saw another drop in per-game production and a couple of stints on the CPRA list.  His price tag is basically what some number one centers make and they're paying a hefty premium to have him playing behind Backstrom but they will need more bang for their buck from him.  As for Oshie, the fall-off that some have speculated would come hasn't happened yet as the veteran continues to produce at close to a top line rate.  As long as that keeps happening, they'll be content with the contract.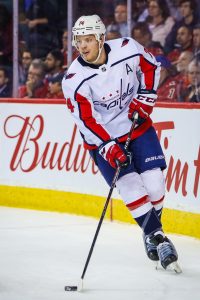 When Carlson signed his contract, there was some risk in that he became one of the highest-paid defensemen in the league after only one high-end offensive season.  Was his offensive jump sustainable that long into his career?  Clearly, the answer is yes as he beat that output the next two years and was one of the top-scoring blueliners last season while being dependable in his own zone.  As other veteran blueliners have signed for bigger contracts in recent years, this deal has gone from a question mark to a team-friendly steal in the process.
Buyouts
None
Retained Salary Transactions
None
Still To Sign
None
Best Value: Vanecek
Worst Value: Kuznetsov
Looking Ahead
Based on their current roster, it's safe to say that Washington will be carrying close to the minimum-sized roster most nights in an effort to preserve what little cap space they have.  Irwin will likely be waived and shuffled back and forth but their only waiver-exempt player is Samsonov so at some point, he may have to be papered down a few times as well.  Injuries will probably eat up what little space they have so it should be a fairly quiet season on the transactions front.  Of course, the same thing could have been said last year and GM Brian MacLellan went and made the biggest splash of the trade deadline.
When it comes to their long-term roster planning, the lack of flexibility is going to become a problem as soon as next season as it's unlikely they'll be able to keep both goalies.  The following year, keeping Orlov could be tricky.  With a veteran core and a bigger cap crunch on the horizon, this coming season may be their best shot at contention before a piece here and a piece there will have to be taken away.
Photo courtesy of USA Today Sports Images.