Topics in this edition of the PHR Mailbag include the upcoming expansion draft, Nathan MacKinnon's future, some Entry Draft predictions, and much more.  If your question doesn't appear here, check back in last weekend's mailbag.
Nha Trang: Crystal Ball #2: Is Ron Francis' intent in Seattle to emulate Vegas and win now, or to put together a team that'll contend 2-3 years from now?
I suspect Francis is looking ahead a few years but to be fair, I don't think the Golden Knights went into the process expecting to make a long playoff run in their first season either.  With who all was left unprotected, Seattle could assemble a roster that could make a real run at a playoff spot but they should be looking to accumulate some picks and prospects more than trying to get into the postseason right away.
The way to do that will be to pick some players that can be flipped for value.  Last time, Vegas took some veteran defensemen that went for late picks which is fine (Seattle will probably do the same with a few picks) but there are some top-six forwards available that other teams will part with quality assets to get.  For example, if Tampa Bay doesn't pay the high price to entice them to take Tyler Johnson, then take and flip Ondrej Palat who, as a rental, will yield a nice return.  Same with Calgary and Mark Giordano.  I'm sure they'll get some picks for taking on certain contracts as well but moving one or two of their better selections would be a way to differentiate themselves from Vegas and build for the future.
Shjon: How active and/or successful do you think Francis will be during the free agent interview period between the 18th and 21st?
I suspect they'll be extremely active in terms of speaking with UFAs.  They'll talk to dozens of them if they can.  They get an opportunity to learn about a bunch of asking prices and if I were them, I'd try to get a couple of agreements in principle in place without actually selecting that player just to add as many assets as possible.
If you define success by how many they actually sign, I'd say they won't be successful.  Other than Chris Driedger who is the expected selection with a sign and select agreement, I don't know if they really need to sign anyone else.  They'll be successful in terms of knowing more about what the UFA market will look like than any other team.  But if they sign a bunch of players, I wouldn't call it a success in that they will be giving up the opportunity to add other pieces as well.  Fill out the roster with signed players and RFAs to build up the asset base, then supplement it with free agents at the end of the month.
Y2KAK: Who would be the most realistic player going to Seattle? Oshie? Tyler Johnson?
There aren't many 'obvious' selections to make a list of realistic if not likely picks.  Giordano from the Flames seems like the logical selection as someone that could be flipped but Calgary may want to pay to keep him around.  I'd like to put Vince Dunn as a realistic choice as a young defenseman with some offensive pop that's under team control for a while but Vladimir Tarasenko has to be tempting in terms of trying to improve his value and then flipping him later.
I'll go with Driedger just with how long he's been linked to them but if they decide they want to take Carey Price (I don't think they will, especially with the injury questions now), even Driedger wouldn't be a certainty as Seattle may not want to tie up that much money between the pipes.  That's one of the really intriguing elements of this draft is just how many viable ways Seattle can go here.  Each writer here at PHR will be picking a mock team and I expect there will be plenty of varying opinions.
M34: MacKinnon has publicly stated he would take a "cheaper" deal again next time he is up. At that point in his career, and the MVP-caliber status/production, what is his market value? What kind of "lesser" deal is he willing to sign?  Will it make a difference whether or not Colorado wins a Cup between now and then?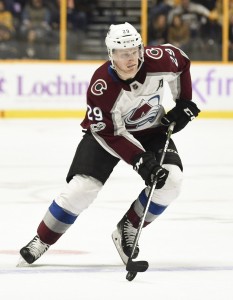 Assuming that Connor McDavid's $12.5MM remains the top bar as it should be, Nathan MacKinnon's market value should settle in a little below that in the $11.5MM to $12MM range.  John Tavares is basically the only comparable top center to actually sign recently via unrestricted free agency and he signed for $11MM.  MacKinnon is the better player so $11MM becomes the minimum bar to clear if he gets to the open market.  He'll be 27 at the time of his free agency (turning 28 before the 2023-24 season starts) and still in the prime of his career so while that's undoubtedly a high price tag, it'd be justifiable for teams to throw it at him.
A hometown discount is always tough to peg for superstar players.  It's not as if the player can accept a lower AAV for a longer-term deal like Ryan Nugent-Hopkins did; MacKinnon is getting the max (eight years from Colorado, seven from everyone else).  And even in this cap environment, there will be enough teams willing to throw that type of money at him.  Would he take a million less per year than market value?  Maybe but it'd be hard to see the discount being much more than that.
I don't think it will make much of a difference if they've won the Stanley Cup between now and then.  For me, it's a question of being contenders.  Is Colorado still going to be a consistent threat in the West two years from now?  If the answer to that question is yes (and it should be), then that's the bigger priority over already having won one.
The Mistake of Giving Eugene Melnyk a Liver Transplant: It sounds like almost all draft prospects plan to return to their current teams next year. Are there any notable players who would possibly try the NHL or AHL next year? Also, how much of this is COVID-19 related, as this certainly seems higher than normal?
There are usually only a handful of draft picks to make the jump each year, including the top selection; Mike Modano was the last to not go to the NHL right away and that was in 1988.  With this being a lost development year for a lot of prospects, it's not shocking that some of the expected top picks are planning on staying where they are for another year and in most cases, I think whoever drafts them would be fine with it.  (I think Buffalo would rather Owen Power turn pro right away so we'll see if they can make that happen assuming he does indeed go number one.)  Generally speaking, a lot of this should be attributed to COVID-19.
As for trying the AHL, I don't expect any of the European prospects to try that league while most American prospects will be committed to the college route.  Those are the ones that are eligible to go to that league as anyone picked from the CHL is restricted from joining the AHL until they turn 20 or have four years of service time.
rogueraceseries: Thank you for fielding questions! My head-scratcher is this…. What 2021 draft-eligible prospect will make the biggest leap/splash in this year's draft? Like Seider jumping to #6 two years ago. Conversely, what player do you think will drop the most? Maybe Caufield as an example (he has had the last laugh this playoff run, hasn't he? #nhlerstud)
Mason McTavish really seems to be flying up the rankings lately.  A few months ago, he seemed to be at the back of the lottery but all of a sudden, a top-five selection doesn't appear to be out of the question.  I'll also toss Sebastian Cossa out as a possibility.  Are there teams that value him higher than Jesper Wallstedt?  If so, he could go a fair bit higher than where most would expect (which, at this point, is probably in the late teens/early twenties).  Two Russians in Danill Chayka and Nikita Chibrikov are other candidates.  Some have them in the second round but if there's a team that's sold on his upside, they could land in the teens.
As for who drops, my usual picks for this question each year tend to get picked earlier than normal; the crystal ball doesn't seem to work well for this one.  I'll go with Aatu Raty.  Once viewed as a possible top-five pick, his value has dropped considerably.  Some have him in the teens but it wouldn't shock me if he slides closer to the back of the first round.
Cheechoo56: Assuming we are to believe Doug Wilson's saying the Sharks are retooling and not rebuilding, are there any free agent goalkeepers that make sense in San Jose (given a potential buyout for Martin Jones and their cap situation)?
It's not a great year for true number one goalies in free agency and that's what San Jose really needs.  Philipp Grubauer is the top name out there but his career high in games played is 40.  Whether it's retooling or rebuilding, the Sharks don't need someone in their 30s already.  Someone with an opportunity to be around for a few years would be preferable.
If it's not Grubauer, I'd be looking at Linus Ullmark.  Ullmark has struggled to secure the starting role in Buffalo but San Jose's back end is a whole different animal.  Perhaps a change of scenery gives him a bit of a boost and if that happens, San Jose would have goaltending that probably checks in just above the league average.  They'd take that in a heartbeat.
Adin Hill is going to be part of the equation now as well but I don't think he's ready to be a starter yet or even the 1A guy in a platoon.  They're still going to need a more proven starter and Jones isn't it.  I'm not convinced Ullmark will be either but that tandem would certainly put them in the right direction.
Rene vandervelden: Who is a better trade target for the Kings, Jack Eichel or Vladimir Tarasenko?
I'll go with Tarasenko.  The Kings aren't really in a spot where they should be parting with a bunch of top young talent to try to win now.  I know that's what their veteran core wants but it's not the smart move.  Anze Kopitar is already at $10MM and adding another center at that price point may not be the wisest decision which sours me on Eichel as a fit.  I'm not opposed to the idea of them dealing away one of their many young pivots but not for him.
What I like about Tarasenko is that his trade value shouldn't be all that high.  He wants out, he has had shoulder trouble the last few years, and his contract at $7.5MM is too expensive for most teams to absorb.  The Kings can take on that deal without offsets which gives them a leg up.  Is there a risk to Tarasenko?  Absolutely.  But there's also the potential for a high reward and at what would appear to be a below-market acquisition cost, there's a chance for them to upgrade the roster without losing key parts of the future.  That's the sweet spot I'm looking for if I'm GM Rob Blake.
@FritzLiebich: Are the LA Kings ready to contend or are they 2-3 players away? Who should the Kings target by way of UFA or trade?
There is an opportunity for Los Angeles to be a playoff contender next season but by that, I mean a team that's in a battle for a Wild Card spot.  That's not really true contention and it's why I just advocated against making a big splash on the trade market with Eichel.  But I do like the idea of them trying to add and the Viktor Arvidsson pickup certainly made sense.
I'd be looking for veteran bridge players if I was Blake, players that can upgrade the roster now but also be expendable in a trade if one of their many young prospects is ready for a bigger role.  That means players on short-term contracts unless they're adding someone that they think could still be a quality contributor a few years from now.
They could go for a free agent but I like the trade route better.  Many teams are looking to dump contracts which means there will be opportunities to add roster upgrades at below-market costs such as Tarasenko above.  Target Tampa Bay as they have several pricey veterans that need to be moved for cap reasons; they can't command full value.  As an example, Alex Killorn would be another nice addition on the wing.  The Islanders may want to shed some money based on who they left unprotected.  Jordan Eberle's contract is a bit long for my liking (three more years) but would fill a positional need.  They're not getting these types of players for free but they won't be paying a premium either and won't have to sign someone to a longer-term contract that wouldn't be advisable based on where they are.  They'd improve the team and not mortgage the future in terms of assets or cap flexibility.
WalterNYR: What center is out there, besides Eichel, that the Rangers could try to trade for? Hertl, Dvorak, Horvat or someone similar?
Of the three you listed, Christian Dvorak from Arizona could very well be in play with the Coyotes looking to shed payroll.  After two cheaper years at the start of the deal, three of the remaining four years carry a salary of over $5MM with the AAV staying at $4.45MM.  Had it been a full season, the 25-year-old likely would have had a career year offensively and has very quietly emerged as a top-six center.  Is he a top-line guy on most teams?  Probably not but with both of New York's top pivots eligible for unrestricted free agency next summer, having someone with four years of team control would certainly help GM Chris Drury.
There's no reason for Vancouver to move Bo Horvat while Tomas Hertl is a UFA next summer.  I like him more as a target for the Rangers at that time than this offseason.  One name that's out there that you didn't mention is Washington's Evgeny Kuznetsov.  He's coming off a tough year and has four years left at $7.8MM which is a bit on the expensive side for his dip in production but he'd be a very intriguing fit although it's unlikely they'd be able to afford both him and Mika Zibanejad long term.
@SamBrad86138703: Does Jake Guentzel get traded this summer?
I know Pittsburgh wants to free up some cap space but Guentzel doesn't feel like the right one to move to accomplish that particular objective.  The 26-year-old has basically been a point per game player over the past three years and his $6MM AAV is more than reasonable for that level of production.  If anything, it's a below-market price tag.  He fits on their top line so I don't see a point in moving him.
Jason Zucker, on the other hand, very much feels like a possibility to be traded if he's not selected by Seattle.  It hasn't worked out with the Penguins but he still has a solid track record going back to his time with Minnesota.  $5.5MM is too expensive for how he has performed but if there's a way to get someone that makes a bit less back that can still contribute on their second line, that would give GM Ron Hextall some much-needed flexibility.  It'll be nowhere near what they gave up for him which will sting but Hextall isn't connected to this deal like former GM Jim Rutherford was so there's less incentive to try to hold on and hope that Zucker's value shoots back up.
jamincito: Do the Devils add anything of significance this season? A lot of fans say wait till the kids are ready but the kids have actually played the last two seasons and they haven't been good or people say wait till Jack and Nico are ready, but they won't do that without the right players, so do they add anything of value?
They've added Ryan Graves since this question was posted which is a nice start.  He'll help their back end and is on a reasonable contract.  I wouldn't be shocked if there's another defensive pickup as well.
I do expect bigger moves from them than that, however.  They have more than ample cap space at a time when few teams have big money to spend.  They can't not use that to their advantage.  If they're taking on cap dumps from other teams, they're going to upgrade the floor of their team at an absolute minimum (the players they'd get would still be upgrades somewhere) and add some pieces for the future as well.  I think they will land a top-10 free agent as well since they'll be able to outbid pretty much everyone.
I don't expect them to be making a bunch of moves with an eye on achieving a playoff spot next season as they're not ready for that yet.  But will they add some veterans and make themselves more competitive for 2021-22, getting things pointed in the right direction in the process.
2012orioles: Could the Canadiens be a destination for Kuznetsov? What would the return look like?
Before the Shea Weber news which could see him miss the entire season and allow them to spend up to his $7.857MM AAV over the cap, I would have said no, they're not a viable destination.  Now that they could have that money, it's a little more possible but I'd still say improbable.
Nick Suzuki is a year away from what looks like will be a pretty pricey contract.  Jesperi Kotkaniemi is still going to land a decent-sized raise this summer as a restricted free agent (likely a bridge deal) and could get much more expensive after that.  Can they afford a $7.8MM contract down the middle in Kuznetsov on top of that?  I don't think so, nor do I believe they'd want to move Kotkaniemi as part of a move to get him (Suzuki would almost certainly be off the table).  And from Washington's perspective, there's not much of a reason to move Kuznetsov to Montreal without getting a young center in return.
If Washington wanted to do something involving Jonathan Drouin and his $5.5MM price tag for two more years, that's something the Canadiens would likely entertain.  I don't know why the Capitals would though which is why I don't see a good trade fit for Kuznetsov with Montreal.
Gbear: What scoring forward do you think the Preds will go after this summer or have a realistic chance of getting?
The way they are shaking up their core is quite something.  Are they freeing up contracts for budgetary reasons or to make a real run at someone notable?  If it's the latter and they want a culture change, Gabriel Landeskog feels like a target.  They can afford to bid a higher price, he comes from a winning environment, can score, and plays a well-rounded game.  That seems like the type of player to bring in if GM David Poile is looking to make an impact.  But while I suspect they'll go after him, I'm not sure it's the most realistic fit.
Brandon Saad and Zach Hyman are in that next tier of wingers (I don't see them doing much up the middle as I doubt Ryan Johansen and Matt Duchene go anywhere meaning their top two would remain intact) and they may be more realistic targets.  They can fit on a top line or certainly help a second trio as well and help fill the void filled by the Arvidsson trade.
Photo courtesy of USA Today Sports Images.  Contract information courtesy of CapFriendly.