After a quiet first full week of July, it was anything but over the past seven days with a flurry of expansion-related moves being made and plenty of other notable offseason notes which are highlighted in our key stories of the week.
Rinne Retires: Veteran goaltender Pekka Rinne decided that it was time to call it a career as he announced his retirement at the age of 38.  He spent his entire NHL career spanning parts of 15 seasons with the Predators who drafted him in the eighth round back in 2004.  In his prime, Rinne was a Vezina-caliber netminder, being a finalist for the award four times and winning it once while holding franchise records in games played (683), wins (369), goals against average (2.43), and shutouts (60).  Nashville will now likely look to free agency to find a new backup for Juuse Saros (who narrowly holds the franchise record for save percentage).
Big Money For Heiskanen: Miro Heiskanen has wasted little time becoming a star defenseman for Dallas and he was rewarded for his efforts with a record-setting contract.  The 22-year-old signed an eight-year, $67.6MM deal, the highest ever for a defenseman coming off of his entry-level pact.  Quinn Hughes and Cale Makar are two other high-end blueliners whose first contracts are set to expire and they will undoubtedly be using this deal as a comparable.  In the meantime, the Stars have their franchise blueliner in place for basically the rest of the decade.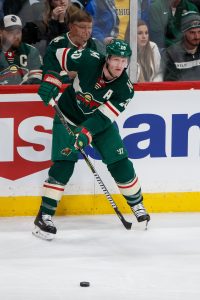 Minnesota Buyouts: Zach Parise and Ryan Suter came to Minnesota as a package deal back in the summer of 2012 as they signed identical 13-year, $98MM contracts that are now illegal in the NHL.  They'll now leave the Wild as a package deal after the Wild bought both players out of the final four years of their deals.  Parise saw his role decrease considerably this past season and wasn't likely to get more playing time moving forward while Suter's came as a bit more of a surprise with him still logging over 22 minutes a game on the back end.  Minnesota will get a big boost in cap space for 2021-22 before the dead cap charges nearly match what their original cap hits were.  That could result in them chasing down some one-year deals this summer.  Meanwhile, Parise and Suter won't be able to sign with new teams until the free agent market opens up on the 28th.
Expansion Lists: After months of speculation as to who Seattle could be picking to start their franchise, we now know who will be available as the protection lists were officially revealed on Sunday.  A summary of the protected players and notables left exposed can be found here.  There were some prominent players left available and while some of them were expected, others were quite surprising.  Among the notables that the Kraken can choose from are Montreal goaltender Carey Price, St. Louis winger Vladimir Tarasenko, Flames defenseman Mark Giordano as well as all but three pending unrestricted free agents.  Seattle now has exclusive negotiating rights to those free agents through the transactions freeze which is lifted on Thursday and could opt to sign and select some of those players on Wednesday.
Trade Deadline: A trade deadline in the middle of July is something that hasn't happened before.  But with Saturday being the start of the transactions freeze, it spurred a mini trade frenzy with eight swaps being made, some having direct implications on protection lists.  The biggest one was a three-team trade between the Predators, Flyers, and Golden Knights.  Philadelphia made a big addition to their back end, acquiring Ryan Ellis from Nashville in exchange for Philippe Myers and Nolan Patrick; the Preds then flipped Patrick to Vegas for Cody Glass.  Ellis had been a fixture on Nashville's blueline for a decade but GM David Poile is clearly shaking up the core and in Glass, he gets a once highly-touted center to try to develop and a capable second pairing piece in Myers.  As for the Golden Knights, Patrick was the second-overall pick in 2017 (Glass was sixth) and a change of scenery could do him some good as they try to rebuild his value.
Photo courtesy of USA Today Sports Images.