When the Minnesota Wild initiated a buyout earlier this week, not many were surprised to see Zach Parise on his way out. Ryan Suter's inclusion however came as a shock, and could very well have changed the offseason plans for several teams around the league. The 36-year-old defenseman is still capable of top-four minutes in the NHL and is suddenly looking for a new home.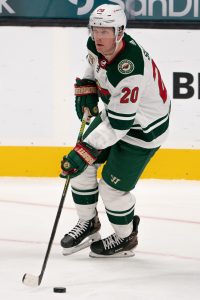 According to Michael Russo of The Athletic, there's already interest from across the league. Russo spoke to Suter's agent Neil Sheehy, who called it a "new sweepstake" and explained that "not a single team in the league…ever thought that Ryan Suter would be available." Russo examines several of the expected contenders for Suter's services, though the list is already long and likely not even exhaustive at this early stage.
From the 2009-10 season to the 2018-19 season, Suter received votes for the Norris Trophy as one of the league's best. He was a finalist in 2013, finishing as the runner-up to P.K. Subban in the shortened season. For several years he averaged closed to 30 minutes a night for the Wild, hopping over the board every other shift. Though his Norris-contending days may be over, Suter still averaged more than 22 minutes a night for the Wild this season and once again posted strong possession numbers.
There was, however, a striking decline in his offensive production, as Suter managed just 19 points in 56 games. He hadn't posted fewer than 31 points since his sophomore season in 2006-07, with his best per-game rate actually coming as recently as 2019-20. He had 48 points in 69 games that season, including 18 on the powerplay. That suggests Suter could even experience an offensive bounce-back if given the right role, though the contenders that will be vying for his services likely already have their powerplay quarterbacks in place.
Even if the level he showed this season is the new norm for Suter, there's still plenty of hockey left in the veteran defenseman. After 656 regular season games with the Wild, he'll be looking for a new home–and he won't have to look long.
Photo courtesy of USA Today Sports Images