The offseason is in full flight with only two teams still standing.  We continue our series which examines what those eliminated teams need to accomplish over the coming months.  Next up is a look at Florida.
Expectations were relatively low for Florida heading into the season.  While GM Bill Zito made some changes, they weren't expected to be a team that was going to contend.  However, they wound up being one point out of the Central Division lead and were only three away from tying for the league lead.  While they were ousted in the opening round by Tampa Bay, they're still entering the summer with some momentum.  Here's a look at what Zito should be trying to accomplish over the coming months.
Clear Out A Contract
At the end of their series against the Lightning, two of Florida's three highest-paid players – goaltender Sergei Bobrovsky and defenseman Keith Yandle – weren't even in uniform.  Anton Stralman, who is sixth on that list, cleared waivers during the season and had more of a limited role than usual.  That's nearly $22MM on their books (about 30% of their payroll) either sitting on the bench or not living up to expectations.  On a team that isn't spending to the Upper Limit already, that's not ideal.
Bobrovsky's $10MM AAV for the next five years is going to be difficult to move but if they're willing to retain a sizable chunk, perhaps there's a move to be made.  Chris Driedger is a pending UFA that they would like to keep around but as long as Bobrovsky and top prospect Spencer Knight are there, there will be better opportunities for him elsewhere.  Dealing Bobrovsky away, even at a loss in terms of taking back a contract and retaining some money, could allow them to try to keep Driedger around.
Yandle's ironman streak remains intact at 922 games as playoff contests don't count.  He sits 42 behind Doug Jarvis for the all-time record but that would appear to be in some jeopardy given that he wasn't in the lineup when it mattered the most.  Both sides looked at the possibility of a change of scenery back in training camp when it looked like he'd be on the outside looking in and it may be time to revisit that.  With two years left at $6.35MM, it's another negative-value contract but Yandle certainly can still contribute offensively as long as he's sheltered in a lower role on the depth chart.  It'd be a swap of bad contracts but it might still be worth doing.
As for Stralman, he only has one year left at $5.5MM and he can still play in a limited role so he is probably the easiest to move of the three, relatively speaking.  A trade with max retention would be preferable to a buyout (which would cost $2.5MM in 2021-22 and $1.5MM in 2022-23) and could potentially still free up some money in the process.
As a budget team, there are already restrictions in place.  Those can't be compounded by deadweight contracts.  It won't be easy for Zito to accomplish but they can't have that much money tied up in negative-value deals if they want to take a step forward.
Barkov Extension Talks
This is the biggest item on their to-do list.  Captain Aleksander Barkov is about to enter the final year of his six-year, $35.4MM contract, a deal that has been among the most team-friendly pacts around the league in recent years.  When second-line centers are getting that type of money, getting one of the best all-around pivots in the league at that price tag is quite the bargain.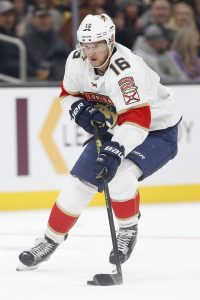 That will soon change, however.  The 25-year-old is set to hit the open market next summer in the prime of his career and with it, his price tag is going to shoot up considerably.  Forget the flat salary cap and how it knocked down a lot of the UFA market back in the fall.  The top players still got paid pretty much top dollar and Barkov is very much a top player.  It's rare that players like him actually make it to free agency so there will undoubtedly be a bidding war if he gets there.  He knows it and so does Zito.
As a result, expect Florida to put their best foot forward in the coming months to lock up their franchise player to a max-term deal at a price tag that will almost certainly hit eight figures.  We know cap space won't be an issue since they're not particularly close to the Upper Limit anyway but this is the type of player they need to break their budget to keep around.
The lingering question will be what do they do if they can't agree on a contract or Barkov indicates that he's not willing to sign, similar to what Seth Jones has done in Columbus.  It's a scenario they certainly won't want to think about but if it happens, Zito will have to react quickly to decide whether they should trade Barkov now or hope he changes his mind in-season.  But first things first.  Before even pondering that scenario, they'll be extending a significant extension offer to try to keep the Selke winner around.
Add Defensive Help
The back end has been an area of concern for Florida for a while and that was highlighted even more this season.  Aaron Ekblad's season-ending leg fracture was a huge blow down the stretch and the fact that Yandle and Stralman underachieved considerably certainly didn't help either.  MacKenzie Weegar had a breakout year and Gustav Forsling logged nearly 20 minutes a game as a waiver claim but that was about it for positives.
The Panthers are in a spot where they could conceivably add two or three defenders this summer and it wouldn't feel like overkill.  Deadline acquisition Brandon Montour, a pending unrestricted free agent, will need to be re-signed or replaced and at a minimum, adding a top-four piece would go a long way.
Florida landed the top player in college free agency in Matt Kiersted and he looked okay down the stretch but he's not ready for full-time NHL duty yet; he'll need some time in the minors.  There aren't any other prospects that are ready to step into a regular role either so the improvement will need to come from outside the organization.
Re-Sign RFAs
Florida has a pair of intriguing restricted free agents on their roster.  Winger Anthony Duclair was a surprising non-tender by Ottawa last fall and had to wait nearly two months to land with Florida.  His qualifying offer of $1.65MM is certainly reasonable with the year he had but as was the case last October, arbitration eligibility looms large.  Back in the fall, the threshold to walk away from an award was $4,538,958 and while Duclair had a good season with 10 goals and 22 assists in 43 games, he shouldn't come in that high.  Do they want to risk him being awarded something they're not willing to pay and can't walk away from?  With that uncertainty, it wouldn't be surprising to see Zito push to try to get something done over the next month before the tender deadline hits.
The other interesting one is Sam Bennett.  With Calgary, it looked like the 25-year-old could be non-tendered over receiving a $2.55MM qualifying offer as he was unhappy and struggling.  Then came a deadline day deal to Florida and he absolutely took off, notching 15 points in 10 regular season games plus five more in five playoff contests.  That's certainly a small sample size and it will make Bennett's next contract a little tricky.  Was this a short-term blip or a sign of things to come now that he's being deployed in a better situation?  Are the two sides sure enough of each other to do a long-term agreement or would a one-year contract make more sense?  At a minimum, he's a safe bet to be qualified which wasn't the case just a few months ago.
Photo courtesy of USA Today Sports Images.  Contract information courtesy of CapFriendly.