The offseason has arrived with roughly half of the league missing the playoffs and several more having since been eliminated.  It's time to examine what those teams need to accomplish over the coming months.  Next up is a look at Edmonton.
Things were looking up for the Oilers during the regular season.  Their offensive stars were carrying the load offensively, the defense was holding up despite missing Oscar Klefbom, and Mike Smith had his best season in nearly a decade.  Unfortunately for Edmonton, that all meant nothing in the playoffs as they were swept by Winnipeg.  Now GM Ken Holland enters the summer with plenty to accomplish as he looks to retain some key players and add some much-needed improvements to his roster.
Upgrade The Bottom Six
By the time Holland takes care of re-signing or replacing his notable free agents (more on them shortly), there won't be much in the way of cap space to work with so adding a significant piece to the core is unlikely.  However, Edmonton's bottom-six depth has been poor in recent years, largely consisting of overpaid veterans, underachieving role players, or international flyers that didn't really pan out.
Last fall, the market showed that there were some bargains to be had in terms of adding capable veterans for close to the league minimum.  With the market basically the same as it was a year ago with many teams having limited wiggle room, those players will be in demand again so it's a good thing the Oilers can dangle the opportunity of playing on the same team as Connor McDavid; that has to count for something.  While retaining some of the existing depth makes sense (such as the recent re-signing of Devin Shore), Holland would be wise to keep some cap and roster room available to upgrade their forward depth.
Address The Goaltending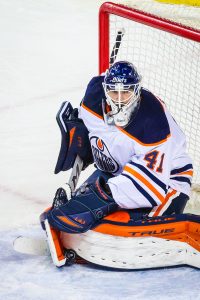 After a strong season that hardly anyone saw coming, Smith is set to return to the UFA market in a much better situation.  Back in the fall, he was effectively Edmonton's fallback plan with his return coming after other avenues were tried first.  Given his age (39), that certainly could happen again as Holland needs to look for a longer-term fit.  Their prospects aren't ready to step into the number one role and probably won't be a year from now.  Is it justifiable to bring him back knowing that they'd only be delaying addressing a problem that has been around for a while?  It all depends on whether or not recent history repeats itself.  If they can't find a longer-term option on the free agent or trade markets, Smith's return would go over better than it did in October but considering he has the second-best save percentage among UFA goalies, it might cost more than a $1.5MM base salary and $500K in bonuses to get something done.
In the meantime, Mikko Koskinen still has one year at $4.5MM remaining on his contract that is probably going to be best remembered for former GM Peter Chiarelli being fired two days after agreeing to that deal.  He's coming off a tough year and while he shows flashes of being a capable goaltender, he has also been wildly inconsistent to the point where it will be difficult to rely on him.  Alex Stalock is a much more affordable backup but he didn't play this season after developing a heart issue following a bout with COVID-19.  Can he be counted on to play at an NHL level after being off for so long?
There are several questions that need to be answered here from the starter to the backup but that's basically par for the course in recent years.
Re-Sign Or Replace Key Veterans
Part of the reason that Edmonton has a little more than $20MM in cap space is that they have several key players that are set to hit the open market.  Those players will either need to be re-signed or replaced.
At the top of the list is Ryan Nugent-Hopkins.  The 28-year-old has spent the past 10 seasons with Edmonton and while he never turned into a star player that his first-overall draft status would suggest, he has been an important player for the Oilers throughout his tenure.  Nugent-Hopkins spent most of his career down the middle although he has spent more time on the wing in recent years in an effort to give him more playing time and he responded with career years in 2018-19 and 2019-20.  Contract talks broke off a little while back but have since resumed.  Even in this marketplace, it seems likely that Nugent-Hopkins will wind up with a price tag that is similar to the $6MM AAV he has had for the past seven years.
Meanwhile, a pair of notable blueliners are set to hit the open market as well.  Tyson Barrie's decision to take a bit less to go to Edmonton certainly paid off as he led all NHL rearguards in scoring with 48 points in 56 games which was a nice rebound from a tough year in Toronto in 2019-20.  However, he was signed with Oscar Klefbom's money knowing that he was out for the season.  That determination hasn't been made yet for Klefbom for next season so if they enter free agency thinking that he will be on the books, they will be hard-pressed to afford Barrie at what should be a decent-sized raise from his $3.75MM salary this season.
The other defenseman of note is Adam Larsson.  While he never emerged as the top-pairing player Edmonton was hoping for when they moved Taylor Hall for him, the 28-year-old nonetheless has become a strong stay-at-home defender who can comfortably play on the second pairing.  His limited offense will cap his earnings upside and he may not be able to reach the $4.166MM AAV he had on this deal but it should be somewhat close.  Discussions on that front are set to resume soon.
Re-signing these three (or even two of them if they think Klefbom could return) will take up most of their remaining cap room and if they don't return, Holland will have to act quickly to find replacements.
Buyout Decisions
If Edmonton wants to free up some extra wiggle room this summer, they have a pair of players who could be plausible buyout candidates.  Koskinen is one of them and doing so would save them $3MM in cap space for next season (while adding $1.5MM to the books for 2022-23).
The other option is winger James Neal.  The veteran had just five goals and five assists in 29 games which is hardly an optimal return on a $5.75MM cap hit.  With two years left on his contract, buying him out would have the 33-year-old on the books for four more years at $1.917MM but in the short term, it'd save them more than $3.8MM for the next two years.  They can find a replacement for considerably less than that, giving them some extra flexibility this summer.
While it would add more money to the books down the road, they also have just seven players signed beyond 2021-22 and four past 2022-23.  That can be worked around and the short-term benefits of the move will certainly be tempting for Holland.  The window to go this route starts after the Stanley Cup Final although, with expansion also on the horizon, a lot of the buyouts may come after Seattle picks their team.
Photo courtesy of USA Today Sports Images.  Contract information courtesy of CapFriendly.