Free agency is now just a little more than a month away and many teams are already looking ahead to when it opens up.  There will be several prominent players set to hit the open market in late July while many teams have key restricted free agents to re-sign as well.  Boston is set to have several core players hit the open market, giving them a lot of payroll flexibility to work with in the coming weeks.
Key Restricted Free Agents
D Brandon Carlo – Carlo isn't going to win any scoring titles but he has been a reliable stay-at-home defenseman throughout his five years in Boston and his absence was certainly felt when multiple upper-body injuries kept him out of the lineup for big stretches in the second half of the season plus the last few games of their series against the Islanders.  He's owed a $3.5MM qualifying offer next month and despite limited offensive production, they should be comfortable tendering it.  However, it's also hard to see him getting much more than that despite being arbitration-eligible unless they work out a long-term pact that buys out his two remaining RFA years plus several seasons of UFA eligibility.
F Nick Ritchie – While it wasn't a career year from a points perspective, the 25-year-old set a new career-high in goals with 15 while surpassing the 15 minute per game mark for the first time.  Consistency has long been an issue for the 2014 tenth-overall selection but Ritchie certainly took some steps in the right direction.  His qualifying offer is set at $2MM while he has arbitration eligibility for the first time as well.  He took enough strides this season that he should be tendered but he doesn't have enough of a track record to seek much more than that.
F Ondrej Kase – Kase is being mentioned simply because it would be stunning to see him be tendered next month.  He was limited to just three games this season due to multiple upper-body injuries and had struggled over his previous two seasons as well.  That's not worth a $2.6MM offer in this market; Boston would be wise to put use money elsewhere.
Other RFAs: F Trent Frederic, F Cameron Hughes, F Joona Koppanen, F Robert Lantosi, F Zachary Senyshyn, D Nick Wolff
Key Unrestricted Free Agents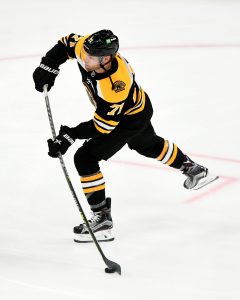 F Taylor Hall – For the second straight year, the 29-year-old will be one of the more prominent players on the open market.  However, there's no doubt that his value has taken a nosedive along the way after struggling mightily in Buffalo as his plans to have a strong season and then sign with more teams showing interest didn't go as well as planned.  He facilitated a trade to Boston at the deadline and turned things around down the stretch and in the playoffs which will certainly help his cause in free agency.  That is, assuming he gets there.  Hall and the Bruins have openly expressed a mutual interest in getting another deal done and unless Hall's asking price is too high, there should be a good chance of getting something in place although it will be a fair bit lower than the $8MM he made this season.
F David Krejci – Unlike Hall whose time in Boston has been limited, Krejci has been a fixture in their lineup for the past 14 years and has been their second-line center for a significant portion of that.  The 35-year-old has been a steady offensive presence and showed no signs of slowing down this season, notching 44 points in 51 games.  There has also been publicly stated mutual interest in getting a deal in place with Krejci saying he can't see himself playing for a different NHL team than the Bruins.  He's also facing a dip in pay as it's quite unlikely he'll match the $7.25MM AAV he has had for each of the past six seasons.
G Tuukka Rask – Wouldn't you know it, here's another veteran who has made it clear he wants to stay in Boston and has no intention of going anywhere else.  The difference is that Rask won't be available for the first half of next season after undergoing hip surgery.  It's obvious he'll be facing a significant cut from his $7MM AAV from the past eight years but the question is whether or not they can afford to run with a short-term partner for youngster Jeremy Swayman or whether they'll need a full-season piece which could then take Rask out of the equation.  If they do look for a full-season option, Jaroslav Halak, another Boston UFA, could be an option to return.
D Mike Reilly – Another trade deadline acquisition, Reilly played a big role after being acquired, averaging over 21 minutes per game down the stretch and in the playoffs.  Not bad for someone that had barely averaged 16 minutes a night over his first five NHL seasons.  The 27-year-old also had a career year offensively, collecting 27 assists in 55 games.  His stock has certainly gone up from being a role player who could have been in tough to match his $1.5MM price tag to one that quietly could generate a fair amount of interest on the open market.  And yes, Reilly has also publicly expressed an interest in returning.
Other UFAs: D Steven Kampfer, F Sean Kuraly, F Greg McKegg, D Kevan Miller, D Jarred Tinordi
Projected Cap Space
With so many veterans on expiring deals, Boston currently has a little over $31MM in cap room for next season and even after re-signing their restricted free agents, they'll have plenty of space to work with.  However, they also will have several spots to fill.  Whether it's re-signing the veterans that want to stick around or replacing them with similar players, GM Don Sweeney is in for a very busy summer.
Photo courtesy of USA Today Sports Images.  Contract information courtesy of CapFriendly.