Free agency is now just a little more than a month away and many teams are already looking ahead to when it opens up.  There will be several prominent players set to hit the open market in late July while many teams have key restricted free agents to re-sign as well.  Nearly the entire starting defense corps is about to hit the open market, meaning there are big changes coming in Arizona.
Key Restricted Free Agents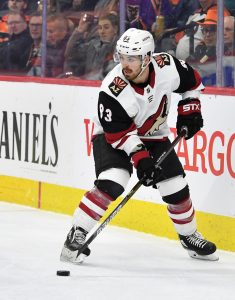 F Conor Garland – Over the last few seasons, Garland has gone from fifth-round afterthought to arguably the most important forward on the entire Coyotes roster. The 25-year-old followed up a 22-goal 2019-20 season with another 39 points in 49 games this year, trailing only Phil Kessel for the team lead among forwards. His dynamic puck skills and edge work have resulted in outstanding possession numbers ever since he made it to the NHL and there's good reason to believe he could put up even bigger offensive totals moving forward. Garland played most of the season with Nick Schmaltz but saw a rotating cast of other linemates throughout the year. The question now is whether the Coyotes will be able to lock down Garland with a long-term deal, buying out some unrestricted free agent years, or have to go to arbitration and settle with another short-term contract. He's coming off a two-year deal that carried an average annual value of just $775K, so it would make sense for Garland's camp to want a big raise.
G Adin Hill – There was a time a few seasons ago when Hill appeared to be in line to take over the crease in Arizona. The third-round pick made his NHL debut in 2017 at the age of 21, making 31 saves in a losing effort. Standing 6'6″ it was easy to see how he could become an elite starting goaltender at the next level, but now several years later he only has 49 appearances under his belt. Now arbitration-eligible and just two years from unrestricted free agency, the team will have to decide whether Hill is once again the plan for the next several years. Darcy Kuemper, the only other NHL goaltender under contract will be a UFA in a year's time and has always had trouble staying healthy. Committing to Hill this summer may be the right choice, even if it does cost them a little bit more per season than he would get through the arbitration process.
Other RFAs: F Dryden Hunt, F John Hayden, F Lane Pederson, F Blake Speers, F Nate Sucese, F Frederik Gauthier, F Tyler Steenbergen, F Brayden Burke, D Dysin Mayo, D Cam Dineen
Key Unrestricted Free Agents
G Antti Raanta – Of course, the reason Kuemper is the only other goaltender under contract is that Raanta is about to hit the open market. The 32-year-old netminder still has a .919 career save percentage, but that number was brought down by his .905 this season. The fact that he hasn't been able to stay healthy for consecutive seasons is a huge red flag, especially as he gets closer to his mid-thirties. Sure, there's a reason to bring Raanta back on a reasonable deal, but with Hill ready to take his place as a tandem starter and other prospects in the wings, the veteran netminder may be looking for a different address next month.
F Michael Bunting – Some around the league believe that Bunting is ready to break out and could be one of this summer's most savvy pickups. The 25-year-old scored 10 goals and 13 points in 21 games this season for Arizona, adding another 19 points in 16 AHL contests. That belief may have been a bit shaken when Bunting went completely scoreless in ten games at the World Championships, but there will surely be teams willing to take a chance. The Group VI unrestricted free agent actually prefers to stay in Arizona, but given that there is no deal in place yet, it suggests he is going to at least test the free agent market to see what is out there.
The Defense – The entire UFA section in this article could just be a list of defenders, given how many Coyotes are scheduled to hit the open market. Jason Demers, Alex Goligoski, Jordan Oesterle and Niklas Hjalmarsson are all pending UFAs and it isn't clear if any of them will be back. The biggest question really is Goligoski, who paired with rising star Jakob Chychrun for most of this season, helping the young defenseman to a career year. Now 35, Goligoski still averaged 23 minutes a night as a steady two-way option and even produced 22 points in 56 games. Replacing him, especially if the Coyotes are also going to move Oliver Ekman-Larsson, will leave a gaping hole on the back end with no clear answer under contract. Demers, Oesterle and Hjalmarsson have all kind of merged into the same 17-minute-a-night defensive option, that doesn't bring much offense and doesn't have a lot of upside. Any of them could reenergize their careers with a fresh start somewhere else, or continue to fill out the depth chart on reasonable short-term deals in the desert.
Other UFAs: F Derick Brassard, F Marian Hossa, F Hudson Fasching, F Michael Chaput, D Aaron Ness, D Jordan Gross
Projected Cap Space
Even though they have been technically up against the cap in the past, that was mostly due to the Coyotes taking on contracts like Hossa's in order to gather assets. The team is not normally known as a big spender and has more than $31MM to work with this offseason. Of course, they'll need to fill half a roster with that money, not the easiest of tasks. Getting Ekman-Larsson's contract off the books would be huge for the team, given the value-cost equation that is seemingly getting worse by the year. GM Bill Armstrong has a very busy summer ahead of him but plenty of roster spots to work with.
Photo courtesy of USA Today Sports Images. Contract information courtesy of CapFriendly.