Free agency is now just a little more than a month away and many teams are already looking ahead to when it opens up.  There will be several prominent players set to hit the open market in late July while many teams have key restricted free agents to re-sign as well.  Several pieces of Anaheim's young forward group need new deals as does a franchise icon.
Key Restricted Free Agents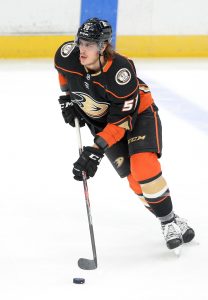 F Maxime Comtois – Very quietly, Comtois led the Ducks in scoring this season.  That wasn't expected at all heading into the year considering he had all of 39 career games played but he secured a spot in the top six and became a quality power forward.  In the end, the 22-year-old wound up with 15 goals and 18 assists in 55 games, a more than respectable total on a team that struggled mightily at the offensive end.  While it won't affect his contract talks, his strong play carried over to the Worlds where he picked up six more points there.  Comtois doesn't have arbitration eligibility and with only 94 NHL games under his belt, he doesn't have the track record to command a long-term deal.  A bridge contract around the $2.5MM to $2.75MM mark feels like the expected outcome here allowing both sides to see what his long-term offensive upside will be.
F Danton Heinen – His fall from grace has been quick.  After looking like a good fit as a secondary scorer in Boston for the first couple of years of his career, his offense tapered off last season and went even lower this year as he had just seven goals and seven assists in 43 games.  The 25-year-old is eligible for arbitration and owed a qualifying offer of $2.775MM.  It's hard to see him getting that so either a cheaper deal is worked out or he'll be an interesting addition to the UFA market.
F Alexander Volkov – There are quite a few young Anaheim RFAs in similar situations but Volkov is a bit different in that he has arbitration eligibility.  The 23-year-old requested a trade from Tampa Bay to go somewhere where he had a better chance to play and the Ducks gave him that.  His ice time went up by more than four minutes per game and with four goals and four assists in 18 games, so too did his production.  This isn't a situation where the team should be leery of his ability to request a hearing but it will be interesting to see how much his short time in Anaheim will impact those discussions.
Other RFAs: F Max Jones, F Isac Lundestrom, D Josh Mahura, F Sam Steel
Key Unrestricted Free Agents
F Ryan Getzlaf – It's clear that Getzlaf's best days are behind him and at this stage of his career, he should be on the third or fourth line most nights and not a fixture in the top-six as he was for the better part of his 16 years with the Ducks.  But he's still a useful player and in a free agent market where there isn't any star power down the middle (the same can't be said for the trade market), there should be a fair bit of interest if he's willing to move on from Anaheim.  That's the big question as he had made it clear before he'd invoke his no-move clause to be dealt.  That wasn't the case at this trade deadline but his $8.25MM price tag made that next to impossible anyway.  His next contract should come somewhere between a quarter and a third of that AAV.
F Carter Rowney – This season was basically a write-off as a torn meniscus ended his season back in February.  However, in his three years with the Ducks, he showed that he was capable of playing a bigger role than he had at the beginning of his career with Pittsburgh.  Now 32 and in a market that isn't kind to role players, Rowney probably won't be able to match the $1.133MM AAV he had on this deal but as far as physical depth players go, he will be one of the better ones out there.
F Andrew Poturalski – This is a name that many won't be familiar with as his NHL track record is extremely limited (two games in 2017).  However, the 27-year-old has been a top scorer in the AHL when healthy.  He led the league in scoring this season with 43 points in 44 games and back in 2018-19 (he was injured for most of 2019-20), he was fifth in the league in scoring with Charlotte (70 points in 72 games) and first in playoff scoring (23 points in 18 contests).  It will be interesting to see if teams are more hesitant to hand out a one-way deal to top AHL talent as a cost-cutting measure but if some are, Poturalski should be the recipient of such a contract.
Other UFAs: F Andrew Agozzino, F David Backes, F Sam Carrick, D Trevor Carrick, F Chase De Leo, F Vinni Lettieri, D Andy Welinski
Projected Cap Space
Anaheim has been fairly tight to the cap for a while now but that will change with Getzlaf and Backes' deals coming off the books and Corey Perry's buyout cost dropping from $6.625MM to a more manageable $2MM.  All of a sudden, they have ample room to work with just under $59MM on the books.
Having said that, they have seven or eight spots to fill as well and of their pending free agents, Comtois should be the most expensive but still at a reasonable rate.  That should allow them to be an impact buyer over the coming weeks.
Photo courtesy of USA Today Sports Images.  Contract information courtesy of CapFriendly.