The offseason has arrived with roughly half of the league missing the playoffs and several more having since been eliminated.  It's time to examine what those teams need to accomplish over the coming months.  Next up is a look at Washington.
The Capitals tied for first in the East Division this season, extending their streak of consecutive first-place finishes to six years in a row.  However, they extended another streak this year as they were eliminated in the first round for the third straight season.  The core is mostly signed for 2021-22 and flexibility will be minimal.  Accordingly, it could be a quiet offseason for Washington although GM Brian MacLellan will have a few things on his to-do list.
Re-Sign Ovechkin
Let's get the obvious one out of the way first.  The 13-year, $124MM contract for Alex Ovechkin that seemed outlandish at the time has come to an end and both sides did well with it.  The Caps got an elite scorer for pretty much the entirety of the contract and Ovechkin is now the third-highest paid player in NHL history.  It's time for him to move higher on the list.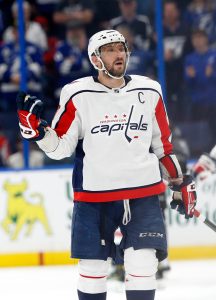 The 35-year-old is eligible to hit the open market for the first time of his career next month although no one expects it to get that far.  There is mutual interest in getting a contract done while Ovechkin will be acting as his own agent in the process.  Talks were put on hold during the season and playoffs but if they haven't got going underway already, they should soon.
The big question is how much the next deal is going to cost.  A TSN report from Frank Seravalli back in January suggested that Ovechkin was initially hoping to match Connor McDavid's $12.5MM AAV although that was before the pandemic hit and the financial landscape is much different now than it was projected to be back then.  He's also coming off a quiet year by his standards; while he was still productive with 24 goals and 18 assists in 45 games, it was his lowest goal and point-per-game numbers since 2011-12.  At his age, there is bound to be a decline.  Was this a blip or the start of that drop?
That makes this contract an intriguing one despite the extreme unlikelihood that he actually gets to free agency.  How many years do they want to do?  It's worth noting that he's 164 goals away from tying Wayne Gretzky's all-time record and it will take four or five healthy seasons to get there.  But Ovechkin has indicated that he wants to finish his career back in the KHL so does he want to play long enough to have a shot at Gretzky's record?  And if Washington feels that the drop off has started, do they want to commit to something that long?  Would they prefer a two or three-year deal with the idea of another shorter-term contract after that at a lower rate?  Doing so would yield a higher AAV now but take away some risk.
There are definitely some questions to answer in this case and while Ovechkin has made it clear that he wants to stay in Washington, it's a situation that MacLellan should want to resolve sooner than later with the domino effect that will follow once it's done.
Clear Cap Space
That domino effect is the salary cap casualty that will be required to accommodate Ovechkin's new contract.  They have just over $72MM in commitments for next season already and Ilya Samsonov is also looking at a raise in his first trip through restricted free agency.  The cap isn't going up and $9.5MM in cap space isn't going to be enough to re-sign them and fill out the roster.  It's fair to wonder if that will be enough to keep Ovechkin alone.
Some trimming needs to be done over the coming weeks but it won't be easy.  MacLellan will understandably want to keep his core players around (and moving big-ticket deals will be difficult in this market) so the savings may need to come from the depth.  Carl Hagelin ($2.75MM), Nick Jensen ($2.5MM), and Garnet Hathaway ($1.5MM) are all still serviceable players but they are a bit pricey for the roles they fill.  Moving a couple of those for cheaper players would give them some much-needed flexibility.  But even that will be easier said than done in a market where many teams will want to free up money.  Expansion could help if they lose one there but MacLellan will have his work cut out for him here.
Protect The Goalies
Speaking of expansion, the Capitals are a team that looks like they will need to make a side deal with the Kraken.  Both Samsonov and Vitek Vanecek are eligible for selection and there is no protection scheme that allows a team to protect more than one goalie.  One of them will have to be exposed.
Samsonov is coming off a tough sophomore year but is still their goalie of the future (and present) while Vanecek had a nice rookie season and perhaps more importantly, is signed for less than the league minimum for 2021-22.  For a team that is going to be at or over the cap when Ovechkin re-signs, that's a luxury they need to try to keep.
A side deal could push one of the pricier role players to Seattle as well which would help their cap situation as an extra benefit.  But early indications are that those agreements will carry a hefty price tag, more than what a lot of teams are willing to pay right now.  For Washington, however, this roster composition only works with a very cheap goalie tandem so even if it seems costly, it's a price they may very well have to pay.
Photo courtesy of USA Today Sports Images.  Contract information courtesy of CapFriendly.